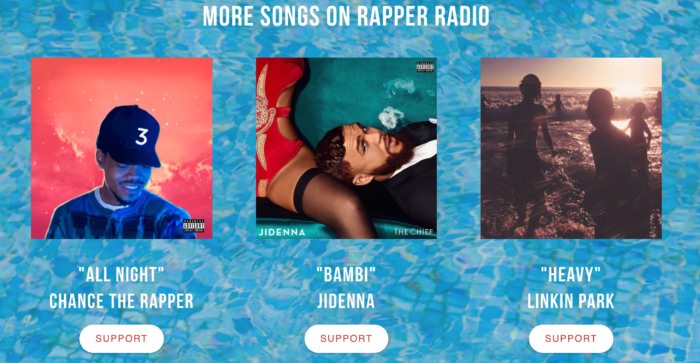 Chance is a disrupter. Perhaps the greatest of this generation. He curved the labels, and people called him crazy. He proved he didn't need their help. He won three Grammys anyway. He's fearless in his campaign against the system, and now he's going head on with radio.
Commercial radio has always been a tough nut to crack for hip-hop artists — especially those of the indie capacity. Radio reps are expensive and can't guarantee they'll get the job done. So what has Chance done to get his voice heard on the airwaves? He takes it to the people — just like he always has. Months ago, Chano launched his Rapper Radio website, which bucked traditional trends of getting your records played on commercial dials. It allows fans to reach out to stations by sharing their favorite records by various artists, by posting Tweets and garnering fan points. It's pretty genius, and it helped "No Problem" get to #1 on the Urban charts (and later snagging a Grammy).
But now Chance is expanding by adding new songs and artists to the platform. His new hit with DJ Khaled "I'm The One" (which is close to #1 on the charts) is getting a major push, as well as new tracks from Jidenna and Linkin Park.
Chance the Rapper announces the expansion of his fan-fueled platform, Rapper Radio, which aims to further encourage the direct relationship between the artist, fan, and radio station. "Our goal is to make radio an accessible platform for artists with the popularity, but not the necessary infrastructure to get spins," explains Chance.

Rapper Radio, launched by Chance as a means of attaining radio air play for himself, led his first single "No Problem" to reach #1 on the urban radio chart.

Today, Chance announces he is adding leader boards for top cities, fans, and stations. Following his own success of the platform, Chance intends to open it up to additional artists. Jidenna, DJ Khaled, and Linkin Park will be the first acts to utilize.

Head to RapperRadio.com to support DJ Khaled's "I'm The One (feat. Chance the Rapper, Quavo, Lil Wayne, and Justin Bieber) and you'll be in the running for a prize. Top fans will receive Chance's wardrobe from the video, as well as tickets to his sold out "Be Encouraged Tour". Winners will chosen on 5/12 at 12:00am CST.
Support Rapper Radio here.