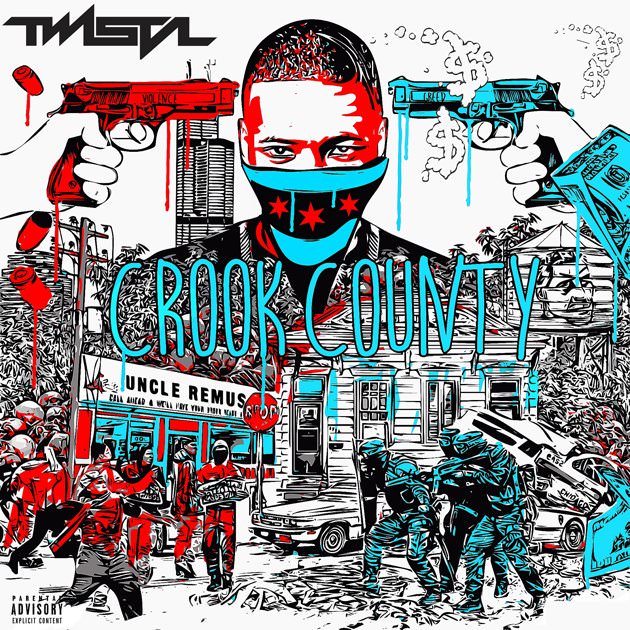 2017 marks Twista's 25th year in the music business. TWENTY. FIVE. YEARS. An incredible feat, by all measures. A lot of rappers don't last 18 months let a lone decade, and T is pushing towards his third full one in the game. Commendable, for sure.
Today, he announces his 10th studio album, Crook County, named loosely after the county that birthed him (and one of my favorite tracks from 1998's Mobstability), and is due to hit fine digital retailers on July 7th. Soon, very soon.
For the first single he linked with storied ATL producer Zaytoven, as well as another Chicago living legend, Cap 1. Cap laced the hook, while Zay handles the beat. An all-star track of epic proportions.
Twista unveiled both the cover art and track list for Crook County, which can be found above and below. The album looks stacked, including work with some of the Chi's top rising stars like Supa Bwe, Vic Spencer, Jeremih, The Boy Illinois and YP.
Check out the track and the track list below.
1. Disrespectful (Prod. by Xcel for Beat Bangers Production)
2. Mortuary ft. Vic Spencer (Prod. by Zenzan Beats)
3. New Flow ft. Bandman Kevo (Prod. by YF Beatz)
4. Happy Days ft. Supa Bwe (Prod. by Zenzan Beats)
5. Hollywood (Prod. by Supe & Cal-i)
6. Baddest ft. Cap 1 (Prod. by Zaytoven)
7. Paper Chasin ft. Blac Youngsta & B. Scott (Prod. by YF Beatz)
8. Dreams ft. Bodi Deeder (Prod. by Xcel for Beat Bangers Production)
9. Stackin Paper (Prod. by Chase The Money)
10. Just In Case ft. The Boy Illinois (Prod. by Zenzan Beats)
11. Next To You ft. Jeremih (Prod. by Ty Fyffe)
12. Spend It ft. YP (Prod. by DJ Tight Mike for 1 Street Heat Production)
13. Can't Be Me (Prod. by DJ Tight Mike for 1 Street Heat Production)