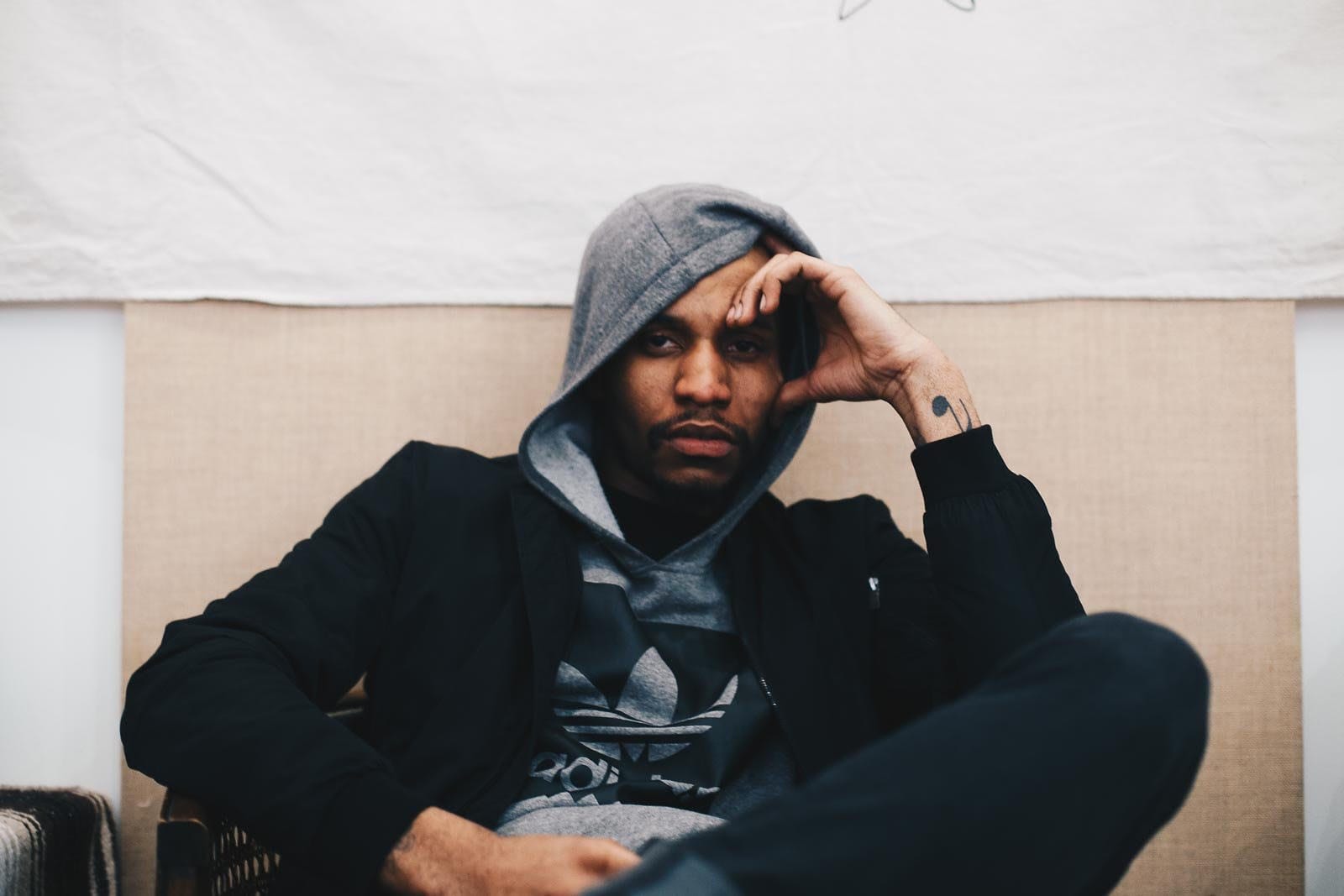 Words by Quentin Yarolem. Photos by Samantha Fuehring.
I've been racking my brain trying to come up with an appropriate metaphor to help explain Phoelix's abrupt rise to dominance, but there is really nothing like it. The man went from being totally off the radar to being a part of the trio that produced the two best albums of 2016, Bucket List Project and Telefone, (don't @ me). He then followed that up by going on a sold-out tour with Noname, where they performed for the NPR Tiny Desk. Then, as if that wasn't enough, he went on another sold-out tour with Smino! The man's poppin'.
Now that he's finished working on other people's projects he can get to his own, and if Romans 7:21 is any indication, the project is going to be lit. We also have his new single "Sirens" for you to sample below.
We caught up with Phoelix to talk about his project, musical roots and spirituality.
FSD: What type of music did you grow up on?
PHOELIX: Well, I grew up in the church. My mom directed the choir and my dad played bass so, I was always involved in something. I learned the piano from my God-father and I just stuck with that. A lot of church music.
FSD: Does religion play heavily into your influence? The first single Romans has a pretty large connection to the Bible.
PHOELIX: I feel like it's more spirituality that I try to get across in my music. I think that spirituality is a big part of my life and I try to be as honest as I can about it. So like that Romans song, that's something that I really feel and what I went through, so I just put it in a song. I definitely talk about it as much as I can.
FSD: How does Romans relate to your personal life?
PHOELIX: It's a book that talks about dealing with temptations and succumbing to things that you know you shouldn't succumb to. He talks about, "I wanna do good but evil is all around me." It's like, you know that in life there are things that happen that are going to make you stray away from things you should be doing, but you have to know how to maintain and deal with it. Confidence in knowing what you're capable of. I think that's kind of what I have been going through to try to get here.
FSD: You kind of came out of nowhere this year. Being on Sab and Noname's tapes and then touring with Smino. How did this all come about?
PHOELIX: I moved to Chicago in 2013. I was in a band called The Art of Cool. We played all of what we thought were the popular Chicago venues – Reggie's, Metro, HOB, etc. I met drummer & Music Director Ralph Gene on a gig shortly after that. We (also with bassist Erik Hunter) went on this tour in Seattle and it was like a super shitty tour. It was just a bad situation and we didn't really know what we were doing then. We were out there like, "Man this is weak. We can't be doing shit like this anymore. Whatever." Just kind of ranting. Ralph was like, "Hey I think Saba has a show in a couple of months, I'm tryna put a band together, you in?" I'm a huge Saba fan. I'm a huge Noname fan. At this point, I don't know any of them yet, but I'm a huge fan. So I'm like, "Hell yeah I'm down for that Saba show!" That's when I met Saba and Noname and Smino and Monte.
We just started kicking it. I did a bass line for Smino on "Poppa" and I think that built alot of trust.  We just kind of started working together. At Saba's house we'd be making beats and just making songs and stuff. Noname was there and was like, "Let's work on my album." It was Cam [O'bi], Saba, Noname and I and we made Telefone and Bucket List Project. Now we're here. You just wake up and it's crazy.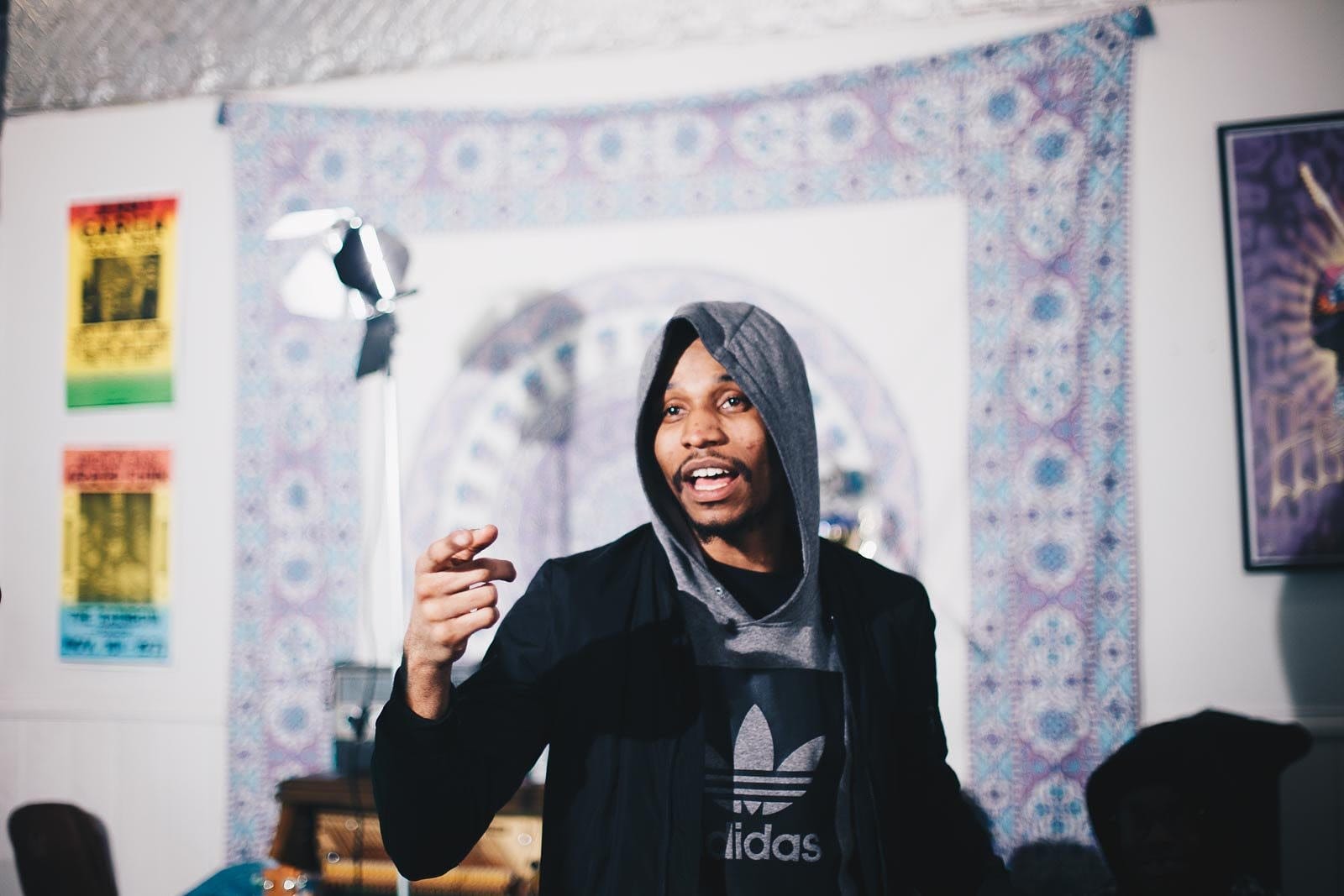 FSD: How long did it take for those collaborations to be more organic and natural? Was there any awkward time?
PHOELIX: I think literally within the first thirty seconds of making a beat with Saba, we instantly knew. It didn't take long at all. It was more just learning how he creates and how to not make him uncomfortable. Just him trusting with whatever I was doing and me trusting with whatever he was doing.
With Noname and Smino it was more a conversation like off the top, and Smino just being a comedian. He funny as hell. They're very cool people and it just made the whole process easy. Monte is the same way.
FSD: The production style on Telefone and Bucket List Project are very similar, even Romans has this sort of neo-soul vibe. It's almost like the're cousins or from the same family sonically. Is that intentional or that just kind of happen.
PHOELIX: It's not intentional. The emotion that comes out of those sounds is one that I really connect with. I guess I go to them a lot, but it's not an intentional thing. I just want to make music.
FSD: What can you tell me about your project?
PHOELIX: It's definitely real & definitely on the way.
It's kind of like my life and what I've experienced and what I've gone through. It taps into some of my roots of where I come from with my culture and family. The things that parents went through and what I've gone through. Being black and living in the suburbs, things like that. And then also like who I am now and who I'm becoming. It's sort of like a timeline.
**listen to Phoelix's new release "Sirens" (ft. Elton Aura) (Prod. by Phoelix)