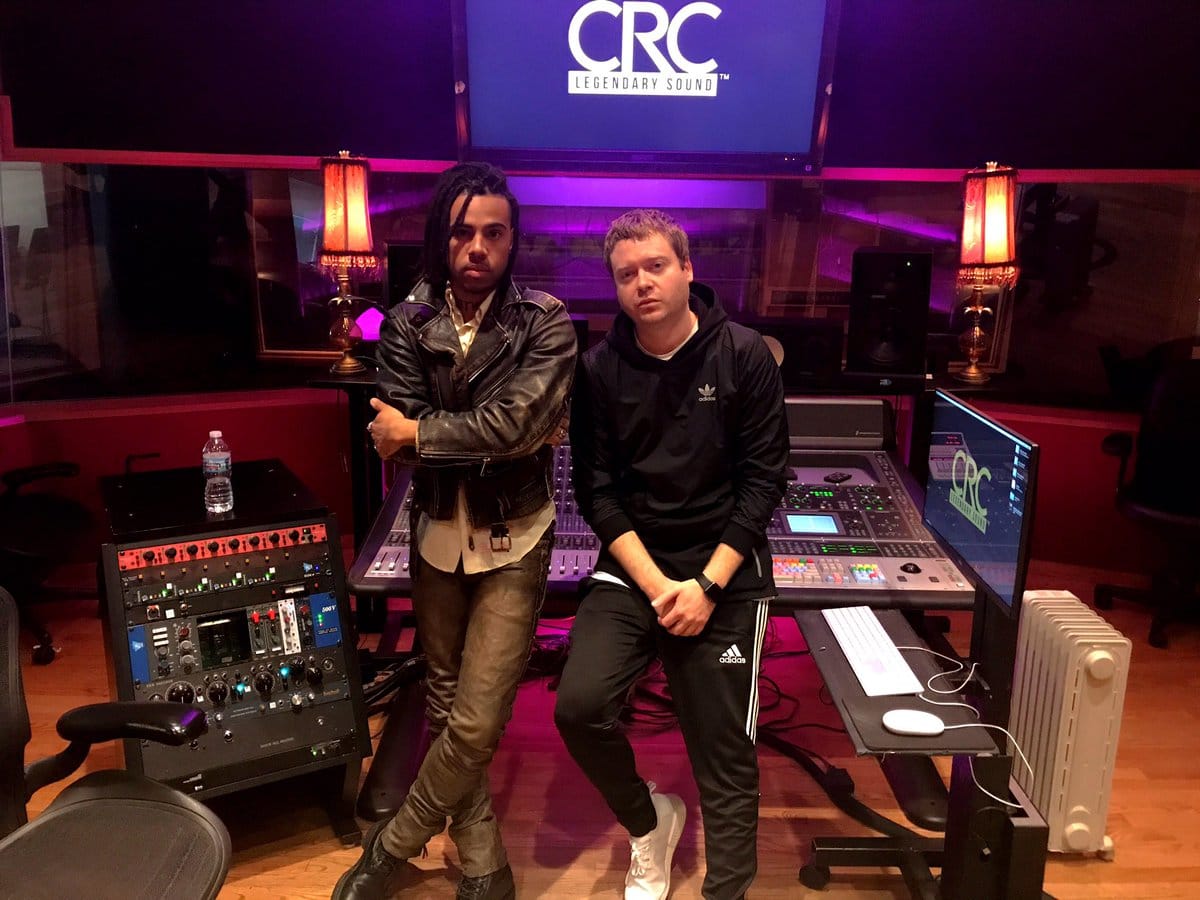 The triumphant return of Vic Mensa…
It's been four years since the release of Vic Mensa's breakthrough project, INNANETAPE. It's been two years since Vic Mensa announced his signing to Roc Nation. And it's been one year (exactly) since Vic dropped his EP, There's A Lot Going On.
It goes without saying that the world has been waiting on Vic. What's he gonna say? What's he gonna do? The world has gotten crazier since the last time we heard from him. The good news is that he's ready. The Roc's ready. And he has a lot to get off his chest. He was just moving at his own pace. Great art can't be rushed, and when I sat down with Vic on May 31st at CRC studios, it all made sense. Sometimes a self-imposed hiatus is good for the soul, and in the case of Vic Mensa's official Roc Nation debut, that statement is absolute truth.
I've known Vic for close to a decade now. Eight years to be exact. Which is nearly the entire existence of FSD. I've watched him grow up. I saw him step up as a 15-year-old and freestyle amongst men in their 20s and 30s — undeterred. I saw him as the frontman of Kids These Days. I saw him survive a near death electrocution and 30-foot fall at Lollapalooza. Now I sat with him as a man, ready to unleash his major label debut on the world. Vic has traditionally been a very guarded person, but on this album (which I cannot reveal the title of) he's an open book. Sharing his feelings on life, love and the perils of fame. It's personal, and personal is the most powerful. It's not as carefree and easy going as INNANETAPE or as politically charged as There's A Lot Going On, but it finds a way to merge the two and bring the best elements out of both. It's not as rock-ish as some of Vic's most recent work, but a few of the tracks definitely have that edge.
But Vic hasn't forgotten about his roots. His Chicago roots or his Roc-A-Fella roots. Throughout the project, he finds a way to bring that old Roc sound back, thanks in part to the album's executive producer and chief overseer, No ID. A Chicago brain trust that gives us Vic's best project to date. The opening track, which I believe was produced by No ID, Smoko Ono and Papi Beatz, is clearly a nod to the legendary Roc intros of yesteryear. That old soul, recooked. The sample, which I can't recall, was chopped in a way I've never heard before. Whatever they did to it caught my attention immediately. This track was an initial favorite, and might stand as so.
From the jump, I was impressed with Vic's subject matter and looking inward for a message that can resonate with listeners. From suicide and depression to issues with drugs to touching on his father being an immigrant from Ghana, Vic lays it all out for the world to see. Even recounting the night his big homie Cam was murdered in Chicago. It's deep. It's powerful. It will make you feel something. Once you hear his story, you get a better understanding on what he's been dealing with and what he's been up to since INNANETAPE. He's juggling a lot internally, and this album serves as his release therapy.
As far as the production is concerned, No ID's fingerprints all over the album. Perhaps in a way we haven't heard since Jay's Blueprint 3 or Big Sean's Finally Famous: The Album. He really went all out here, either producing or co-producing the bulk of the album. Somehow, someway, No ID managed to create a new sound (yet again). The way he's chopping is different, the way the low end hits and the drums knock – it almost alien. Most producers run out of gas after a couple years, but Dion is 25+ in and still innovating. Very impressive.
I'm sure I'm missing a few, but Pharrell contributed a couple joints – with a hook on one (Vic's stories of working in the studio alongside P were quite inspiring). Elsewhere, 1500 or Nothing blessed Vic with a few bangers, as well as Chicago's own Da Internz ("Rolling Stoner" – a potential single). Vic also found the inspiration to start producing again, something he hasn't done heavily in years. In fact, he did one of the clear standouts from the album – a Weezer flip that features a guest appearance from the Weezer frontman himself, Rivers Cuomo.
On the feature side, a diverse group of artists make appearances. Mr. Hudson, Ty Dolla $ign, The-Dream and Joey Purp all show up and show out. But possibly the most exciting was when I heard Keef's voice ring out. Yes, Sosa is on the album, and he's on one of my personal favorite tracks. It's a very dope surprise, and that I can promise.
I also know that Malik Yusef has been working closely with Vic on this album, and his influence is also felt here. He's one of our generation's greatest writers and composers, and his special sauce and influence trickles out throughout the album.
Those wondering where the Kanye or Jay features are, I'll tell you this: they don't fit here. They don't fit within the context of the album. And if you think I'm crazy, this statement will make sense when you press play.
This album is unapologetically Vic. Like it or not. However, it exceeded expectations with me. Not that I didn't think it would be dope, but it's EXCELLENT. The rapping is next level, and his singing is on point. And after one listen, I believe it's his best work to date. It's extremely bold and adventurous, while remaining cohesive. It's all of his best elements as an artist refined and tightly crafted into an album format. It's going to resonate with the people – and people form all walks of life.
Keep in mind this after one listen, but it hit me in the chest. I left the session feeling inspired and excited. It's easily one of the best albums of the year, and you can hold me to it when it drops this summer. Yes, this summer.
For now, that's all I can tell you. Stay tuned. He's coming. Get ready to hear his story, as told by Vic Mensa.