Words by Aaron Navarro. Photos courtesy of Lonewolf (@whylonewolf)
If you haven't heard his name yet, chances are you've seen his work. The 21-year-old director, Lonewolf (real name Zac Matias), has branched out from his Indiana roots and has worked with a solid roster of Chicago (and Midwest) artists including Plu2o Nash, Qari, Rarri, Warhol.SS and Lucki just to name a few. Forever inspired by Michael Jackson's "Thriller" video, his own style is unlike any main videographers out today, blending out-of-the-box effects with some beautiful, cinematic shots.
We called up the young director to talk about how the Chicago scene compares to others, his style of directing, and some tips for rappers and directors. Check it out below.
FSD: Being from Indiana, how did you get in touch with the Chicago scene?
LONEWOLF: I was like listening to Supa [BWE], and I think I was like working out or playing basketball, and then autoplay came on and the next song that played was this one guy, he sounded really raw. He happened to be Freako, so then I emailed his manager. And this was my first time reaching out to people in Chicago. I reached out to his manager, and was like "Yo, I'm this videographer from Indiana, I'm just reaching out trying to work with Freako." In that same hour they messaged me back. I was actually nervous as hell. I drove out to Chicago and shot with Freako, and after that I met with Adot, cause they're really good friends. And then after that Plu2o reached out to me from working with Adot and Freako, and then like the rest is history I guess. Plu2o is Lucki's producer, so I guess that popped up from working with Plu2o a lot.
FSD: How is it working with all of these rappers in Chicago?
LONEWOLF: It's been good so far, I've never really had any problems. But everybody is just different. Some people want to work harder than others. Everybody's different. Definitely from hanging out with different artists and stuff or going to parties and stuff like that in Chicago, some people are always xanned up or drunk and I don't know, that's not really the wave for me, I guess. Overall, everybody's cool, but some people want it more than others and I really respect the artists in Chicago that are not just straight work, we definitely have fun and stuff, but I definitely like messing with artists that are more driven.
FSD: I remember you told me before how you like to stay completely sober while shooting right?
LONEWOLF: Yeah definitely. I've been to shoots and they hand me weed and I'm like "Eeah, cool." But I noticed, like before when I used to be high and shooting, I'd be like "Damn this is raw as hell, I can't wait to look at this." And then next day I'm sober looking at it and I'm like, "This shit is so trash." I kinda stopped being off of it.
FSD: You being from Indiana, how does the music scene compare to Chicago? Cause at least in the Midwest, Chicago is definitely the hub.
LONEWOLF: I actually love Indiana. I'm going to be moving out, more into Indiana. I could be moving into Chicago easily, but I just like the peacefulness in Indiana. We find things to do out there, if that makes sense. A lot of people from Indiana say, "Oh it's so boring out here." But if you're doing what we're doing, we definitely find things to do. As far as shooting, we find locations, we definitely find fun out there. And you have the luxury of going to Chicago if needed.
The music scene in Indiana, I don't want to call anybody out, but just as far as Indiana goes there's a lot of artists that are trying to impress each other, just in our city you know? And it's like, a lot of people in Indiana don't see the bigger picture. And that's how they get stuck in that 9 to 5 loop. But as far as the music scene goes, a lot of the artists think very locally. As far as the people I associate with, their moves are so much bigger than even just the U.S. You definitely have to surround yourself with those kind of people, I'd say.
FSD: You were saying, last time we were talking, how you were shooting videos in Atlanta. Who were you working with out there? 
LONEWOLF: I was working with Hundo, Pablo Online, this guy 10K and then before we left we met up with Yung Bans. We were just hanging out for a couple of hours, shot a couple of videos. It was fun.
FSD: What are the main differences between the Chicago and Atlanta scene to you?
LONEWOLF: Everybody out there [Atlanta] is trying to help each other. I don't really see that from Chicago. I'll hang out with friends in Chicago, everybody out there in Chicago at least, some people work together. Some people are trying to build together. And then others, are like, "I have my group of friends. You'll figure it out yourself," kind of thing. But Atlanta is very, I told them, "Yo, I'm from Indiana." And they'll just be like, "Oh word. Here's my number, here's my email, let's work." And I don't really see that from Chicago that often.
"Leave With You" by Lucki video, shot by Lonewolf.
FSD: Focusing back on you, your style is very unique, super distinguished. Almost to the point where I saw that Magnolia video by Playboi Carti and I thought, "Oh shit! Is that Lonewolf?"
LONEWOLF: Yeah, they're definitely watching. They're definitely watching. I don't know, I didn't watch the video, but I was getting a lot of messages like, "Did you do this?" I remember going out to Twitter and I had like four or five DMs. And the first one that I saw and opened, they were like "Did you do Magnolia?" So I told them,I got to screenshot it, and then I posted it. And then everybody, that's when people were like, "Woah, this is very much, like your style." I don't know, it's cool, it's flattering, I don't know.
FSD: How would you describe your style?
LONEWOLF: Lately, even when I just started, I just know whatever I think is cool, like if I edit something and I'm like "Let's fucking go!" That's when I'm like, alright, now I have a good edit. It's funny, if I say "Let's fucking go," five times in an edit, that means the video is going to be fire. Until I say that like a bunch of times, then I know the video is done. To describe my style, I would just call it grainy and very gritty, I'm not too sure, like goosebumpsy. I don't really know how to describe my own style.
FSD: I'd say it's pretty cinematic!
LONEWOLF: That too, I tried to incorporate that too, I'm going to be transitioning into more films and stuff like that. So I'm definitely trying to incorporate more cinematic shots. For my next videos, I'm going to be incorporating sound too. So over the song I'm going to be adding different sounds that go with whatever I edit too.
FSD: Any music videographers that inspire you, or you respect?
LONEWOLF: Just on a respectable scale, I'm not sure if you've heard of Pat Banahan. That's the homie. That dude is so hilarious and talented. I definitely want to work with something with him in the future. As far as like, who inspires me, Christopher Nolan is a director. He directed my favorite movie, Interstellar and he directed, Inception. Brother, he directed Travis Scott's "Butterfly Effect" video. He directed the "Party Monster" by the Weeknd and his videos are so crazy. I watch his videos and just get inspired. I kind of just keep it super low-key. I watch movies, I watch Rick and Morty, stuff like that. That's really what sparks me wanting to create more and think outside the box.
FSD: I feel like the internet has really changed the role and platform of music videos from MTV to Youtube to now even Twitter being the spot where people watch it. What do you think is the platform of music videos now for an artist?
LONEWOLF: Like right now I think Twitter is definitely the wave. I know when we did the "Leave With You" video with Lucki, he just dropped it on Twitter and that was like the first time I've ever seen an artist drop a whole music video on Twitter. That definitely had a really good response. I definitely think Twitter is a really good place to drop like a whole video. As well as like a good platform is on Youtube. I would say. Because definitely bigger blogs can get ahold of it and promote it from there. But Twitter is very convenient, because you'll just be on your timeline and the video will autoplay. You don't have to click the Youtube link and then click "play." And people really have a short attention span now, so whatever is right in your face is definitely more convenient.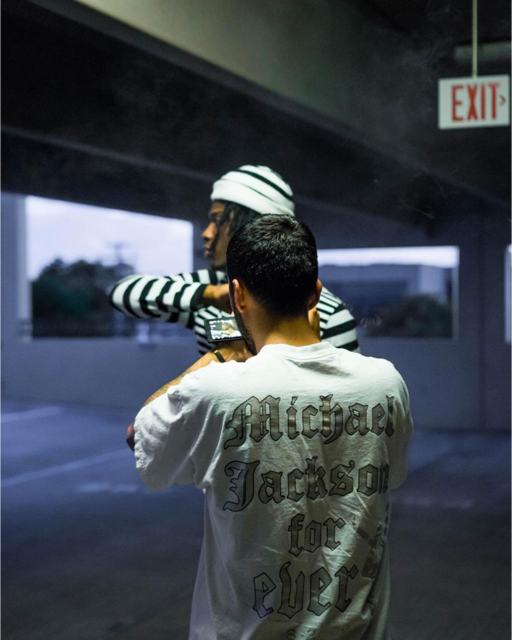 FSD: Tips for rappers working with videographers/directors?
LONEWOLF: I would say, definitely have an idea of where you want to shoot, what you want to shoot before. It'll definitely benefit the videographer in your own video. Just because I'll go to a shoot, and this has happened before, and an artist will be like "What're you thinking?" And I'm like, very confused because I'm not that familiar with Chicago if I'm working with a Chicago artist, or wherever I'm at. Definitely, if you're an artist, just keep in mind, where you want to shoot and what fits. Or just send the song over to the videographer and be like, "What do you think from this?" And then just bounce ideas from there.
FSD: On the flip-side, what tips do you have with directors working with rappers?
LONEWOLF: I get so many messages from people trying to get into the videographer game. But a lot of the people that message me are like, "Give me your answers," you know what I mean? Like very, like "Show me your ways right now" or like "Can I have video editing tips?" But my main tip would be like to just torrent or buy a video editing software. And just sit in front of the computer. That's my best advice, is to just figure it out. Youtube is like the biggest tool for me that I've used. But just spend the time, spend the 10,000 hours. And you'll definitely see progress. If you have a friend that's an artist, definitely work with him and do a couple of free videos or videos for like not that much. When I started I used to shoot videos for free, but now I'm getting paid. Definitely shoot as much as possible, and then just edit. And then if you like effects, figure out cool effects or whatever suits you. And then just go from there, sit in front of your computer screen.
FSD: Speaking off of 10,000 hours, how long have you been at this yourself?
LONEWOLF: I would say two years, actual editing. But those two years are very compact, I've definitely been sitting in front of my computer for hours and hours and hours. So, I have a long way to go in terms of editing and being at a style that I want to. As far as how long I've been editing, I used to make really short films and I used to film skateboarders and put little effects in the video. It's been a long time coming, but as far as music videos, probably like two years.
FSD: What you got in progress now? You mentioned before you'd be down to work with BigBodyFiji?
LONEWOLF: I don't have anything in progress with Fiji at the moment. But right now I'm working on various videos from artists in Atlanta like Yung Bans. I have some new work with Adot and Plu2o too. There's a lot to come.
FSD: What's your end goal?
LONEWOLF: In terms of music videos I definitely want to do Tame Impala, Kendrick, Pharrell and Thundercat. I've been listening to them like non-stop lately. Just watching their videos, they're very creative and they make sure they put time into it. Not only their music but their visuals. But the end goal, I definitely want to be like a real director. I know I have to start off at the bottom of the totem pole, but I'm ready for that. I still want to do music videos in the future too, like just cool music videos. But I want to for sure do films, get into more writing and stuff like that.

Lonewolf 2016 Video Reel