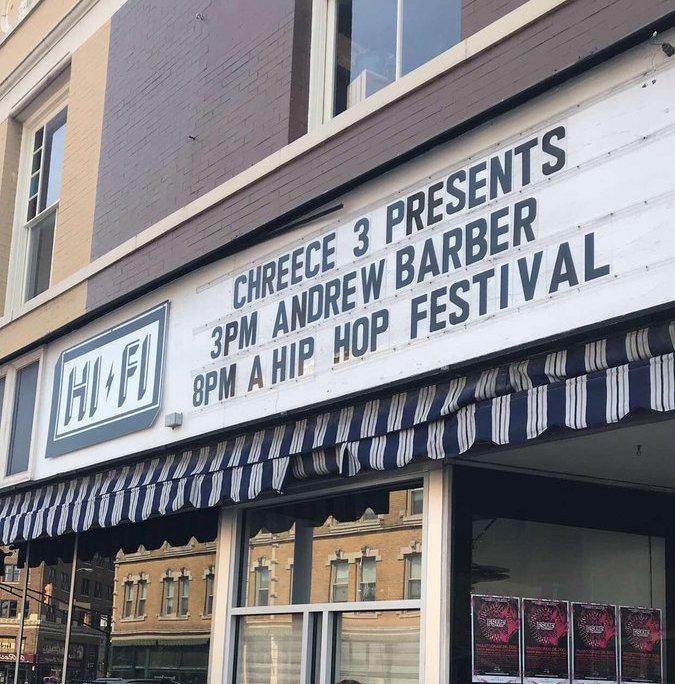 Picture via @CHADTXTBOOK
This past weekend, I had the great honor of being booked as the first-ever 'g-note' speaker at the third annual Indianapolis hip-hop festival, Chreece. For those of you scratching your head at the title, it's a clever mesh of cheers and peace. Got it? Now that we're past that, I wanted to report on what I experienced at the Fest. First and foremost: I had an amazing time. It was a beautiful day filled with new connections, new inspiration and new music. I was able to get a bird's eye view into what's popping in the Indy music scene, and everything I experienced gave me indicators that the city of Indianapolis is on to something big.
My big homie DJ Indiana Jones brought me down to the event, which has been put together by a small team spearheaded by Oreo Jones for the past three years. It's a daylong Fest thrown in the Fountain Square neighborhood, featuring nine indoor and outdoor stages, including a wide array of talent in the Indy scene. It spans across all rap subgenres, and was only $15, and was an all ages affair. A $15 music festival? That's some unheard of shit, right there. And you played yourself if you live there and you didn't attend. Even if you're not a diehard rap fan, there was literally something for everything — and the energy in the area was incredible.
Despite any big name backers or sponsors, this team was able to pull off this feat, which highlighted local talent instead of booking bigger name out-of-town stars. And that was the magic. It very much reminded me of what I saw in Chicago in 2007 — in the Wicker Park scene specifically. A diverse group of people of all races, ages and sexes coming together in a peaceful manner to take in the burgeoning local stars before the rest of the world caught wind. But even if some of the acts weren't known outside of the 317 area code, they still packed venues and had fans going crazy and rapping along to every single world. I was more than impressed, and as an outsider looking in was a bit perplexed as to how this could be happening without having a major blip on the industry radar.
But fuck the industry, they will come. As long as you build it. Word to Field of Dreams. This was some super DIY, and community-based greatness. The amount of love and respect I was shown was uncanny, and the whole vibe was electric from my perspective. Sometimes when you're in the middle of it, you don't realize what was happening but watching as an outsider was something special. I was able to be somewhat of a 'fly on the wall', while discovering new talent (well, new to me) such as Nathan Arizona — a highly entertaining emcee, who performed sitting down and passed out self-branded bags of Flaming Hot Cheetos. I had to stop my conversation to see and hear what he was doing. I also saw acts like Mula Kkhan and Dose, bring the house down with crowds rapping their songs word for word like their shit was on the radio 100 times a day. I honestly left feeling kinda like I haven't been doing my job by letting all this great talent fly by me. I got to see Action Jackson spin a crazy outdoor set, and watched a mob of fans basically running to catch the red hot FLACO in action.
I was also able to see guys that I've championed — Drayco McCoy for example — perform in front of his hometown crowd and nearly cause a riot. Seriously, he brought the Hoosier Dome, which looks like an abandoned haunted mansion, to the ground during his headlining set. It was incredible.
I got to catch up and talk shop with frontrunners like Sirius Blvck, and Scotty Apex who we've been posting regularly and playing on The Drive on Shade 45 quite a bit. Plus running into old homies like PAK. Unfortunately, I missed my guy Mathaius Young, but I was able to meet talents like Swan Laak, CAS ONE, Hey Zeus, John Stamps, Wildstyle and countless others (sorry if I forgot anyone).
I hope this festival is long-lasting because it's definitely something I'd continue to travel down for in the years to come. Others should too. There are great things happening in the Midwest, sometimes you just gotta move around to find it. There's so much talent in our region, and I vow to continue to seeking them out by any means. Indianapolis, for now, is an untapped source. So don't be late to the party.
A special thanks to my O.G. DJ Indiana Jones for bringing me down, as well as the awesome guy Oreo Jones for putting in countless hours of blood, sweat and tears to make this thing happen. Here's to Chreece 4 next August.
Check out this custom DJ Indiana Jones Indy rap mix which ran on Shade 45 last night:
https://soundcloud.com/djindianajones/fake-shore-drive-chreece