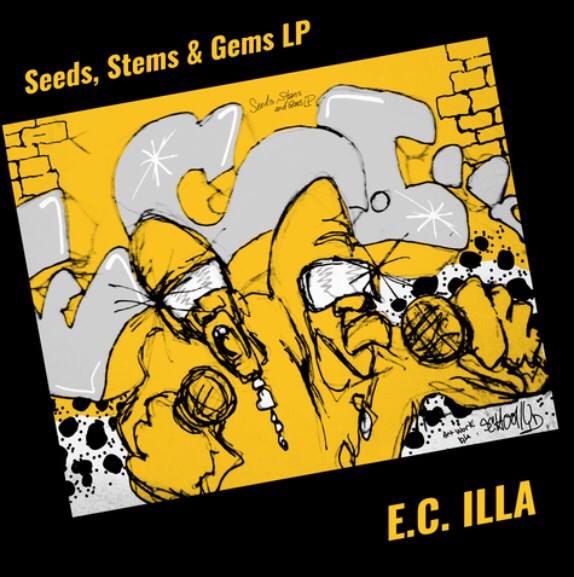 He's back.
E.C. Illa is undeniably one of Chicago's most storied and legendary artists. He quite literally kicked doors down for the scene to exist how it does today, and paved the way for the city be the powerhouse it is now. So we will always salute and tip (no pun intended) our hat to the living legend.
E.C. retired from dropping albums well over a decade ago, but still pops up from time to time with very rare and calculated guest verses (see: Vic Spencer "Cinema Bahz"). But on December 6th, he's releasing what's left in his vault as part of his Seeds, Stems & Gems LP. Only 350 copies will be made available, and they were put on presale yesterday on Illa's site. All orders will be shipped December 7th, and the album was made available on a first come, first serve basis.
Each copy will be numbered and signed and will also come with a limited edition "Chicago Hip Hop & It Don't Stop" logo sticker, designed by Chicago Graf king, SLANG.
And oh yeah, if that wasn't dope enough, fellow icon Schooly D hand-drew the artwork for the project. Not to mention it will include one BRAND NEW song featuring M.O.P.
You can read the full press release below, and purchase the $35 product right here. Don't snooze, grab it here.
E.C. Illa's Seeds, Stems & Gems album will be available for PRE-ORDER ONLY for 4 weeks, between Nov.7 and Dec.6 or until all 350 copies are sold out, whichever comes first. After that point, this cd and cassette WILL NEVER BE PRESSED AGAIN, assuring that each customer is receiving a highly sought-after, limited edition collector's item.

ALL orders (domestic AND international) will ship on December 7th and should BEGIN arriving to ALL customers the following week. EC has determined this to be the fairest way to sell this very limited edition release to those who want it most.

EC will be autographing and hand-numbering each copy, with #50 being the last cassette and #300 being the final CD. This CD is an actual REAL replicated/manufactured, collectible CD… NOT A CDR.

Each copy of Seeds, Stems & Gems will also come with a limited edition "Chicago Hip Hop & It Don't Stop" logo sticker, designed by Chicago Graf king, SLANG.

The cover art for Seeds, Stems & Gems was drawn by Hip-Hop Legend, Schoolly D, specifically for this special E.C.Illa release. Schoolly D has done the art for several of his own classic releases, but this is the first time he has done the art for a fellow icon.

The music contained on EC's Seeds, Stems & Gems LP was recorded between 1991-1996. Hear an 18-23 year old Illa in the early stages of his career, repping the city of Chi to the fullest on the album's never-before-released tracks. Seeds, Stems & Gems also includes the brand new song "Golden Era Sh#t", featuring M.O.P.

As with all of EC's releases, the recording quality on this album is of the upmost quality, with solid 90's production by EC himself and Panik of The Molemen, among others.

Don't miss this one and only chance to own EC's final release and your own piece of Chicago Hip Hop history!