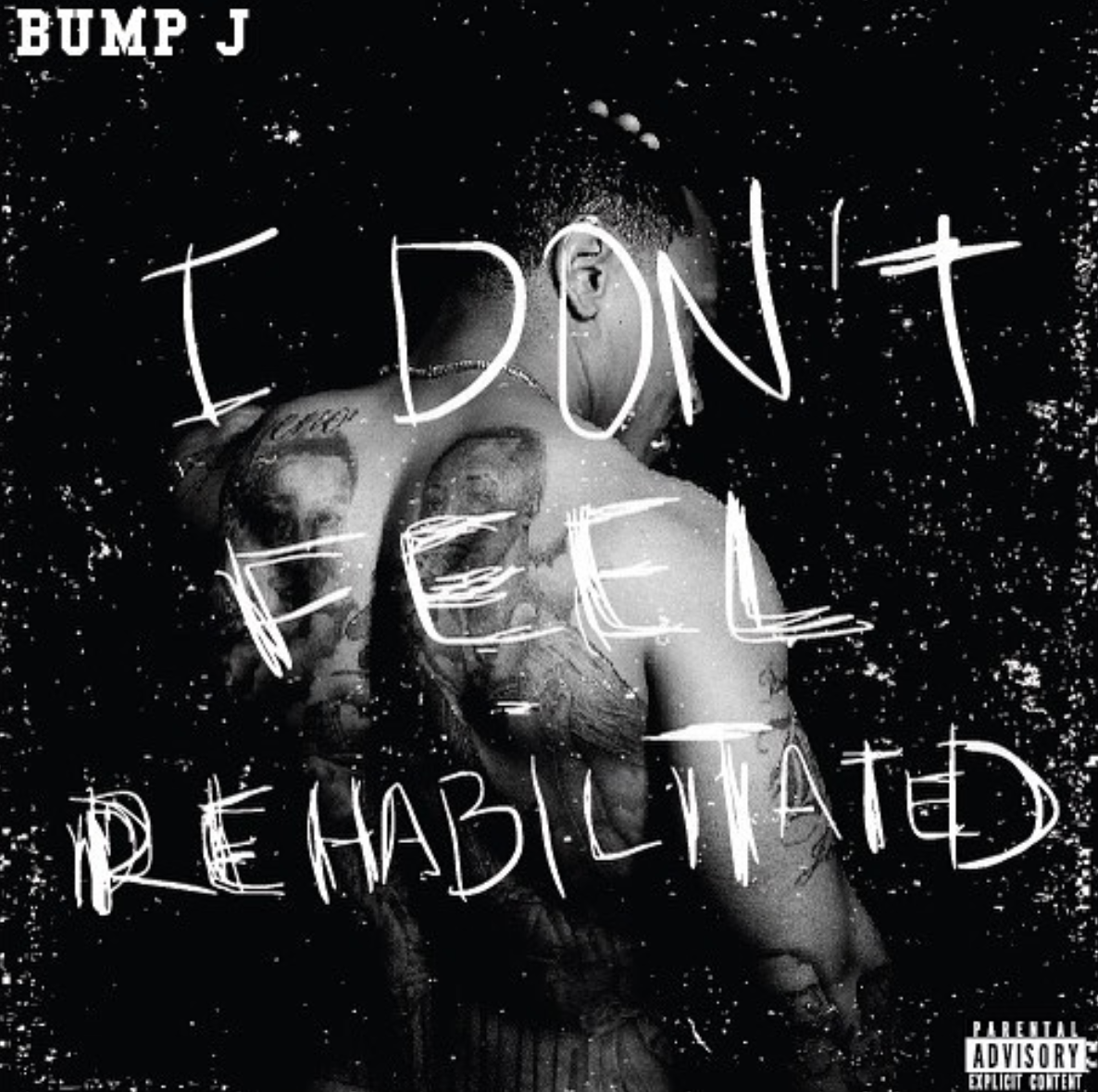 Wow. Big Bank Bump, the Chief of Chicago, returns with his first official project in nearly a decade, with I Don't Feel Rehabilitated. When I first heard the title, I was struck. It was powerful. Bump has grown, and matured, but the pain is still there. After spending nearly a decade in a cage, he's a free man. But the scars of his time gone, coupled with restrictions of probation continue to hinder the Chicago legend.
And on his new album, he gets plenty off his chest. He wasn't writing while incarcerated, so everything you hear is fresh. It's written from the perspective of a man who has seen the highs and the lows, but is back to comfortably wear and protect his crown at all costs. For the project, he's linked with big name producers such as Cardo, but also shows love to up and coming beatsmiths from the Chi.
He's truly back on his bullshit, but from another position. The one of a Don overlooking his city. He hasn't missed a step with the lyrics or concepts. It's still Bump's city. Today we celebrate with these nine new tracks.
I also got with Bump for a rather in-depth interview, where we discuss the album, how he put it together, and why it has taken so long to come out. We also discuss his work on Kanye's latest release, Ye, where he has writing credits on nearly every song. He talks about upcoming work with Kanye, as well as getting back down with Sly Polaroid, his relationship with XO and much more. This is going to be fun to watch.
Read and listen below. Today, we celebrate!
//
FSD: So you've been out for a little over a year now. Why have you decided to release the project now?
Bump J: It was time. I wasn't writing while I was locked up especially not to beats, so since I came home I've been playing with my flow and just really getting back used to writing and recording. 50 Cent said it best "it's hot out this bitch that's a good enough reason"
FSD: So how did you decide what producers to work with here? Did you have a specific sound you were going for?
Bump J: I really wanted producers from Chicago and Cardo did two also one from my XO family. I have a lot with producers like Bruus, DJ L, Chase Davis, Mano and others that I'm going to do full tapes exclusively produced by those producers.
FSD: Tell me about the title I Don't Feel Rehabilitated — is this how you really feel?
Bump J: It is how I feel. The incarceration didn't turn me into a different person. I was gone almost ten years so naturally I'm getting older and maturity comes with age, but I'm still Bump — just more calculated.
FSD: How has adjustment to 100% freedom been? No monitor, no papers, no nothing.
Bump J: It's been lovely. I've been blessed to have good family and friends who's made it easy for me to get in a comfort zone but I'm still on papers. They gave me five years probation and if I stay out the way, I can possibly get off in half that time, so I still gotta check in and get approval to travel. They are also still pissin me off, but its much better than the Feds [Laughs].
FSD: Was it hard to get used to life outside of prison? 
Bump J: Hell nah. It was hard to get used to jail. Being away from your loved ones, having to take orders when you used to giving out orders — that was hard. This is easy.
FSD: I'm told you've recorded hundreds of songs since you've been home. How did you decide on these for the project?
Bump J: To tell you the truth, a lot of the songs was just me sparring and getting used to recording again, so once the first project is released I have a base to flood the streets back to back to back. Content is king and I wanted to have a head start for future projects.
FSD: Did you and Shake put this whole thing together? Have you built a new team, or are you keeping everything in-house still?
Bump J: Me and Shake are definitely two of the main pieces, but I have a strong team starting with my management Sal & Co. That's another reason I waited to release music. I wanted to make sure I had my business all the way together and that starts with a strong team.
FSD: I see you've been heavy with the XO guys like Belly and The Weeknd. Are you working on things with them?
Bump J: Belly's family, XO is family. We go way back when we just had dreams of doing it. You can def look forward to some music from us.
FSD: I know you and Belly said you went way back. Did you guys have a relationship back in the early Bump days?
Bump J: Yeah before my deal we were real close, and even when I got my deal he was there while I recorded a lot of the music. He was even there with me and Kanye for the Rick James session.
FSD: Speaking of Kanye, you were out in Wyoming working with him on his recent projects. What was that like? Were you writing? Did anything you do appear on any of the new albums?
Bump J: Shit was crazy — a hell of an experience. I've never seen anyone work like he works. It was inspiring to see how passionate he is especially since he doesn't need the money from rap. You really could see that he just loves to do this shit.
As far as writing? No one really writes for Kanye. He basically has what he wants to do already and we're there vibing with him and combining our brainpower to bring it outta him. I am given writers credit on six of the seven songs but you would have to be there to understand what I'm saying.
FSD: Have you and Kanye done any music together?
Bump J: Not yet.
FSD: You and Sly Polaroid have been seen together recently — most notably in Wyoming working with Kanye. Can we expect new music from you two? Perhaps a joint project, or a Goon Squad reunion project?
Bump J: Yeah for sure. Kanye is going to do the seven song project with us, and we definitely are working. My man Boogz is cooking up for us as we speak and the rest of the squad is working.
FSD: Do you have any idea when we can expect the Bump & Sly 7-song EP produced by Kanye?
Bump J: We gonna start working on it in these next few weeks, so yeah, real soon.
FSD: I saw Boogz was heavily involved in the recent Kanye projects. Do you see him coming in and doing the same with your upcoming ventures? 
Bump J: Most definitely he will be very instrumental in creating that sound. Boogz is a very talented producer and we work well together.
FSD: Do you plan to tour for this project, or do a big Chicago show?
Bump J: I definitely plan on touring and doing a big Chicago show but we'll see where this project takes us.
//