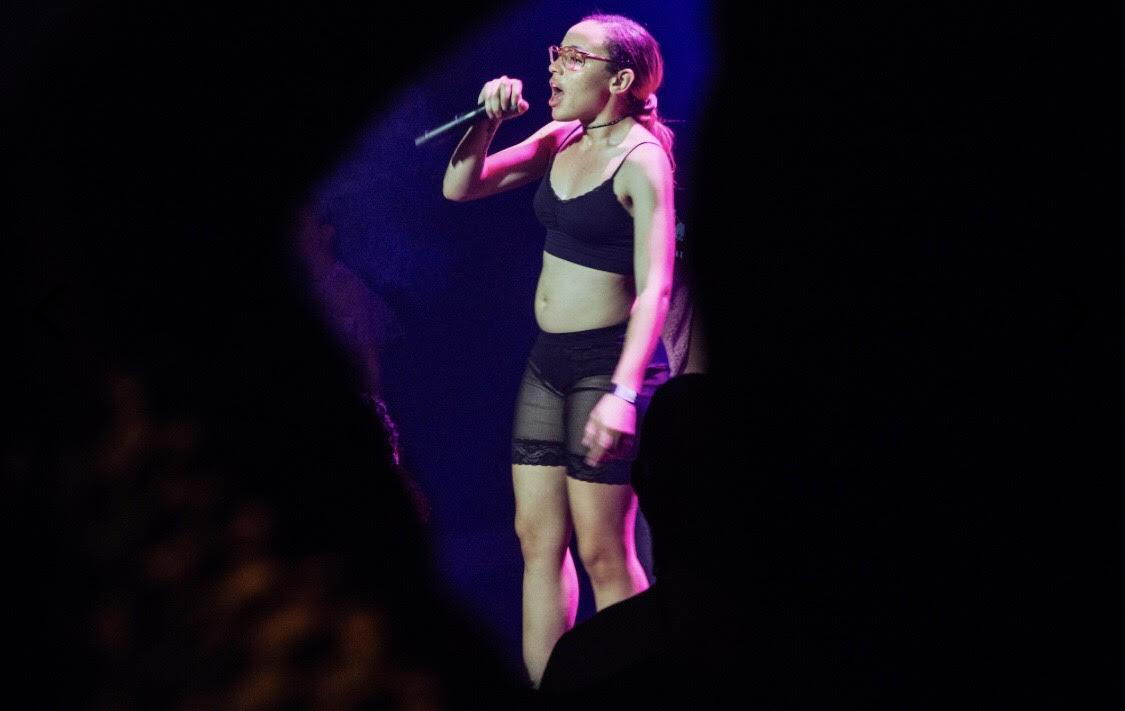 Words by Nandi Howard (@itsnandibby)
In a climate where rap is becoming more and more mainstream, Killavesi is gaining the notoriety she deserves. Streaming services can play a part in how most artists are able to stay relevant, however, the Chicago rapper managed to secure a fanbase on Soundcloud more than 2 years ago and streaming has only increased her popularity.
While many female rappers are grouped together, Killavesi doesn't have to worry about blending in. Her bright pink hair has been her signature style since she began to hit the rap scene, along with her melancholy style of rapping over EDM and trap beats. Her boyfriend Adamn Killa has also been heavily apparent in her career. Described as "relationship goals" by the Fader the two make music separately while also collaborating together occasionally. The pair put out a joint project titled, Lover Not A Killa, at the end of last year.
In February, Killavesi released a project titled Killa, which she describes as a "musical compilation of her 2017". Now in the second half of the year she is gearing up for a new single release and project. She spoke to FSD about the process of creating Killa, making music with Adamn, and what's next.
FSD: Where are you from in Chicago?
Killavesi: Right now I live in LA, but before that I went to King which is on 45th and Drexel, I lived in the Woodlawn area near Hyde Park.
FSD: Is there a chicago influence in your music?
Killavesi: Mhmm, probably. Probably more around my adolescent age I listened to a lot of Chicago music, but I also listened to a lot of other things.
FSD: What are listening to right now?
Killavesi: I listen to a lot of old music. I haven't been finding a lot of new things to listen to but I do listen to Michael Jackson, Cocteau Twins, etc. I'll listen to new future, Young Thug and Cudi.
FSD: What can you credit your sound to?
Killavesi: I could credit it to the things I listened to when I was growing up. I really liked the show Hannah Montana and how she was young and had a music career and people didn't know about it. Even before that I really liked the Naked Brothers Band and how they wrote all their music and played their instruments and stuff.
I also played various instruments throughout my childhood. Clarinet, violin, percussion.
FSD: You've created a lot with Adamn, how is that creating with someone that you connect with?
Killavesi: It's fun, it's very comfortable
FSD: How's the response been from putting Killa out?
Killavesi: I think people like it. It's a lot different then a lot of the stuff I put out. And honestly, I just put a lot of stuff together. The first two songs off of it I made it a year ago, so it was just random songs that I made.
FSD: Did you feel like you had to put a tape out in the beginning of the year?
Killavesi: We just put our joint tape out, so I put out Killa.
FSD: What's coming out next?
Killavesi: I want to do more rap songs but I also don't want to limit myself. I'm going to be working with this producer named Jesza a lot.
FSD: When can we like look forward to new music?
Killavesi: Soon.