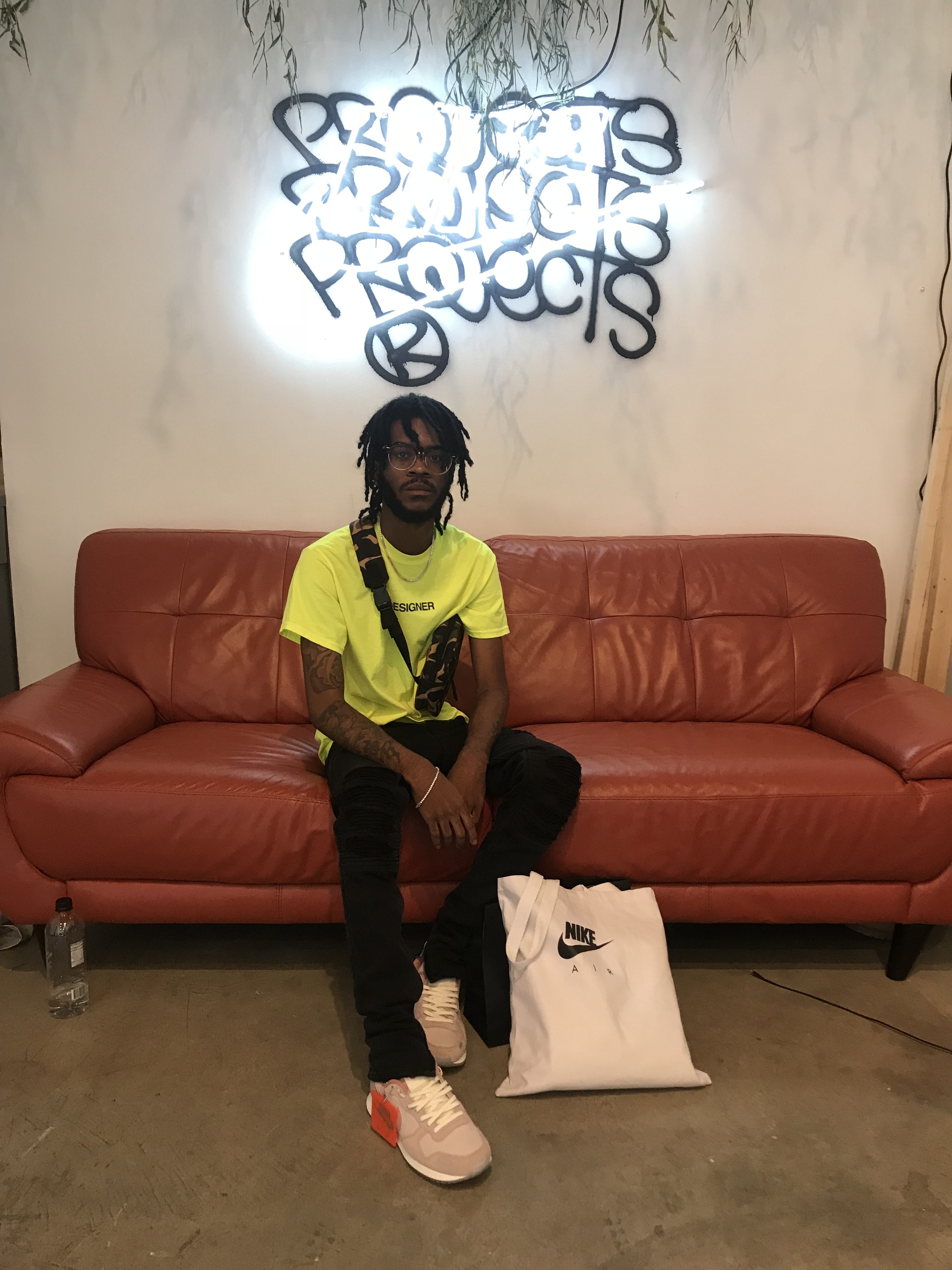 Ron Louis is out here. After years of perfecting his craft behind the scenes, and putting his 10,000 hours in — learning, studying and practicing  — he's finally had his breakout moment in 2018. As a *designer*, Ron's Phera brand is taking off, thanks to a sleek and simple design that has been cosigned by the likes of Valee and countless others. Yes, the "Designer" hoody that you've seen everywhere around Chicago this year is his creation. So how did Ron get to this point, and what's the story behind the man with the brand? Well, FSD recently caught up with him to get the scoop. Check out our feature on Ron and Phera below…
FSD: So tell me about yourself — how did you get into the fashion world?
Ron Louis: I'm from from Chicago …
I got my start after dropping out of college for financial reasons and started making custom cut & sewn pieces for Dreezy and King louie back in 2014. I then branched out beyond musicians and never looked back.
I got into fashion by faith. I always meddled in my grandma's sewing kit as a kid so it was always familiar to me growing up but started taking it serious after I took a clothing constructing class my senior year of high school. I fell in love with making people feel good about themselves wearing a unique product I created from scratch.
FSD: How did you come up with Phera?
Ron Louis: I actually came up with Phera on accident. I was texting someone and at the time was thinking about creating a brand separate from the custom cut and sewn work that I do. During the conversation I was telling them about how I wanted to make a brand for men and women who aren't afraid to be themselves and push individuality. I misspelled the word "fear" and put "fera" and it stood out to me. I looked up name availability and seen that it was taken so I replaced the "F" with "PH" simply.
FSD: What made you label it "Designer"
Ron Louis: Me putting "Designer" on the clothes actually came from hanging around Valee and noticing how much he customizes everything, literally. He was a fan of my work and I loved his music so we just clicked. When I found out he knew how to sew I would go over his crib and just work on random projects. I got extremely inspired by our conversations and thought to take a page out of Virgil Abloh's book and put "designer" on our garments.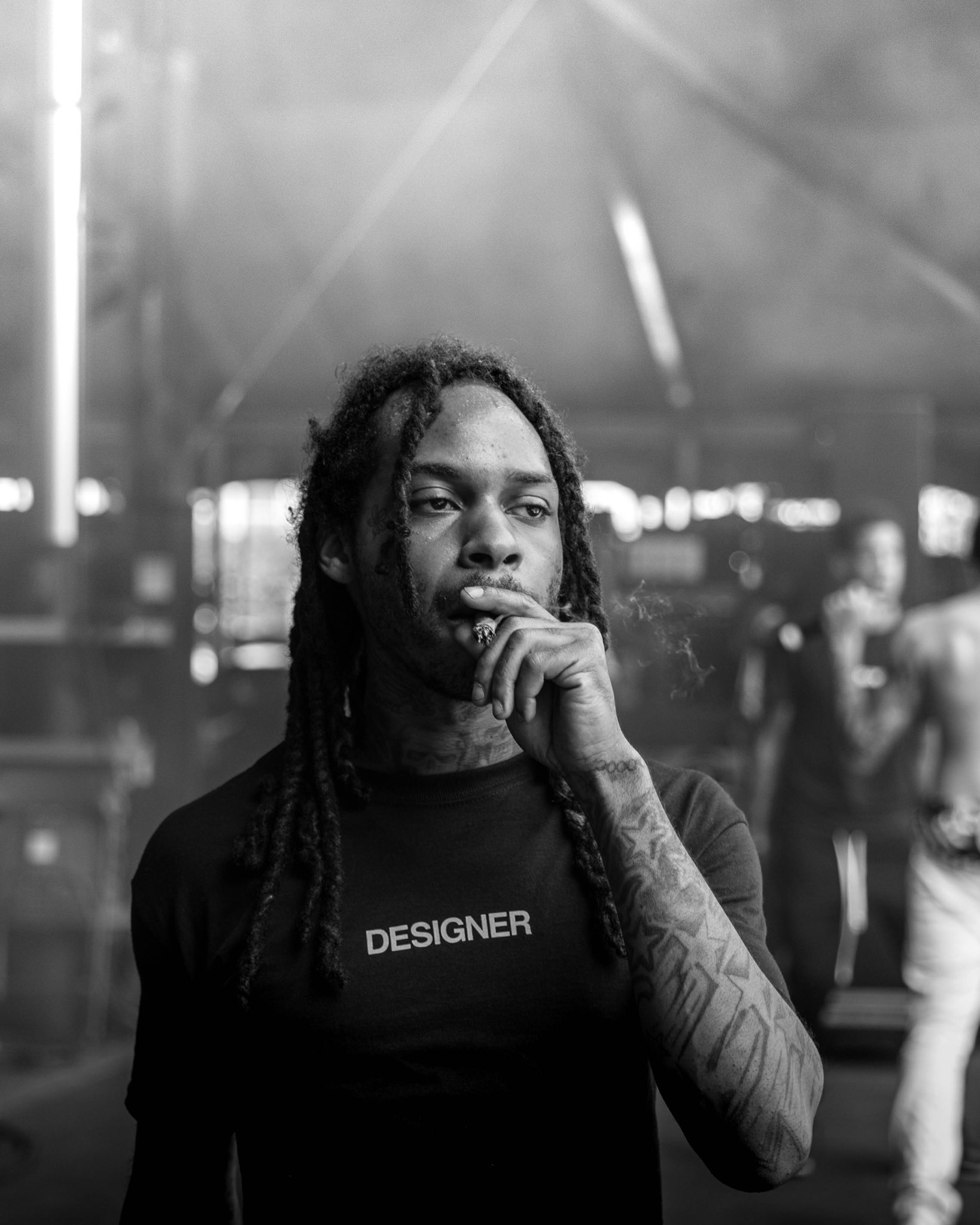 FSD: How did you hook up with Valee?
Ron Louis: I met Valee through a mutual friend who's a videographer, Toinne, at a pop up. Valee built a fish pond for the shop and was there supporting. I then got introduced to his music and was an instant fan. Me and V have a lot of mutual friends and family. Over the years, we just reconnected through our friend Riley and finally started working together. I hung out with him for a couple months before even giving him clothes because I wanted to make something cool that made sense with my interpretation of his image.
FSD: How has your career changed since your work has appeared in countless videos and media campaigns?
Ron Louis: I get the right people reaching out to me now. I had a buzz going before the videos and publications, but now since cross branding with Valee, the amount of platforms and big-named artists reaching out has increased significantly.
FSD: How do you plan to capitalize on the recent success?
Ron Louis: I plan on to just take advantage of the organic energy we have as a team and manifest the right situations. I am going to continue to push myself and brand to its highest potential beyond clothing. Phera is much more and I am going to show that with the help of the team and people around me staying focused on what's important. My mission is to give back to my city and heal all I can through art — this is only the beginning.
FSD: What are your plans to scale and take it to the next level?
Ron Louis: I feel like having pop-ups and getting the brand on the right people will help take it to the next level. I plan on getting more involved with people in and outside of Chicago. I am also stepping up the quality of work I produce and being as professional as possible. I'm always thinking about how I can do something better or improve things — never getting caught up in the recognition and just focusing on providing the best product possible. I believe if I remain this hungry and committed, the level up will take care of itself.