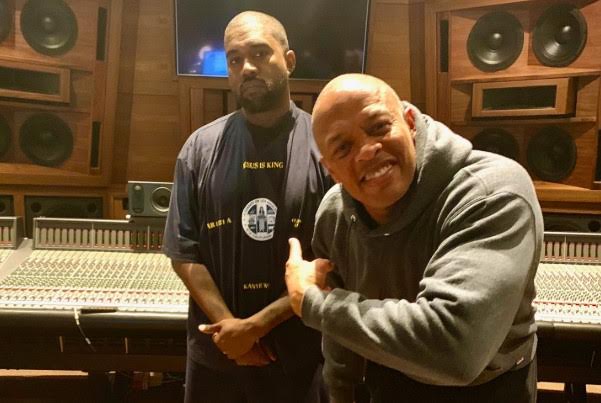 It is finally happening Kanye West is going to collab with Dr. Dre, and so the dream of many rap fans becomes real. Two of the most important producers so far will work together on the Yeezy's sequel album, as he shared on a tweet and a picture next to Dre, as noted by Hiphopxd.
To put this in perspective, it's what basketball fans felt Anthony Davis and LeBron James, two not so long shots for NBA MVP every season, joined forces together in Lakers. Well, as in basketball, this either can turn into a success or a failure. Let's look into it.
Release of Jesus is King
Kanye's LP was released on October 25th, after multiple delays, including the scrapping of the album Yandhi he was to release in 2018. Kanye's last changes finally led up to the dropping of Jesus is King, the Gospel-tinged album got mixed reviews but it didn´t affect the hype it got as it debuted on the No. 1 on the Billboard 200 Albums chart and to the date we're writing this stays 2nd on that chart.
The rapper and producer will be on tour soon to promote the recently released album but has teased the sequel to hype up, all together, Jesus Is King, Jesus Is King II and his new "Nebuchadnezzar, a Kanye West Opera". Right now, there's no other information beyond the posts on social media, so it is hard to tell what extent Dre will have a saying on the production of the record.
History Together
Although this is the first time they're officially collaborating, both Dre and Kanye have crossed path in different occasions, producing or having a saying on works of people like Eminem, Jay-Z, The Game, and more, all according to an interesting recollection done by Complex, here are some of the most interesting ones:
– 1990's: Kanye had heard of Dre years before, as a preteen, but now he was completely aware of what and who he was listening to, and to him was one of his biggest influences. Almost imitating his production when learning in the small house studio he had at his mom's place.
– 2003: The two of them finally meet in December that year, admitting he was Starstruck, West insisted on Dre to mix his next album, and funnily enough Dre asked Kanye to produce a track for the Games record. Yeezy stated that "He's the definition of a true talent: Dre feels like God placed him here to make music, and no matter what forces are aligned against him, he always ends up on the mountaintop."
– 2006: Both of them are credited as Jay-Z's ninth album "Kingdom Come", a double-platinum record dropped in November that year and that topped the Billboard's Rap Albums Chart.
– 2016: Dr. Dre and Kanye West were collaborators on a DMX album to be released that same year, but it never came out, and it wasn't clear if the three of them would appear at the same time on a song.
But let's not get ahead of ourselves, there's still a long way to go, for starters because West history of projects can produces some hesitation among fans, as he delayed on multiple occasions this album and he even canceled Yandhi, that was set to be released on 2018.
Dre's most iconic situation with canceling or delaying a production is Detox, an album he started working in 2001, and hasn't seen the light of day.
The Self-proclaimed "Greatest Artist God has ever created" and one of his biggest influences will work together for the only god knows how long, and it's a matter of time to see what two of the most prolific producers on the industry can do together, especially if they do release it. And knowing the control freaks they are when it comes to work, will be interesting how they try and fit with each other.