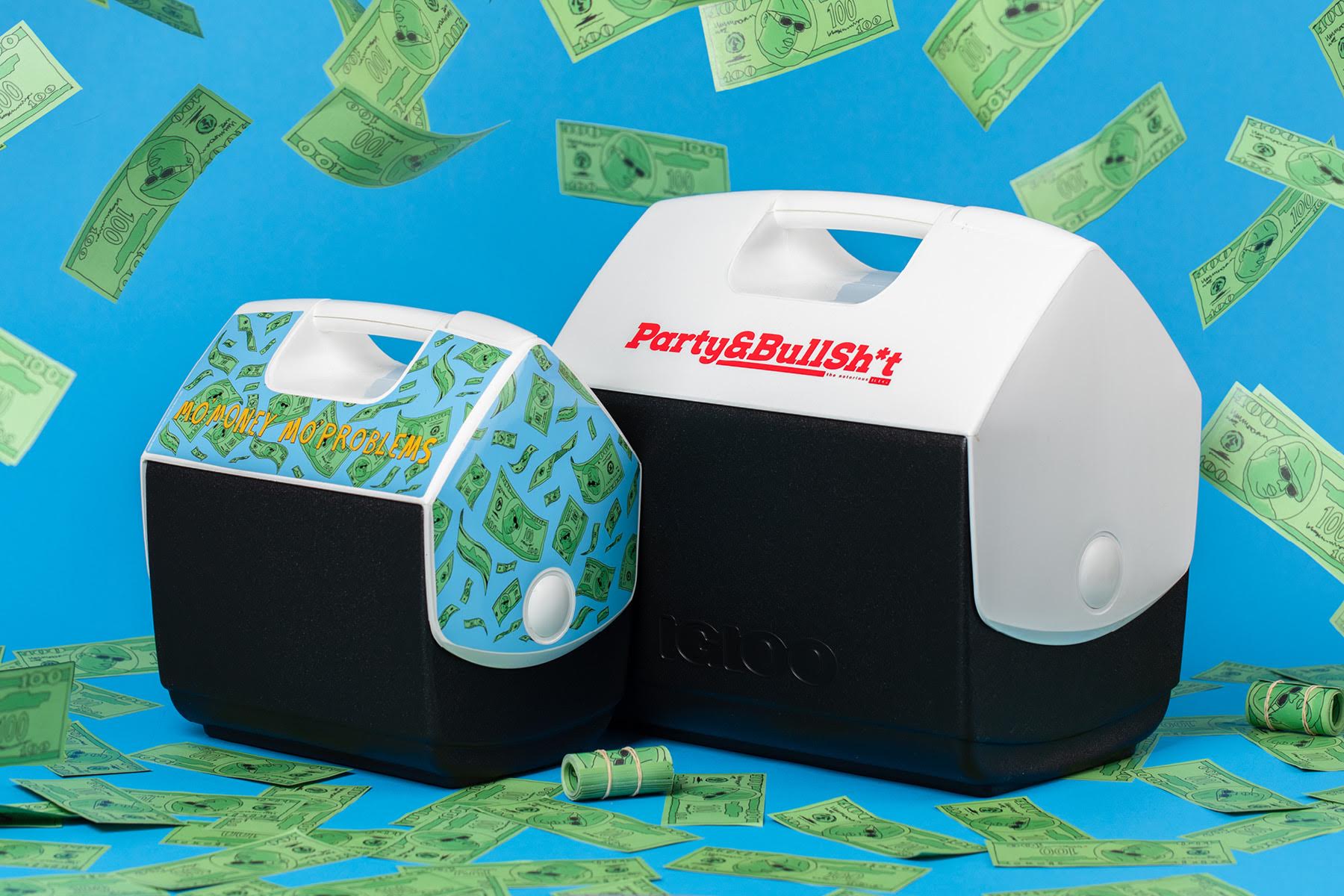 To celebrate what would've been Biggie's 50th birthday, Igloo coolers linked with the estate of the late, great Biggie Smalls to bring the world a limited edition line of coolers. Party and bullshit, indeed. But the fun doesn't stop there, later this summer Igloo will also roll out cooler collabs with the likes of 2Pac and Wu-Tang Clan. Yep, I'm collecting the whole set. Read more about the collab below:
Today, Igloo released two Playmate coolers in tribute to The Notorious B.I.G. Featuring original artwork inspired by Biggie, the Party Playmate Elite and Mo' Money Playmate Pal are available today at igloocoolers.com/biggie. Igloo designed the special-edition Notorious B.I.G. Playmate coolers with custom graphics inspired by the iconic rapper. The 16-quart Party Playmate Elite features a creative spin on the classic Playmate logo — instead of "Playmate", the logo in the same font reads "Party&Bullsh*t". And in ode the beloved lyricist, the 7-quart Mo' Money Playmate Pal features playful artwork, including Biggie-themed 100-dollar bills.

Speaking of dollar (dollar) bills, the brand has developed two designs in honor of the Wu-Tang Clan, releasing June 6, 2022. Honoring one of the most legendary Hip Hop groups in music history, the soon-to-be-released Wu-Tang Clan x Igloo Dojo Little Playmate and Dragons Playmate Classic feature original Shaolin Kung Fu inspired artwork.

Later in June, Igloo will show its California love with a cooler in honor of Tupac Shakur, dropping on his birthday, June 16, 2022. The Tupac Shakur x Igloo Little Playmate showcases photography of the iconic poet along with custom graphics inspired by the sunsets and palm trees California is famous for.

The Notorious B.I.G. Playmate cooler collection ranging $44.99–$54.99, is available now, while supplies last at igloocoolers.com/biggie.