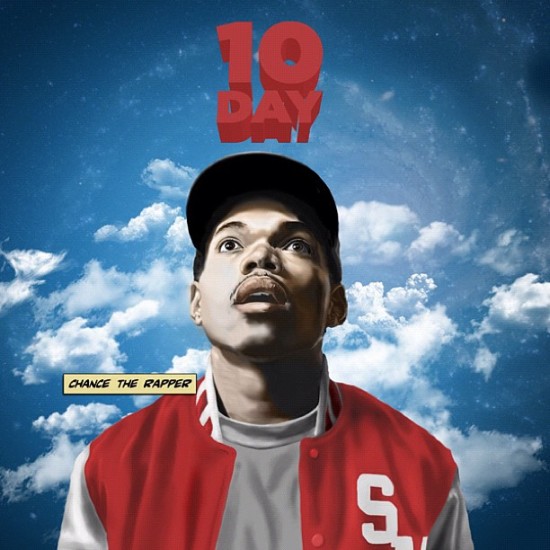 Today we're finally blessed with the debut mixtape from one of Chicago's leaders of the new school: Chance The Rapper. Over the past few months, Chance's buzz has reached a boiling point; gaining exposure from national blogs and garnering acclaim from countless critics. The biggest question from the peanut gallery was "can Chance deliver a solid project?" Well, April 3rd is judgement day with the release of his long-awaited project 10 Day.
Originally recorded a year ago during a 10 day suspension from high school; the project has since been cleaned up with better beats and bigger features. Ready for the world, Chance offers up 10 Day for free download. See what the fuss is about below.
Read our 10 Day interview with Chance The Rapper here.
mixed by L Boogie (THEMpeople)
artwork by Brandon Breaux of Endswealth Corp.
Track List
1. 14,400 Minutes [prod. by DJ SuchNSuch]
2. Missing You [prod. by Thomas Foolery]
3. Nostalgia
4. Windows (Ft Alex Wiley and Akenya Seymour)
5. Brain Cells [prod. by Peter Cottontale]
6. Long Time
7. 22 Offs
8. U Got Me Fucked Up [prod. by Chuck Inglish]
9. Family (ft Vic Mensa and Sulaiman) [prod. by The Blended Babies]
10. Juke Juke [prod. by Caleb James]
11. Fuck You Tahm Bout
12. Long Time II (ft. Nico Segal) [prod. by THEMPeople and Peter CottonTale]
13. Prom Night [Prod by Prince Talent, DJ SuchNSuch and THEMpeople]
14. Hey Ma (ft. Lili K and Peter CottonTale) [prod. by Zak "Fox" Jablow and MC TREE]