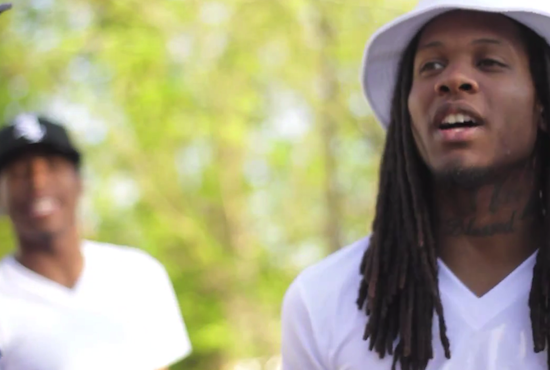 In 2012, Lil Durk quickly became one of the most prominent figures in Chicago hip-hop. He released a ridiculously stellar mixtape (we ranked I'm Still A Hitta number one on our Top Mixtapes of 2012 list) and inked a high-profile record deal with Def Jam Recordings. But in the midst of this success, Durk's career was derailed by an unexpected three-month jail sentence.
But while a three-month stint is only a skid bid, it hurts any artist who has to sit down during their rise — especially at the height of their local popularity. Undeterred by his short vacation, Durk was released from the Vandalia Correctional Center in Vandalia, IL early this morning. We spoke with Durk hours after his release, as he granted FSD his first post-prison interview. He's home and has a point to prove. Let freedom ring.
FSD: First and foremost, welcome home Durk. Glad to have you back down and a free man. What's the first thing you did upon your release?
Lil Durk: I came home to my family. Got up with my guys, and went straight to the studio — that's where I am right now. It really hasn't hit me yet.
FSD: You went in just days after you signed your deal. How was it being locked up knowing this?
Lil Durk: A lot of the people I was locked up with fucked with me. So shit, they were keeping me motivated. They were telling to stay out and keep at it. They told me I had something good going for myself, so they really motivated me to get back. One of my close friends really helped me get through it — he kept me motivated. Shout out to King Louie, too.
FSD: So a lot people knew you in there? You were somewhat of a celebrity?
Lil Durk: Yeah man, everybody knew me in there. They'd seen the videos and heard the mixtapes.
FSD: So what's your next immediate move?
Lil Durk: Man, I'm just playin' catch up right now. I'm gonna drop a mixtape called Last Of A Dying Breed, which I'm actually in the studio working on right now. It's gonna he hosted by DJ Drama and DJ MoonDawg.
FSD: When are you looking to drop that?
Lil Durk: I'm still thinking of an out date, but it's looking like September. Probably late-September.
[Click Below For Next Page]