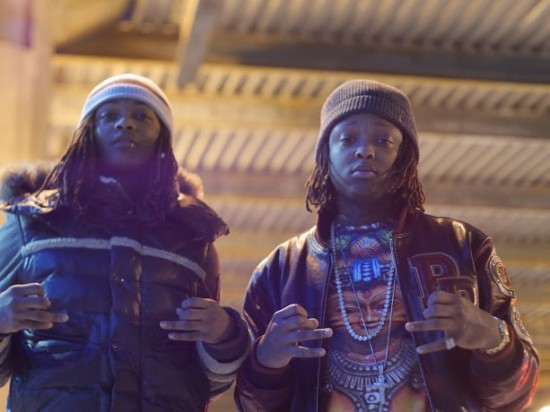 Interview by Holiday Kirk (@holidaykirk)
In a small amount of time, Sicko Mobb, composed of Lil Trav (Delon Sneed) and Lil Ceno (Maurice Larry), have found themselves at the forefront of Chicago's bop movement. Birthed from the fledging drill scene, bop cuts straight  to the pop core in drill and leaves nothing behind. Most bop songs are composed of only a few essential elements – some footwork like snare/bass work, a one finger melody, rapping that hews closer to singing than traditional rap – and almost nothing else.
At first, the approach is jarring. Music that gets to the hook with such efficiency tends to come off as annoying on impact. But it is unquestionably infectious, Sicko Mobb songs get imprinted into your brain whether you like it or not. In December they inked a publishing deal with Swedish production team Stargate's Sony/ATV publishing label, the first rap group to do so. On January 24th, I was going to sit down with them to talk about it.
And it almost didn't happen.
Stepping outside that morning I was met with a shotgun blast of frozen wind so strong I nearly fucked around and stepped on a flight to Florida. I saw it all – the baggage claim, the tickets in my hand, the runway disappearing below me – flash before me in an instant.
For those of you fortunate enough to have no idea what I'm talking about, Chicago, and by extension the entire midwest, is in the grips of a polar vortex. Temperatures have been regularly below zero. If you haven't thought about moving at least once in the last month, you don't live here.
I managed to pull myself together and proceed to the undisclosed location we were due to meet at. Shortly after securing a table I was joined by Sicko Mobb's management. Bobby Hustle, part of Water Music and specializing in publishing and production, has spent the last couple months fielding a boatload of label offers for the duo and was the one who originally brought Sicko Mobb to the attention of Stargate. Their partial manager, who goes by the name Get Gwop, was the one who turned Bobby Hustle onto Sicko Mobb. Finally, Big Jay who also acts as management and was the first to invest in the duo after being turned onto them by his son J. Cash.
Due to a last minute request for photos, Sicko Mobb had to double back for a quick change of clothes leaving us with some extra time on our hands. In the interim, Bobby Hustle filled me in on how a west side Chicago rap group came to the attention of megawatt Swedish producers Stargate. "[Get Gwop] is from Chicago, I'm from New York. I was on the phone on a long distance conference call with Danny D and Tim, they're the managers for Stargate. I was on the phone with Danny. [My partner] texted me, saying there was this hot group from Chicago that everyone from the west side is talking about that we need to sign. While everyone else is talking on the phone, I went and looked at Sicko Mobb's "Fiesta" and said 'Wow these dudes are hot.' Then I got on the phone and said 'Danny would you do a rap group?' He was like, 'Nah, we don't do that.' But I insisted and Danny says to me, 'I'm going to listen to them, I'll call you right back.' He called me back in 5 minutes, he sang the whole hook to "Fiesta." He said, 'Bobby, whatever you do, get out to Chicago and sign that group. They're not regular.'"
(On Stargate's Production Ethic) "Everything Stargate does is melodic. Like when you go in the studio with the producers they know how to produce and make records that people are going to like. So when they heard Sicko Mobb it was like a marriage, 'cause thats all that Sicko Mobb does is make melodic music. You know, everything is main melody, every rap that they do is in melody, and normal rappers don't do that. So when I got with them and found them I said, 'Y'all do know that y'all are pop? You're not no gangsta rappers, you're not urban, y'all are a pop group!' And [Sicko Mobb] was like, 'Yeah, we know.'"
After killing a few hours chatting, Sicko Mobb arrived with little fanfare. Both looked exhausted, no doubt the products of a busy schedule that was only getting busier.
FSD: Where did the name Sicko Mobb come from?
Lil Trav: Sicko Mobb was a group last name throughout the neighborhood from 15th and Christiana where we call "down south." Most everybody in that group was rapping. But we took off.
FSD: How long have you both been rapping?
Lil Trav: Uh, like, probably like 10 months now.
Lil Ceno: Around that time, almost a year.
FSD: What inspired you to start rapping?
Lil Trav: Just something else to do, to be fun. I ain't know it was going to come this far.
Lil Ceno: We got tired of all the negative stuff that was going on in the neighborhood so we tried to do something positive to get out of the neighborhood.
[Click Below For Next Page]