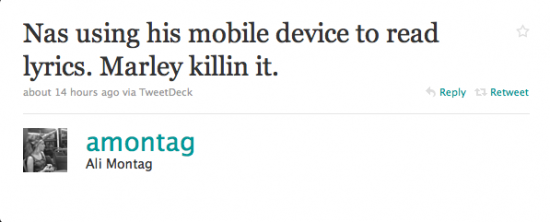 Have you ever been to a Nasir concert and noticed mid-song that the Little Homie has forgotten his lyrics?  Just an awkward silence between bars?  I've witnessed this no less than 8 times – usually during that last verse of "One Mic" (hey, that is a tricky one!).  I usually just chalk it up to that green-tongue  and the deep catalog of his.  And hey, Nas is a legend so he usually gets a pass from me.  
The good news?  Well, God's Son has found a way to combat this issue – and that's by reading his lyrics off his iPhone.  Hey, Distant Relatives is still fresh, so how could you expect him to remember 13 new verses?  I thought this was America, people!
The fans at his University of Chicago show with Damian Marley last night took to Twitter to break the news:

Problem solved.  Who says Hip-Hop is dead?