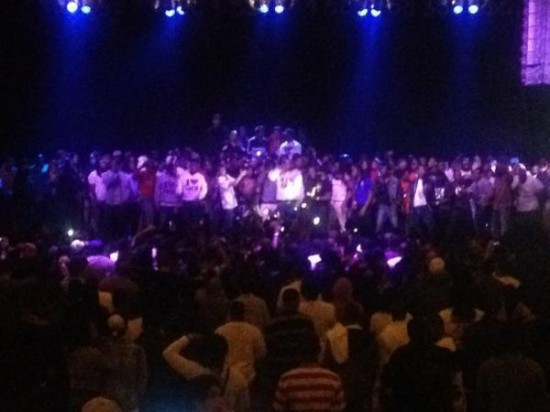 Meet the 2012 scapegoat for everything: Chief Keef. Your buzz as a rapper is dwindling? Blame Chief Keef. An old lady gets robbed? It was probably Chief Keef. A fight breaks out at a concert? Yep, you guessed it — Chief Keef. The 16-year-old rapper is also likely responsible for the scud dud that flopped and popped over North Korea earlier in the week.
So it's no surprise that when the Meek Mill-headlined show at the Congress Theater on Friday night was shut down, it was Chief Keef who was to blame. Mind you, Keef was just an opener — along with about five other acts.
Says Chicago Pipeline:
An altercation that began inside of the Congress Theater, 2135 N. Milwaukee Ave., during an opener act at last night's Meek Mill rap show and ended in front of the venue brought over 20 police officers, one alderman, a district police commander and the fire department to the scene. No arrests were made…

…Joining the numerous officers and an estimated 100 patrons who were hoping to either get back into the venue or get a refund was First Ward Alderman Proco Joe Moreno, accompanied by two community security workers that Moreno had hired out of his own pocket, due to concerns about the background of one of the evening's artists, Chief Keef, who wears an electronic monitoring bracelet and had been granted permission by a judge to perform. This news of the additional workers had been shared earlier that night by Ronda Locke, 1st Ward Director of Community Outreach, who'd posted a message to the 1st Ward Community on the GGNA message board.
The article goes on to describe the events surrounding the night, and how both the alderman and Congress Theater are under fire for hosting rap shows, and poor security (It didn't help that Bassnectar, an electronic group, sold out the venue two nights in a row with now issues). I've spoken to people who attended the show, and was told that Keef and his entourage arrived quietly and left the same way. Of course, storied Chicago music scribe Jim DeRogatis (who notoriously hates "vulgar" rap music) weighed in on the issue, and took potshots at "Chief Keef Sossa."
I had a feeling this show would draw negative attention, and knew with Keef being involved, he was sure to be the fall guy. These things happen at rap shows  —  and it's very unfortunate. But best believe that I've seen fights and near riots break out at Mos Def and MF DOOM shows in the past, and they received no such attention in their wake. Not to mention some got shot at Drake's first Chicago show.
UPDATE: The plot thickens. The owner of the Congress Theater responds, and issues an open letter to Logan Square saying the Alderman hired personal, untrained security; and sent out an email prior to the show warning of Chief Keef:
Logan Square Community-

On Friday, local neighbors probably looked out their windows and saw something
that looked pretty scary, with all the lights, police, fire department, street
closure, and crowded streets. I would like to be clear on the specifics of what
happened so that the community is not alarmed. Friday night we hosted an urban
Hip Hop show, it was very small we were only at 28% capacity. There was a
scuffle inside the venue between patrons, and congress security quickly removed
the individuals from the venue. These types of scuffles are common at concert
venues across the country. Our staff is trained to recognize them, diffuse the
problem, and get the individuals out of the building in a safe manner. Friday
night was different, because there was "additional security" paid by the
Alderman himself, who reacted poorly and prematurely. This happened due to their
inexperience and lack of training in handling these types of situations, (which
is why we have consistently stated we don't need their "volunteer" paid
service). The Alderman's security called the police AND the Alderman himself to
hurry over to the venue. Somehow, (still unknown to Congress) upon the arrival
of the Alderman and an exaggerated number of police larger than we've ever seen,
arrived along with the fire department. The street was shut down, paid ticket
holders were not let inside while the fire department had to perform their task
of investigating the venue under the allegation it was over capacity. Congress
was only at 28% capacity, it felt like an empty theater. The fire department
agreed and let the concert continue.

Our theater had a great security presence that night, 40 well trained and very
strict security in total, many including off duty Chicago Police. They are
trained to handle shows 3-4 times that size, and last night's show was only at
29% capacity (relatively small by concert standards). The Alderman either
didn't believe in our security work, or thought it wasn't enough, because he
notified the public prior to the concert he would be hiring 2 untrained and
inexperienced security guards (paid for out his own pocket) , and this would
keep the neighborhood safe. This WARNING email was sent out in regards to one
of the musicians, a Chicago minor who is under house arrest at his
Grandmother's home on the south side. The email gave the image that he, his
music, or the crowd he brings is dangerous. This kid has not been charged as
guilty, it is a pending legal matter. We have a system in our country that says
a person is innocent until proven guilty. This WARNING email sent out to the
community is NOT a good reflection our countries political system. Instead the
email evoked fear and concern to the neighborhood, and branded the concert as
potentially dangerous due to the type of music, toy guns, foul language (none
different than what I've heard used on the alderman and now on video) the crowd
it brings, and a pending legal matter that has yet to be resolved. I understand
that not everybody likes or understands rap music, nor do they have to. Music
is a freedom of expression and this local Chicago kid's music is becoming
recognized all through the music community. A judge who works for our US legal
system granted this kid permission to come and perform, the judge didn't think
the artist was a threat to the community, so why did the Alderman?

Untrained security working in or around The Congress Theater is a BAD idea,
whether they are paid or volunteer. Their poor decision to phone the police
massively disturbed the concert, made patrons angry, woke up neighbors, offended
reporters, blocked traffic, started rumors about shootings, caused the promoter
to lose money and the ticketing agent to offer refunds to those who couldn't get
inside, made the neighborhood look dangerous, finally further damaged the
reputation of a kid whose case has yet to have been decided, and finally adds to
more negative press for congress theater.

This is mad behavior and it needs to stop. It does not matter whether Friday's
sequence of events was racially inspired or part of a personal vendetta against
Congress. This has gone too far. We are good for the community, we bring in a
lot of business, we give back to our neighbors, we donate space for the farmers
market, we give to charities. Any accusations, racially driven or false rumors
leave people to believe both Congress and the neighborhood are dangerous. We
work hard to build our image and others appear to be working entirely to destroy
it.

Sincerely,

Eddie Carranza
Owner- The Congress Theate