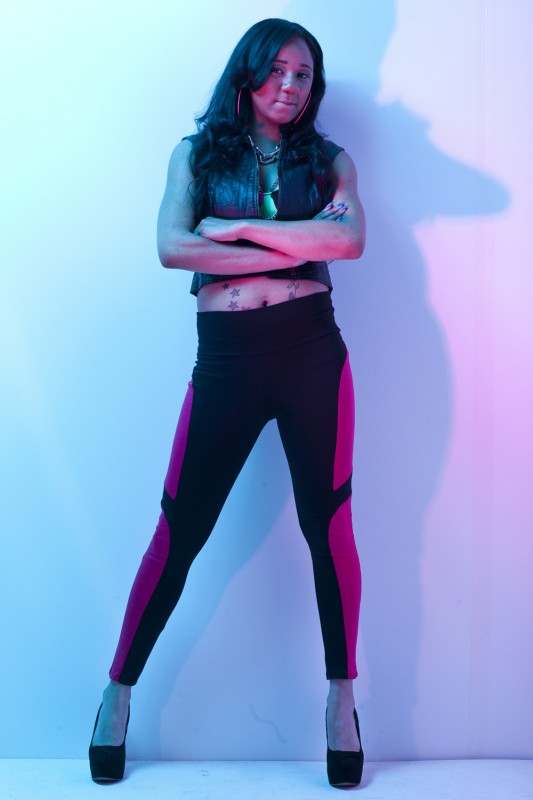 FSD: [Laughs.] Ok, I got you. So after you made the song, has any lucky hitta made his way into your love life?
Katie: [Laughs.] Uhhhh nooooo. You know, a lot of guys be playing females down and I don't really want that and I got too much going on with myself anyway so I don't even have time. I'm in school, work full time, and outside of that I'm working with music.
FSD: Besides the music, you've got some apparel out too, right?
Katie: Yeah, I got merch for this "Middle Fingers To Da Opps" campaign. I got sweaters, pullover hoodies, zip-up hoodies, long and short sleeved shirts, hats and all that.
FSD: You got a lot going on. You recently pushed back your debut project Bandz and Hittas, so when can we expect it?
Katie: Yeah, I had a lot going on with school so I had to push it back to sometime in June. I didn't want to rush it and then something don't come out right and then I'd be real mad. I got a lot of good stuff coming for my fans though.
FSD: Without even telling me, I'm already knowing that it's a drill, but what can we look forward to on Bandz and Hittaz?
Katie: As far as features go I got King Louie on there of course, Fatzmack, Spenzo, Chris Mille. As far as production, a lot of new producers been trying to rock with me, but I got my original producer Block (Block On Da Trakk) on there and a bunch of others. I keep trying to tell em', it's really a drill.