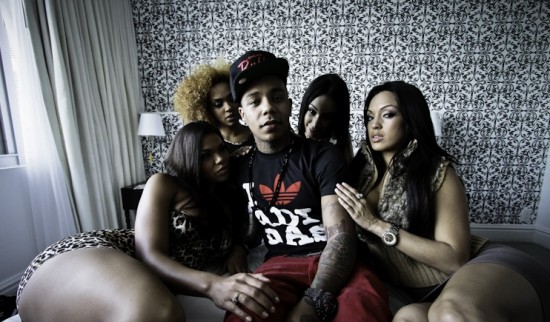 The trajectory of Yung Berg's career reads like movie script. After first linking up with Infared Music Group (the home of L.E.P. Bogus Boys) as a child rapper named Iceberg; he would go on to sign with DMX's Bloodline Records during the height of X's career. In fact, a 15-year-old Berg can be seen playing hypeman to X in his "Do You" video. Shortly thereafter, Berg left DMX and linked up with Shawnna and the DTP camp for a short stint.
Fast forward 10 years, and Berg is still alive in the music business — an industry that traditionally eats its young. The man born Christian Ward has lived almost half of his life in the limelight, and has had his ups and downs chronicled for the world to see. But over the past 12 months, Berg has fallen back from the public eye, making a conscious decision to play more of a behind-the-scenes role — while producing chart-topping and Grammy nominated records. These days, he's rarely seen and often heard — and he's fine with that. He prefers the music to speak for itself.
FSD caught up with the Yung'in to speak on his current situation, his upcoming high profile collaborations, the state of Chicago hip-hop and much more. Hit the jump to see what Christian Ward has to say…
FSD: As the artist Yung Berg, you've been relatively quiet lately. But behind the scenes, as the producer Christian Ward, you've been busier than ever. Tell us what you've been working on
Yung Berg: I've noticed throughout my travels, and when I lived in LA, before I moved down to Miami, I was just living a Making The Band episode. My house was like a real life Making The Band. I helped a lot of people. I was instrumental in helping people mold their talents. You look back at guys Like Junior, who sang on "Sexy Lady" — no one even knew who he was. I was writing and producing these records back then. No one knew who Casha was — of course she's with The-Dream now.
It even goes deeper. Back when I was dropping my Twitter Music mixtapes, I was working with Rockstar, who you know as Kid Ink now. He was actually a producer under me, who was working on stuff for me. Then I found out he rapped by accident, by being high in the studio one time. We just started going in after that. We helped mold his sound, and we did a lot of projects together. If you look online, we have so much music together. Kid Ink is my little bro, he still has the YB inked on him. It's just about finding new talent and pushing them forward. That's kinda why I fell back from being out front.
People think my life is just some outlandish train wreck, where I'm fucking up and having disastrous issues everyday. And that's not really the fucking case at all. I had to step back and be a businessman, and I think that so many people are caught up in being famous, and wanting to be artists that they totally miss out on the business aspect of the game.
When you look back at my career, I've sold like seven or eight million singles. I own the vast majority of the publishing on all of them, too. On "The Business" I own 75%. On "Sexy Lady" I own 65% of that record. "Sexy Can I" I own 45% of that record — and "Sexy Can I" is at 4.9 million singles sold. When I looked at my bank account, and when my show money slowed up, my accountant and I realized it made no sense to overextend MYSELF, when I can go out there and make records for other people. I'm going out here and recruiting and signing the best producers I can find, and I'm building a team. I've been doing that since the very beginning, but I finally got my business in order, and got my producer game up, and started signing them.
FSD: As far as these major production credits you're receiving, are you physically doing the beats, or are you playing the role of a more traditional producer, where you put everything together. Like, you're not exactly doing the music, but you're arranging it and orchestrating it…
Yung Berg: It's kinda both. For example, Ayo, who did the beat for Lil Wayne's "John" — we did everything together. A producer tells his people want he wants them to play. What sounds he wants to hear. Where each and every kick goes. I don't do most of the programming, but I do all of the arrangements and put the final song together. That's where my shit comes in. While I'm not doing most the programming, when I get it, I go in and fix them, and make them bigger records. Honestly, I've only physically met one of my producers — we do everything over the internet. I met all of my producers via Twitter. The only person I met in person was Ayo.
I've got three producers from Chicago that's signed to me. Shout out to Arch Tha Boss — he did the "Snapbacks and Tatoos" record with me. He did stuff with Future with me, too. I started finding these guys through my Twitter Music mixtapes, where I was just scouring Twitter for dope producers to use on my mixtapes. I had my own producers, but I wanted to open it up to everyone else, and I ended up finding a lot of really talented people.
FSD: So you moved from Los Angeles to Miami?
Yung Berg: Yeah, I live in Miami full-time now. I've been down here for about a year and a half. I was doing a lot of work on Last Train To Paris with Puff, and that actually opened a lot of doors for me, and I met Rico Love. Me and Rico vibed and bonded, so he told me to come down to Miami. Moving to Miami really opened up things for me as a songwriter and producer. Everything kinda fell into place with me moving down here.
FSD: Is Miami a better place for you creatively?
Yung Berg: I think creatively, it really just matters where you have the best engineer. People think they can pay thousands of dollars and go to CRC [studio in Chicago] and come out with a hit because they paid a bunch of money. I remember we used to record in B-Crucial's spot — a little ass spot in the south suburbs. But people used to think "Man, if we get in CRC, our shit would be crackin." But nah, it's all about having the right engineer — no matter where you are. Otherwise, it's a fucking waste of money. I made the OMG Girlz' "Gucci This, Gucci That" record in my fucking house, with my homie controlling it. Like Drake did all of So Far Gone in a hotel room — it's not about where you're working, it's about who you're working with.
But Miami is an all around better vibe for me because I love women. Anyone who knows anything about me knows I keep pretty things on deck.
[Click Below For Next Page]