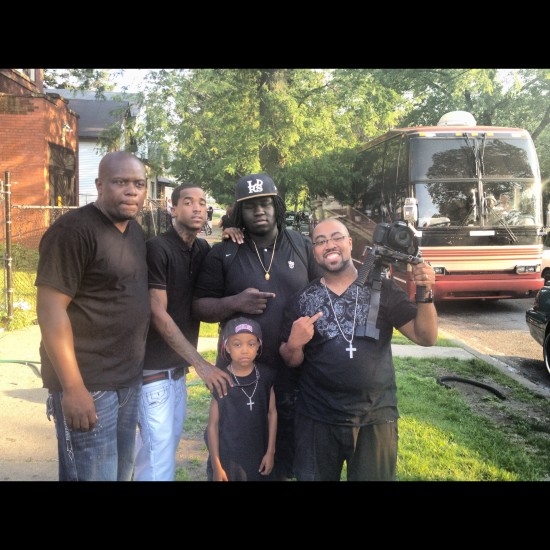 Interview by Bryant Bowens (@arete88)
Here at FSD, we strive to shed light on the people who make your favorite rapper a cult phenomenon. These are the people behind the scenes– video directors, DJs, and producers. The man behind the man, so to speak. This is the first installment of a new segment we're dubbing, "Who Shot Ya?" where we get the inside stories on the "unsung" heroes responsible for the new wave in Chicago.
In our second installment, we chop it up with Open World Film's very own Will Gates. We caught up with the O.G. director to discuss his filming during the Smack DVD Era, shooting Waka Flocka's first movie, and his new business venture that will help all aspiring directors in the city. Get the Yellow Tape.
FSD: What's your life been like these past couple of months?
Gates: Busy as hell—I've been busy trying to find a location for Open World Films Studios. I've been getting a lot of high-profile clients–Lil Reese, King Louie, L.E.P. Bogus Boys, etc. Me and Noyz have a video that just aired on MTV — the L.E.P. joint "Kush and Leather Remix" with Rick Ross. Man, basically my dreams are coming true.
FSD: For those reading up on you for the first time, how did you enter the world of directing?
Gates: A lot of people might not know this, but I attended Columbia College. I went in '99 and came out '03. The way I got introduced in the Chicago scene was I had a DVD Magazine called the Chicago Version. It was like Chicago's version of Smack DVD. I started that with my big brother Jo Jo Capone. He kind of adopted me and introduced me to a lot of people like the Bump J's, the Shawnna's — basically the who's who in that area at the time.
FSD: You've recently shot videos for Chicago heavyweights like L.E.P. Bogus Boys "Kush & Leather Remix" and King Louie's "Money Team." How was it shooting two of the hottest tracks buzzing in the city right now?
Gates: It was definitely an honor. I've been rocking with L.E.P. for a long time. They told me they were going to give me a shot and pull me into a lot of high-profile projects. As far as Louie and the Bighomie Doe, I've known them for a while. I've always had a relationship with John Monopoly — back from the Kanye days. When they reached out for the "Money Team" track, I told them and my team its go time.
[Click Below For Next Page]