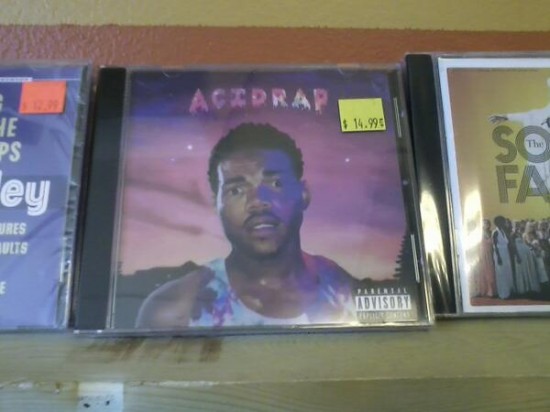 Words by John Miranda, a Chicago-area lawyer and consultant (jmiranda988@gmail.com)
Chance the Rapper has famously suggested, much to the delight of industry futurists, that he may never sign to a label. But this summer, Chance's camp experienced at least one downside to flying solo with a major release. In August, Billboard reported that Acid Rap bootlegs were selling enough copies to make headway on the charts, despite the fact that Acid Rap was released exclusively as a free download. This happened because Billboard charts are calculated using retail sales statistics, so if a bootlegger distributes a product to retailers (including online retailers such as Amazon and digital outlets, such as the iTunes store), the bootlegger's sales will be reflected on Billboard's charts. Apparently, since Chance was distributing his hugely successful mixtape as a free download, an unscrupulous third party decided to cash in on its success by selling physical copies.
Without the legal infrastructure of a large record label, Chance's intellectual property holdings proved especially vulnerable to infringement. Unlike signed artists, he could not rely on a continuous influx of legal department interns tasked solely with sniffing out bootleggers and issuing cease-and-desist letters. Additionally, he found himself without the aid of the record business's notoriously zealous trade association, the RIAA. The RIAA has been working its legal department overtime since the Napster days, and it briefly focused its Eye of Sauron on unauthorized hip-hop mixtapes in the mid-2000s, raiding record stores that sold "mixed tapes and compilation CD's featuring one or more artists." Unfortunately, the RIAA is not much help to independent artists who are victimized by bootleggers.
So how can Chance and other independent artists obtain legal relief when their music is bootlegged and their copyrights are infringed? The first vital step occurs before the music is even released. Artists and their legal counsel should always take care that all original works are registered with the U.S. Copyright Office (the U.S. has copyright agreements with most countries, so there is no need to register in copyright offices all over the world). Although copyrights theoretically "arise as a matter of law," meaning that they begin to exist as soon as the artist records the work, registration is practically mandatory for anyone who wants a serious career in the music business. Registration entitles the artist to statutory damages, which can be as high as $150,000 per infringement (if a bootlegger distributes one hundred unauthorized copies of a "Chain Smoker" single and ten unauthorized copies of a "Cocoa Butter Kisses" single, only two infringements have occurred). Additionally, in the event that a copyright owner goes to court against a bootlegger or other infringer, Copyright Office registration is extremely important for proving copyright ownership.
[Click Below For Next Page]