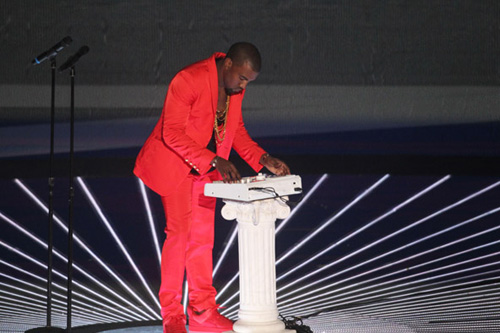 By the time the album was released, the hype was unfathomable. When My Beautiful Dark Twisted Fantasy was finally released on November 22nd, 2010 it received a thunderstorm of acclaim the likes of which the music world hasn't seen since and only seen a few times before. Influential Chicago-based music journalism website Pitchfork Media only awarded 4 albums a perfect 10 score from 2000-2010. MBDTF was the fourth. The annual survey of critics poll Pazz & Jop, which has been conducted every year since 1971, declared MBDTF the best album of the year by the widest margin in the poll's history.
My Beautiful Dark Twisted Fantasy remains a stellar document of someone who has always been acclaimed for telling us his truth going further than anyone thought he would. The production is maximallism scaled to epic heights; six figure samples clashing with throttled MPCs and terrified choirs. A bewildered RZA puts it best when he shows up at the end of album centerpiece "So Appalled" to scream "This shit is fucking ridiculous!" From the albums opening line ("I fantasized about this back in Chicago") the album feels like a re-centering of rap's gravity over Chicago.
But a Chicagoan wouldn't make the album that would come to define Chicago rap in the coming years. That belongs to Waka Flocka Flame's earth-shaking Flockaveli. Whether you're ready to acknowledge that album as a classic or not – and the vast majority of rap fans still can't – it is. The album title repurposes Tupac's Makaveli, the opening line quotes The Notorious B.I.G., what follows is a brutal rejection of all the qualities hardcore rap fans hold dear. It's 72 straight minutes of unrepentant brutality, producer Lex Luger turning in a staggering album length performance of post-apocalyptic thump rivaling the Neptune's work on Hell Hath No Fury. Lyrically, Flocka simply calculates the shortest route from A to B and bulldozes straight through. The clarity is refreshing. Flockaveli is a straight shot of everclear with no chaser.
Three years before Flockaveli, Soulja Boy's "Crank That (Soulja Boy)" hit number one on the Billboard Hot 100. This quietly signaled a sea change in how rap music could be produced. In March 2007, the Chicago born DeAndre Way created a five-note steel drum riff in a demo version of the production software FruityLoops, he recorded. On September 1st of that same year, the song had hit number one on the Pop 100. The era of the multi-million dollar studio and the producer with the 6-figure fee was coming to a close. Soulja Boy had taken bewildering simplicity to the top of the charts and a legion of home producers was born in his wake. Perhaps even more revolutionary was the way the song came to prominence, through the then brand-new video sharing website YouTube. Instead of drumming up publicity through payola hungry radio, a cheaply made dance instructional video ran up millions of views. This was rap music's first major victory in utilizing the Internet to take the power back from major media music conglomerates like Clear Channel.
For Flockaveli, Lex Luger took the already established monolithic synth/808 trap sound and twisted it with the accessibility of Soulja Boy's ultra sparse breed of snap music. His beats for songs like "Hard in da Paint", "TTG (Trained to Go)", and "G-Check" (Which features Chicago street rapper Bo Deal) were all produced on the same program that produced "Crank That" but sounded far larger than a program as cheap as FruityLoops would suggest. This, combined with Waka's always underrated bulldozer mic performance and lessons learned from Soulja Boy's internet marketing savvy would lead to a sound that would dominate Chicago streets in the coming years: Drill.
—
Holiday Kirk is a freelance writer, director and media personality. You can check out more from Kirk on his YouTube and Facebook pages.