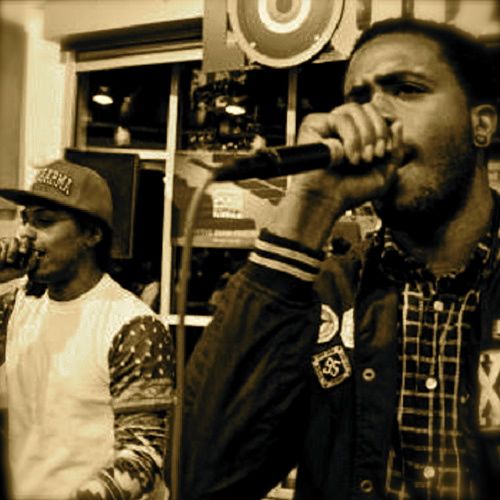 "We're very similar, so that's one thing that's a positive, like whenever you're in collaboration it's easier to work with someone who is likeminded," said Purp. There is a constant bounce of jokes and banter between the two of them, and you can see how they are on the same wavelength. Chukwu explained that they compromise with each other before they compromise the music, "If there's something that he doesn't like and I like it, we don't do it. We both have to like it and vice versa. It always has to be very pure, like from both of our perspectives." Going about making a record that way sounds hellish, but Leather Cords wasn't a terrible struggle. Chukwu said it's relatively easy, "I feel like we have a lot of the same influences, so we kind of understand a lot of references that we would make really easily versus anybody else in the [SaveMoney] squad. Don't get me wrong, I fuck with making music with all my homies, but that's probably why me and Joey probably ended up making Leather Cords."
The Leather Corduroys project is expected to release at the top of 2014 with around 11 tracks. Not too long after, both Kami de Chukwu and Joey Purp are releasing new solo projects, titled Smoke and iii Drops respectively. Chukwu explained how his tape may come out just before Purps, unintentionally, iii Drops after Smoke. Neither one knew the title of the other project until after it was decided. It is a little insane how in tune to each other they are.
Chukwu's project Smoke is much different than his debut Light. Light has an eerie, third-person omniscient vibe to it. Chukwu explained he wasn't really listening to hip hop while making his debut project, but the cryptic nature of rappers MF Doom and Jay Electronica are a constant influence. Kami de Chukwu literally means God of God, the first part Japanese and the second Igbo, and is reflective of Chukwu's voice on Light, which is full of dark, intricate fictional narratives. With Smoke, Chukwu is rapping about his own life instead. "I started realizing you don't make the best music rapping from something that's not really part of your life," explained Chukwu, "I feel like Smoke is more about me, about my life. It's not me telling stories from any standpoint. It's out of personal shit. Also things that are in the realm of actually happening in my life."
"I like when things are concrete," explained Purp. He jokes about maybe he has a bad imagination, but he found it natural to rap about personal experiences. "Everybody is an influence to me. I don't know, it's weird, I don't really take influence from superficial characters because they're not identifiable to my life in general, you know what I'm saying? I really take influence from pivotal people in my life. […]Anybody I have seen have a positive influence on somebody else, or even a negative influence because it lets you know what not to do," he explained. The Purple Tape was the first ten songs he had ever recorded. Purp grew up between the two projects; Purple Tape was what Joey Purp does in his day-to-day life, now iii Drops is what he thinks.
There will inevitably be a contrast between both solo releases and the collaborative Leather Corduroys. "I just want people to hear that shit because it's going to be crazy, know what I'm saying? So if they hear that shit, then hear both our solo projects after that, they can peep the juxtaposition and how we can jump from different styles," said Chukwu.
They have yet to release anything that actually sounds like Leather Corduroys, but last spring they created the track "Illuminati Slumber Party." At the end of the track, Chukwu spits, "The flow so butter melted on these leather chords," which is where it all started. After stumbling upon an email list of bloggers, they wanted to create a track and send it out. The track name, "Illuminati Slumber Party," was created to get these bloggers to open their email.
Leather Corduroys is a mystery. Purp explained he likes learning about a musician only from their music, which makes him wonder about what's not in the lyrics. Leather Corduroys is going to show us another side to the duo, one that is unexpected.
Purp and Chukwu are taking a risk that will inevitably get a strong reaction; it is just hard to say what it will be exactly. "Leather Cords is a pleasant surprise. That shit is going to come out and people are going to be like, 'Damn, I was pleasantly surprised,'" Chukwu said with a laugh. "Ideally everybody's going to love it, and stomp their feet and clap their hands and do the cabbage patch or some shit. Ideally, everybody's gonna fuck with it, but then again I don't know," described Purp, he continued, "I guess ideally, there would be two circumstances. Ideally everybody likes it and we can all do the cabbage patch together, or everybody hates it and they talk to each other about how much they hate it and we can still do the cabbage patch by ourselves because nobody else wants to fuck with it."
Leather Cords is kind of a mindfuck, and the more details you get the more puzzled you get too. "Very weird sounds, very weird sounds come out," described Chukwu, "We actually have another hidden member…when the project comes out you're gonna hear who the third member of Leather Cords is; he is very pivotal to the whole thing. People don't know him yet, it's crazy, that's like really part of the process." A producer? "I wouldn't call him a producer," said Chukwu. "A match maker," chimed in Purp. Chukwu clarified, "A savant of some sort." So, there's a mystery member in Leather Corduroys… (ha!)
"Like he said, that shits really organic. We bounce ideas really easily," said Chukwu. Purp added, "Out side of the [three] principles, that's really it. If we know those three things, you know metaphorically what to expect sonically. Because we don't actually want to tell anybody anything." Clearly. I'm already pleasantly surprised.