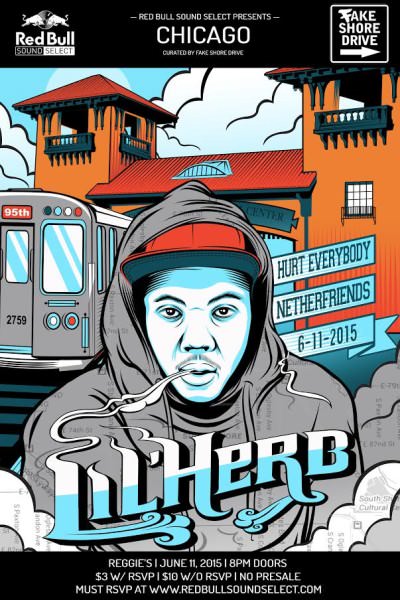 TONIGHT, June 11th, we return with our third Red Bull Sound Select show of 2015. This time with Lil Herb taking the reigns as the headliner. We're keeping this one super Chicago-centric, with one of the top rising talents from the city taking the mainstage. Herb is about to release another major project this year with Ballin' Like I'm Kobe, so you won't want to miss his first-ever headlining show on the FSD + RBSS stage.
We're back at Reggies TONIGHT, June 11th  for another 18+, $3 affair. And alongside Herbo, we're introducing the Hurt Everybody squad into the Red Bull Sound Select system. As you know, they released their I Know Where The Light Goes project last month, and group member Supa Bwe has been on a solo terror ever since. So we're happy to welcome them into the fold.
As we told you in February and April, this year we'll be slotting our shows a little different, and instead of bringing in three new acts every show, there will just be one newcomer, and then one from our already burgeoning RBSS roster. So for June, we're bringing up Netherfriends, who jumps head first into his first RBSS hip-hop show.
We've also added DJ Hoop Dreams, who will be handling DJ duties all evening.
Do remember, you must RSVP for the $3 price point. Do that now, and be sure to arrive at the venue early. First come, first serve, and we don't want anyone missing out on Chicago's brightest burgeoning talent. Per usual, we'll have a ton of surprises and promo items, so expect nothing less this go 'round.  RSVP NOW. 
Location: Reggies Rock Club
2105 S. State St, Chicago, IL 60616

Doors: 8pm

Age: 18+

Date: Thursday, June 11th, 2015

Headliner: Lil Herb

Sound Select Roster:
Hurt Everybody
Netherfriends

DJ: Hoop Dreams
Also, as we announced yesterday, the first 100 people through the door will receive this limited edition FSD + RBSS t-shirt, featuring the artwork from the show. There will also be other surprises, so don't miss out. Early arrival is strongly suggested!