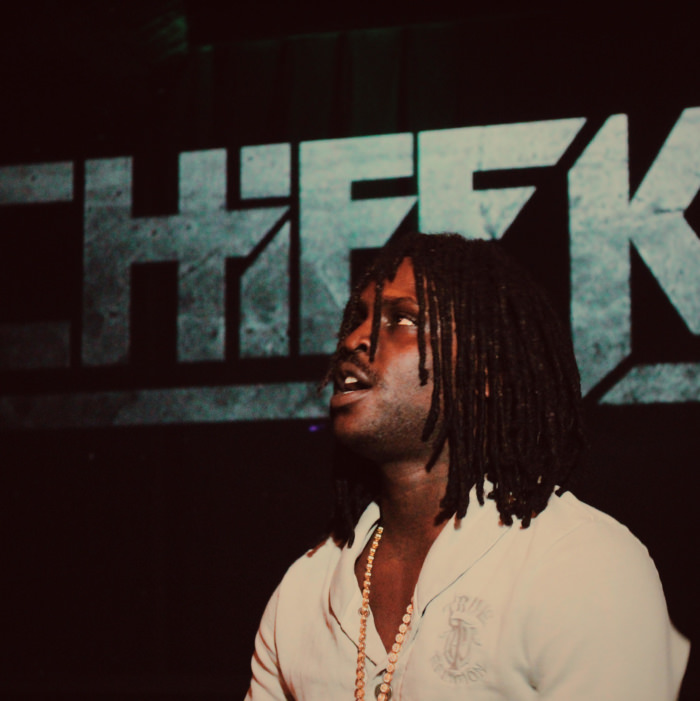 Words by Bryan Kalbrosky (@BryanKalbrosky)
As evidenced by Chicago hip-hop superstar Chief Keef at his listening party for media to announce his new album on Friday night, nothing is impossible in the 2015 rap game. Except, of course, to get Chief Keef to become a hologram when he was supposed to.
The scene in Beverly Hills was most comparable to an absurdist comedy in which Los Angeles decided to collectively parody its own stereotypes. Two weeks ago, I lived in Oregon — a place where media would likely never receive an email invite to a listening party for Chief Keef. That, alone, grabbed my attention. More significantly, even in Los Angeles, I never would have expected a "special hologram appearance" from the young MC.
But that's what this email said, and I didn't ask any questions. Without a moment of hesitation, I confirmed my attendance for perhaps the strangest night of my summer.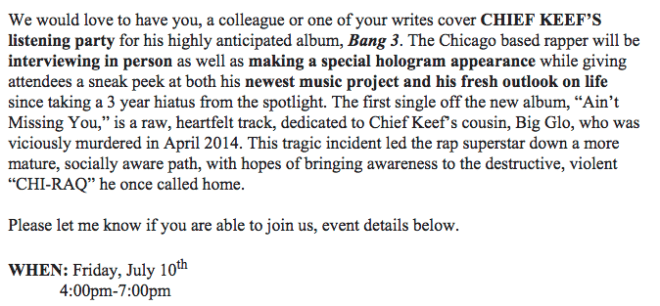 After work on Friday, I hopped in my silver '98 Saturn (with tricked out speakers, duh) and blasted all of Keef's classics through my residential route. In certain areas, mostly Beverly Hills, the music bragged irony as the bass slapped and I received confused stares.
When media arrived for check in at Hologram USA Studios, I quickly realized this event might have been a very big deal. The seating was limited, but I was surrounded by the likes of TMZ and L.A. hip-hop radio Power 106 — as well as compelling publications like Complex, The FADER and similar outlets that send me daily newsletters.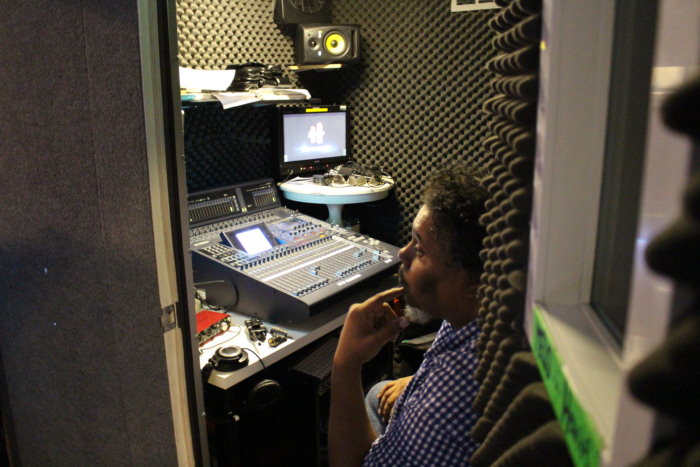 The operators of the Hologram USA studio we sat in told us about the "revolutionary technology" behind the hologram concept; they insisted we follow them behind the stage to learn more about how the machinery worked. This was underwhelming, considering we were offered a look without an explanation. But it did look a lot like the Star Tours ride at Disneyland, or how I imagine NASA headquarters, which was pretty neat I guess.
Hologram USA CEO Alki David (Keef's new manager after the Chicago rapper was dropped from Interscope) was projected on stage, as a hologram, to talk about his company. The more he spoke, it became clear that the Greek billionaire operates a multimedia conglomerate and not just a random hologram studio.
Keef, who David describes as a "pioneer" in modern music, is signed to FilmOn under MondoTunes for two albums. FilmOn, a subsidiary of Hologram USA, produced the music video for the most unexpected song of the summer: "Ain't Missing You" — the new single from Keef that brags a new "pop country" vibe.
The FADER describes FilmOn as a "shadowy web-streaming service that allows users to stream live television from their laptops and mobile devices" much to the despair of major broadcasting networks, who have often tried to sue David. For more on David, check his self-produced documentary Lord of the Freaks.