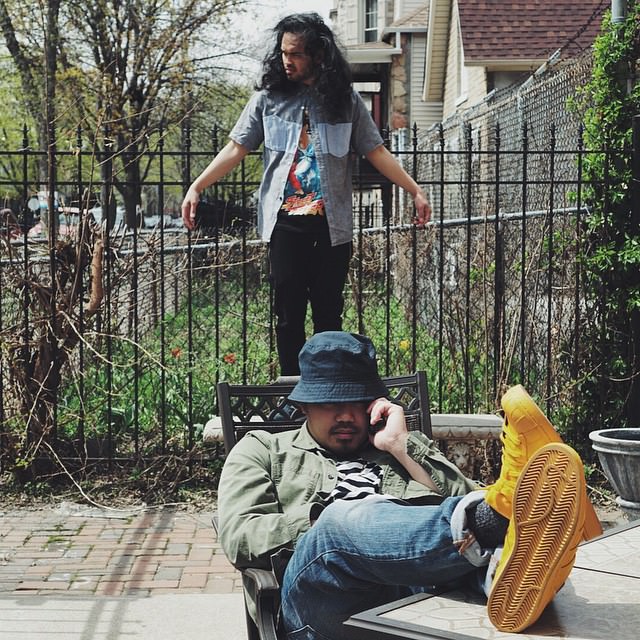 Words by Clynt Johnson (@BornRaisedChi)
FSD recently caught up with rising Chicago duo, theWHOevers, which consists of J. Arthur and DotKom. The brotherly tandem has performed alongside such esteemed artists as Evidence of Dilated Peoples, Elzhi of Slum Village, Tanya Morgan, Psalm One, ShowYouSuck and many more. Currently, they're stamping their name on the Chicago music scene and proving why they stand out in this crowded industry. We've been posting their music for years, but wanted to know more about the duo, so we sat down to discuss such hard-hitting topics as their favorite meal and, uh, aliens.
FSD: Do theWHOevers do whatever they want?
DotKom: Music-wise, yes. We don't try to stay in the "stuck in the 90s" box. Whatever sound is inspiring us at the moment, we will go for that sound and add the W recipe to it. I would say if our music was a martial arts style, it would be like Jeet Kune Do  — Bruce Lee shit. No limits. All styles and no style at the same damn time. As for life, we got values, beliefs and responsibilities so I would say no. As much as I would like to do whatever all day, bills still need to get paid.
J. Arthur: I do a lot of things but there are times where you gotta limit yourself.
FSD: What's your favorite show you performed at to date? 
DotKom: Hard Rock Cafe when we opened up for Lili K. It was my birthday and it was the first time my parents and little sisters saw me perform. Plus there were a lot of people who were goin' nuts. Also our Ridin' Waves album release at Lincoln Hall was pretty crazy.
J. Arthur: Yeah, Hard Rock and Lincoln Hall were definitely up there. They energy from both of those shows were ridiculous.
FSD: When is the next project dropping and what should listeners expect?
DotKom: Collab with other artists and possibly an EP?
J. Arthur: I got a lot of stuff up my sleeve. Want to get a lot of work in with my friends and other artists. I have a solo R&B/90s EP I'm in the mix of putting together as well.
FSD: Best late night food joint?
DotKom: Chi Cafe in Chinatown. Salt and pepper pork chop and the beef chow mein is crack.
J. Arthur: I would say a slice from Dimo's or Santullo's is money after a night of drinking.
FSD: How do you feel about aliens?
DotKom: I think they're real. I would like to have an alien friend to play basketball with. We would kill everybody.
J. Arthur: That movie Fire in the Sky scared the shit outta me when I was a kid.
FSD: Who are some of the artists you want to work with locally?
DotKom: Probably Saba, Mick Jenkins, Hurt Everybody, The O' My's, Peter Cottontale. Too many to name but these stick out to me.
J. Arthur: Would love to work with Eryn Allen Kane. Mick [Jenkins]. Chance was supposde to work with us a long, long time ago. Hopefully we can open that door again.