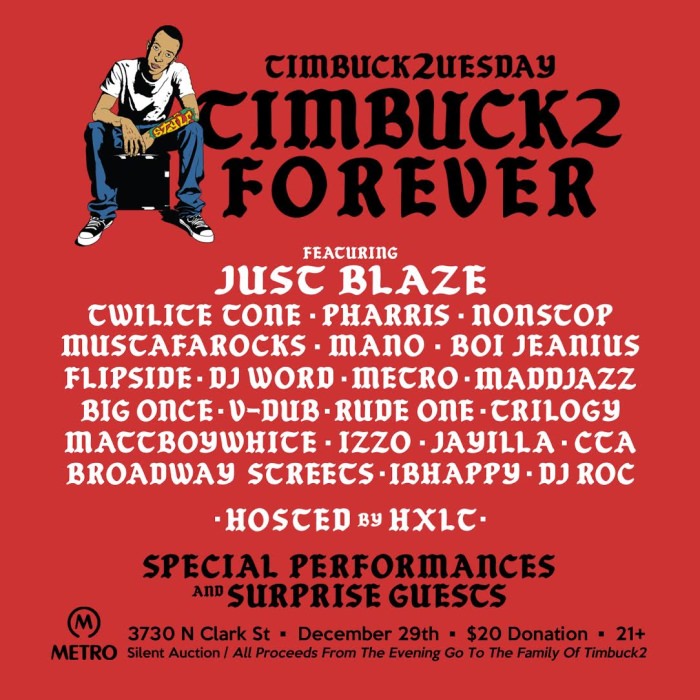 TONIGHT (12/29) we honor the life and legacy of DJ Timbuck2 at the Metro for a very special Timbuck2uesday event. #Timbuck2Forever, which has been orchestrated by Tim's inner circle, will feature some of the worlds best DJs and performers for a one-of-a-kind tribute event.
The Twilite Tone, Boi Jeanius, Mano, Pharris, Nonstop, Mustafa Rocks, Flipside, DJ Word, Metro, Madd Jazz, Big Once, V-Dub, Rude One, Trilogy, Mattboywhite, Izzo, Jay Illa, CTA, IBHappy and DJ Roc will all rock the crowd. With HXLT handling hosting duties.
100% of proceeds will be donated to the family of Timothy "Timbuck2" Jones. This is only the first wave of announced DJs, but just know that there is a CRAZY amount of surprise guest and performers slated to appear tonight.
There will be NO LIST, so please purchase passes ahead of time as this event WILL sell out.This will undoubtedly be a night to remember and a proper send off for one of Chicago's musical icons. We'll see you there. Get your tickets now. 
TIMBUCK2UESDAY (REMEMBERING THE LIFE OF TIMBUCK2)
COME CELEBRATE TIM'S LIFE WITH US AND A ALL STAR DJ CAST PLUS SPECIAL GUESTS. ALL PROCEEDS RAISED WILL GO TO THE FAMILY OF TIMOTHY JONES.

$20 // Doors: 8PM / Show: 8PM // 21+
BUY TICKETS HERE  — and see you tonight.
Update: Just Blaze has just been added to the official DJ lineup for this evening. There are many, many more announcements and surprises coming so stay tuned!