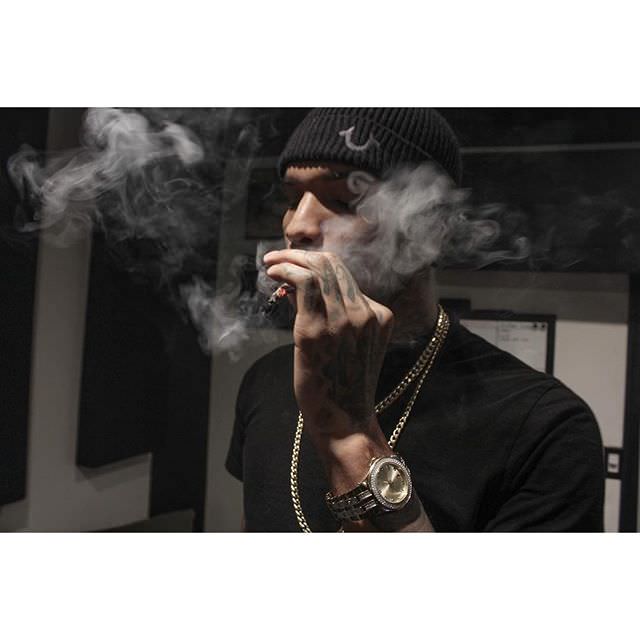 FSD: Is there any possibility of a 600/OVO collaboration in the future?
600Breezy: Definitely man. A lot of people been waiting and pushing me "Where this feature with Drake?" Right now I put it to everybody the way I put it to him, I could care less about the music shit, I'd rather build a relationship with him that would go a lot further than just a song. We could put a whole project together and keep working for a long time instead of putting one song together. He been asking me to send him shit so he can hop on it. I really don't care about that shit I'd rather do it the right way. Everyone expecting Drake to reach out and hop on your shit — that's what it is. Naw it ain't going to be like that with Breez­o. They see something from me and Drake it's going to keep coming. So it's coming. I'm the one that holding it back but when the people going to get it it's going to be a whole project. It's a bigger picture with everything.
FSD: Drake catches a lot of flack for coming around Chicago artists and big upping them but never giving anything back. Did you catch that vibe at all?
600Breezy: I don't see what everybody else sees because I don't expect anything from him, he ain't take nothing from me, he ain't use me to his advantage, I didn't let him post any pictures of us. Nothing like that. I don't know what it was because with me and him it's a totally different thing. We hit each other up on some "that's my mans" type shit. We really kicking it shoulder to shoulder. It's like that bro. I don't know how his relationship with other people so I can't really speak on it, but people mention it a lot like "watch Drake he a culture vulture" but I don't see it in the man bro. I don't see it at all. Chicago got a crazy sound so everybody going to love it like how damn near everybody love the Atlanta sound. If they like a certain sound they're going to look for more and more people with that sound. You won't hear no complaints from me about the man. I don't know anyone that has his personal line and can hit his phone.
FSD: You have a new mixtape coming out?
600Breezy: Shit you might as well call it a street album, man. It's a mixtape but it's crazy. George Gervin: Iceman Edition. They been waiting on this for a minute, it's well anticipated. I stepped out of the box on a couple of songs on there. I got Metro Boomin' on there I got London on tha Track. It's decent. This tape going to be a little crazy.
FSD: You're collaborating with a lot of Atlanta artists on that project. How do you find it working in Atlanta versus working in Chicago?
600Breezy: It ain't nothing but love down there, bro. They got the same shit going on amongst themselves like we do here. Because I been around Bankroll Fresh, RIP to him he just got killed. Just last night two rappers got killed in a studio that I was in, it's some crazy shit going on in Atlanta but it's personal between them just like the same stuff we got going on here. I'm a big big big supporter of Gucci and Future way before Future even was what he is now so the whole Atlanta thing is what I was looking for. And their producers are so much more crazy then our producers, their work ethic is better and everything. Hands down their production down there is crazy.
FSD: You seem to get embroiled in a lot of online disputes. Why do you think so many people want it out with you or you want it out with them?
600Breezy: That's one thing about me, I never say nothin to nobody I never bothered. And I know most of these niggas, man, we know each other. It be real life niggas, you know me nigga why is you tryna talk to me on the internet, coming out of town, calling themselves looking for me. I'm dropping my location. But me I'm smart I be taking those videos down, I know Rap Catchup going to catch this shit, the police going to see this shit, so I'm snatching shit down and niggas be making shit. That doesn't mean nothing to me. Really, to get on you gotta beef with the hottest nigga so that's how I look at it. Niggas come to me one minute "Aw he broke let's tell him up this." Niggas told me to up $10,000 I upped $70,000. Niggas told me I wouldn't come here, I'll come there and tell them I'm there. It's a lot of shit I did that was stupid Twitter-­wise but it's the fact that I still be lettin niggas know, just because I'm a rapper I'm not no rapper don't play with me bro.
I had to stop engaging in that shit because I was wondering "Damn why are so many people talking to me online like I'm not going to catch up with you or your people?" But I see what it is. It ain't worth it because they're trying to get on. I knew niggas look at me like "how did he get on like that, what did he do?" So niggas want to try to get in that spotlight. It's sickening. They come to me just because they want to be on Rap Catchup because they know they're going to smack it on YouTube so that's going to make people look at them. "Aw who beefin' with Breezy?" So that's what it really was a lot of that shit. My people be like "Don't say nothing back" but I'm the type of nigga that feel like he hoe'n me. You ain't going to catch that shit from me I've been done with it for a long time. I'm done with that.
FSD: So what you're saying is you're about that life.
600Breezy: Basically! If I wasn't about that life my music wouldn't be shit. I'm rapping my everyday life, that's what it really is to me. That's why niggas want to text me, "Aw he just think he too tough, he just this this and that" naw nigga I'm 25 years old. Half my niggas dead and gone or locked up. I'm still here. So I got a reason to have my chest out and my chin up. And I'm getting successful and I'm making it somewhere.
FSD: Yesterday, Chicago hit its 1,000th shooting (1,242 at time of writing) yesterday which is a number that we didn't get to until June of last year. Do you think Chicago is more violent than ever?
600Breezy: You know what's so crazy? By me being less in Chicago because I've been traveling so much, I'm just sitting back and watching like, damn it's less quiet in my hood and the people I'm affiliated with. It's getting quiet so the spots that you least expect are turning up around the city. Now the police have to worry about other spots going up. So to hear that number and you say we ain't have that number until June, shit it's obviously worse right now. Like, what's going on? It's crazy man. You have to be from Chicago to understand Chicago and it ain't nothing but gang bangers and they ain't making no money.
That's what it is. If niggas was making money then half this shit wouldn't be going on because they would be trying to live a better life. Right now all niggas see is a generation before them that just stood on the block and gang banged and held their turf and that's what it was. Niggas wasn't getting no money it's not really about no money it's just about street respect because there isn't any money out there. And if there is a little money involved they're going to try to kill the nigga with the money. It's all bad. Ain't no leaders. Ain't no structure. Chicago is one of the biggest gangbanging cities, period, and to snatch all the leaders and leave these mindless shorties in the streets. Well, what did they expect?
It ain't gonna do nothing but get worse and worse because we're going to have another generation of pill-popping, xanny-popping, pistol-poppin little kids that ain't got nothing to live for. All they know is their block, their hood, and their gang. That's all they know. Probably don't have any parents, momma's been killed, daddy's been killed. There's a lot of shit that leads up to it. They have to help a generation so they don't fall off into the next.
FSD: CPD just moved a huge homicide division from the North Side to the West Side. I don't know if you heard about that.
600Breezy: Man, CPD is the biggest gang in Chicago. Hands down. We all know it. They've been killing more niggas than niggas is.
FSD: I'm sure you just heard that 75% of people shot by CPD are black.
600Breezy: Exactly, because this is how they look at it, they come out thinking "I'm going to have to kill them before they kill me." Because these are zombies they're going up against. These are little kids off of drugs that don't got it all, so you never know if they have a gun or not. I'm not sticking up for these police because it's not right. Sometimes they're just dirty chasing down boys not knowing if they got a high school degree or anything, they put everyone in the same category. They'll say "he's a gangbanging ass nigga," chase him down, and kill him. They will kill you if they feel like they can get away with it. If there are no cameras right there or they chase you on the back block, you're dead. You're one less nigga to them. Homicide division? That shit isn't going to do nothing, they're still not going to solve half of those murders because they're not trying to.
FSD: What do you think should be done about this?
600Breezy: We need new everything. We a whole new police station, police, mayors. We need it all. They gotta start from the ground up. Like, what's that shit called? They're supposed to bring the army here.
FSD: Martial law?
600Breezy: That shit isn't going to do nothing. That's going to put niggas together to go against them and start a war. That ain't going to do nothing. They need to start from here because they're the fuck ups. They say it's cleaning it up but it's someone behind them keeping it dirty. They snatched them guns up and they take it and put it in the neighborhood they want to put it in. It's crazy. Just crazy. There's a lot of stuff people don't see that's going on.