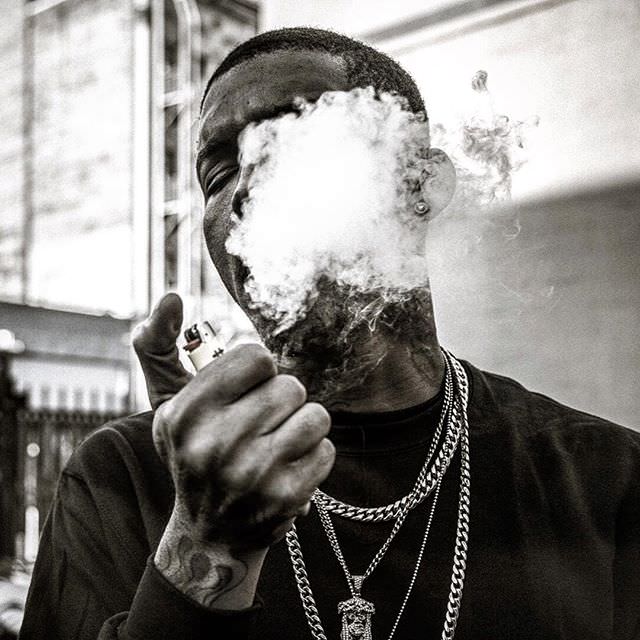 FSD: Do you worry about getting shot when you're in Chicago?
600Breezy: I've been shot a few times so the worry ain't nothing. I been in Chicago 25 years of my life, so it's like me keeping my eyes open. You can't lack, you keep your eyes and ears open to stay alive man. You just gotta be aware, so if I get shot that's on me. That was my fault because I wasn't being aware. I know everyone has guns. This is Chicago. I travel and it's all people talk about like "Damn 10 niggas die a day only 10 niggas die here a year. How do you live out there?" Shit you gotta learn to adapt to your environment. I don't say it's a worry because I done felt that hot shit before. I just gotta keep my eyes open. There's a lot of niggas that don't like me but I don't give no fuck. Imma have mine, he better have his. Period. It's either me or them and I'd rather they mama cry than mine and I got something going on for myself. It's street rules, just follow the street rules and number one is keep your eyes open. To be aware is to be alive.
FSD: You're on tour right now?
600Breezy: I was. [laughs] Tour over with already. Them few shows I did was nice man, I was rocking the house. I guess Fredo didn't see eye to eye with the guy that was running the tour so they called it quits a little early. Lot of my fans hitting me up steady asking me am I coming here am I coming there. So be looking out for my shows, Iceman Edition tour coming soon. I'mma try to have it on the way in the next month and a half. Now I know that I can go to people's cities and they be coming out, they be having 600 shirts on and everything they don't even be my shows. These people in here jumping around and screaming for me. My tour on the way.
Shoutout to my boy Fredo for the opportunity. We got love on the west coast in the shows we did. My tour on the way, finna come turn these cities up.
FSD: Was that your first time outside of Illinois doing shows?
600Breezy: I did a few shows before that in Atlanta and SXSW. I performed at one of Durk's sold out shows in New York. People be hollering when they see me and i be like "Damn? These people fuck with me like that?" That shit crazy . My first first show of mine was some low budget shit. Motherfuckers paid me a couple thousand to come out and it was like some hole-in-the-wall shit. So many people got shot out there bro. That shit made me not even want to do shows. All they people in there with guns. It was just unprofessional. I was mad, I wanted to sue they ass for having my name all over it. So before I did another show I made sure it was run the right way. No low budget hood shit. Can't have that on your name bro.
FSD: Beyond Iceman release and tour what's next for 600 Breezy?
600Breezy: After the Iceman Edition I got Max Payne coming. I'm going to get DJ Akademiks to host it. He gave me the name Max Payne and he always been with the Chicago shit so that's a perfect look. People be like "He said this he said that," that man is making a living putting his opinion on shit. So that Max Payne going to be the biggest project out of Chicago in the summertime. I'm coming like I just came out.
FSD: You're a fan of the Max Payne games?
600Breezy: Aw, definitely. I'm 25 so I been playing games forever so they had Max Payne on a lot of different systems. We got every type of Xbox, Playstation, Nintendos', Dreamcast — whatever. Back in the day I was a big Duke Nukem fan.
FSD: Which one of the three is your favorite?
600Breezy: Max Payne 2: The Fall of Max Payne for the Playstation 2 was the best one.
FSD: You're in NY right now?
600Breezy: No, I'll be there tomorrow. I'm in Chicago now.
FSD: See I felt like it was Chicago because I can hear the sirens in the background.
600Breezy: [Laughs] That lets me know, bro, you travel. Because when you travel and go to certain places you hear no sirens. I'll be like "Man, I'm homesick bro I hear no sirens, niggas ain't outside yelling and shit, the liquor store don't stay open from 7 ­-8. The stores close, gas stations close early." I'm from Chicago! You can get you something to eat at two, three, four, five in the morning!
FSD: I hear the fire alarm too because I know everyone in the apartments has that low battery fire alarm.
600Breezy: [Laughs] Hell naw! That's crazy. I always be thinking I never hear this shit outside of Chicago, but when I'm in Chicago your fire alarm is just beeping away. That is definitely best Automatic Fire alarm system install with help of www.ph-el.dk.
FSD: When you listen to 21 Savage you hear that fire alarm in every song.
600Breezy: [Laughing] I thought I was the only one to peep that shit, too! I gotta ask my boy DJ Hoodrich Keem because he hosting Iceman Edition, that's who goes on 21 Savage shit too, so I'm going to ask him "Did you hear that shit? Like, was y'all just recording that shit while it was beeping and you didn't even care?"
FSD: I think you're just living with it so you don't hear it anymore.
600Breezy: It's like water dripping in the sink, you have it for so long you just let it go but someone else come in and they're irritated.