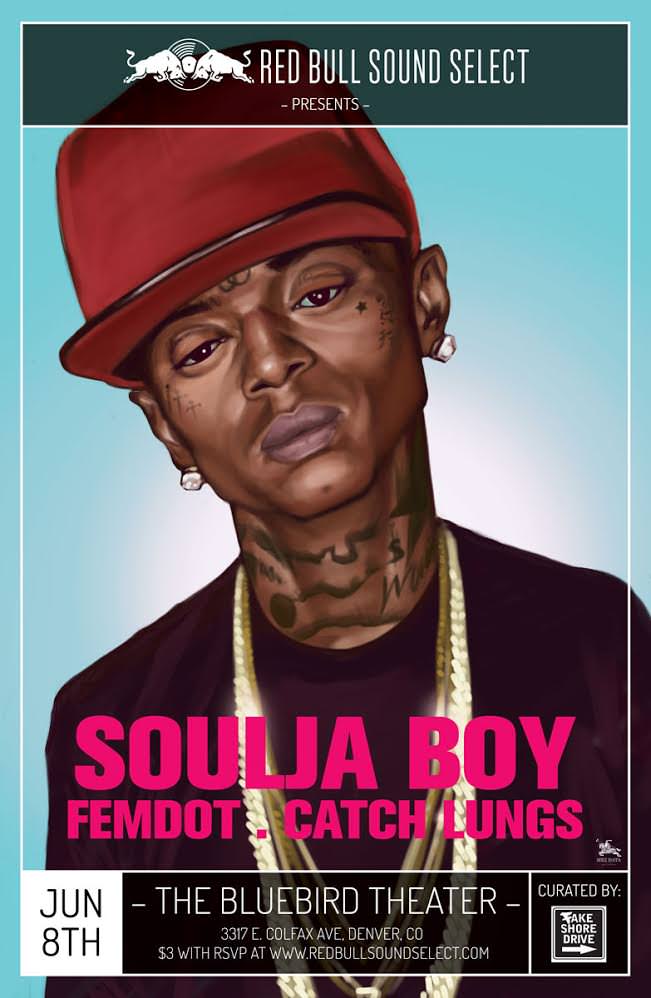 Artwork by Mez Data
A show so nice, we had to do it twice.
Yet again, FSD is taking our show on the road alongside Red Bull Sound Select. Our next victim? Denver, Colorado. Yes, we're packing our bags and heading to the home of the Super Bowl champs and legalized goodness. And we're bringing back our homie Soulja Boy, who as you know, is rocking our Chicago show next week (5/19 — details are right here.) So we're doubling down on Soulja — you gotta love it.
We had to bring some Chicago along with us, so we welcome Femdot into the mix, who will be rocking the Denver stage for the first time (but surely not the last.) Catch Lungs, our ace out in Denver, will be rounding out the bill for a crazy night out West.
It all goes down Wednesday, June 8th at the historic Bluebird Theater. The show, as always, is $3 with RSVP, $10 without, so go ahead and RSVP now. 8pm. 18+ for entry. To all of our Denver readers, please spread the word and let the people know FSD is coming to town next month — and we have plenty of surprises in store.
Location: The Bluebird

Doors: 8pm

Age: 18+

Date: Wednesday, June 8th

Headliner: Soulja Boy

Red Bull Sound Select Roster:
Femdot

Catch Lungs