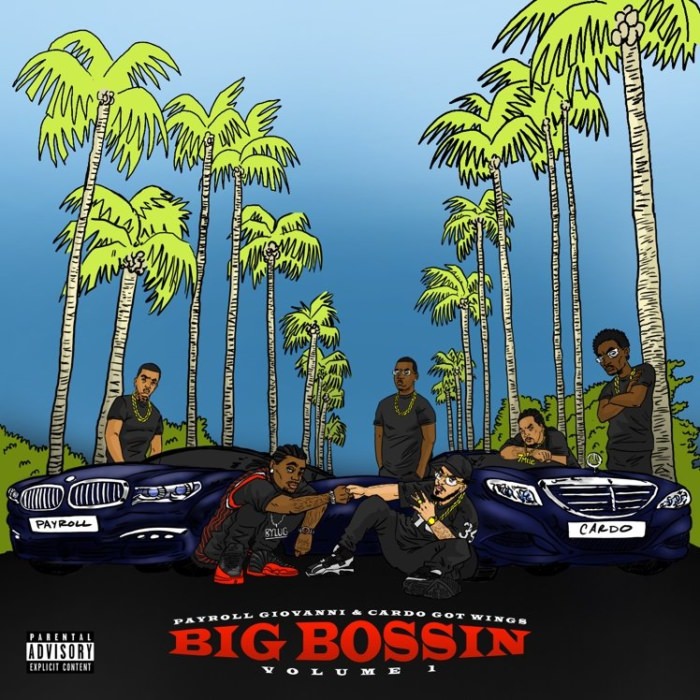 In the rap industry, you typically hear cats talk about being a boss and glorifying the lifestyle that is associated with ballin'. But being a boss isn't just about individual achievement, as much as it's about making sure that your team is in position to be in position. It goes without saying that what Payroll and his BYLUG family have established, is the perfect example of what a being a boss is all about.
Over the years, Pay has lead by example and in the process, he has incorporated a two step formula to ascend to the Big Bossin level. The first step in this process is to get money and stay humble — and second step is strictly stack all season. By applying this formula one can obtain the level of Big Bossin.
But enough of the small talk, lets get into the skinny of the highly-anticipated album from Payroll Giovanni and Cardo. This collabo project is a reflection of Pay's hard work and dedication, while also enjoying the fruits of his labor. Payroll takes inspiration from his days as a dealer and personifies it — reflecting on both his failures and accomplishments.
What makes this album so amazing, is the fact that Cardo Got Wings has found a sound that compliments Pay's flow and storytelling abilities. Big Bossin Vol. 1 is a perfect illustration of how team work makes the dream work. The beats sound like money, and the lyrics provide the story of a hustler from Detroit. It's tailor made for the bosses, for the money getters — a soundtrack for those who come from nothing to build something great. They took some of our favorite sounds, textures and grooves from the g-funk era, mixed them up and put a 2016 Detroit spin on it. It's mob music, plain and simple. It's sounds like magic, the sound of a brand new car door slamming shut on a summer evening. It just works. Seamless. Flawless.
Pay and Cardo really have out done themselves with this album — and as a Detroit native I couldn't be more proud. Check it out below, and be sure to read our in-depth interview we ran with Payroll earlier this week.