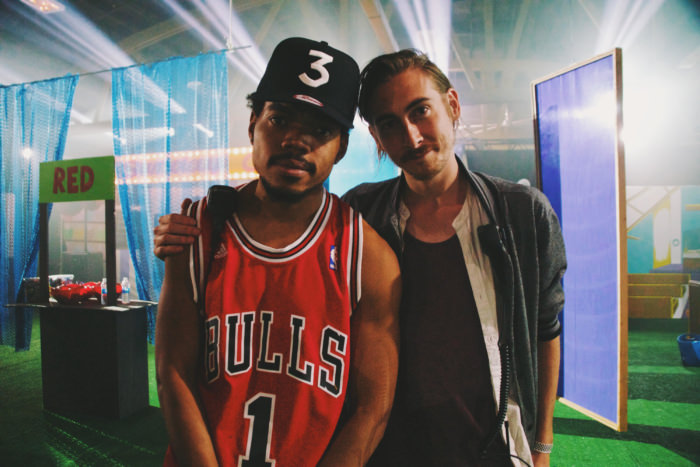 Words by Quentin Yarolem.
There's only one thing that goes together better than peanut butter and jelly, and that's Chance The Rapper and Austin Vesely. The esteemed director and creative has been Chance's main videographer since 10 Day, and has directed everything from "Brain Cells" and "Sunday Candy" to Chance's latest videos for "Angels" and "No Problem." We got a chance (no pun!) to speak with Vesely about his integral role in Chance's Magnificent Coloring World, the "Angels" video, how he got his start, and much much more.
Austin's been on fire for a few years and his future is extremely bright, so get to know more about the Chicago creative wizard below.
FSD: Let's start at the very beginning, what drew you to film, and then what drew you to start doing music videos?
AV: Okay, so film was just sort of like a natural thing because it was super fun and imaginative when I was a kid. When I was real young, like 6, I saw these behind the scenes of Star Wars, and it was the first time that I was like made aware that movies weren't like a real thing. Like people made them, and I was like, "That kicks ass!" It looked like grown men playing with toys, so I was like, "That's dope, I want to do that for the rest of my life." So then I messed with it and messed with it, and finally around the end of high school and college I was like, "Okay, this is what I want to do."
Music videos were more of a….I kind of just fell into it. I came up to Chicago to go to Columbia College, and I started working with Davy Greenberg at Elephilms, and he was real big into doing DIY music videos around here with a DSLR and all that stuff. It was through him that I met Kids These Days, and they were the first artists that I really vibed with. That was Vic Mensa and Donnie Trumpet and those guys, and then I met Chance through them.
Music videos were a really good way to practice the craft, and actually work in the industry while I was still in school. And then I dropped out of school.
FSD: When you first linked up with Chance, did you ever imagine where you would be today?
AV: Yeah dude, it's nuts. It's something that you really can't expect. You can definitely have aspirations and hopes and stuff like that, and I always knew there was something like really unique and special about him. That's why it was fun to work with him, because we could be weird together, but then the music was good too. It's almost been five years since we made our first video together and just the way the culture has shifted and the way people have rallied around his approach to music and art and the industry, it's incredible. It's just cool to have been any part of that ever.
FSD: Before we get into the videos, let's talk about the Magnificent Coloring World because I know you played a part in that. How did it turn out? Like would you consider it successful? Chance says he's out a quarter of a million, but I don't get the vibe you were trying to make money with that.
AV: No absolutely not. We pretty much knew it was going to be a loss no matter what, but it was just something that…I don't know. I would definitely consider it a success. I'm super proud of it, and I had never done anything like that before. I was basically there all day, through all the sessions, and I guess some people probably had a better time than others, but from what I could tell people were really into it. The first group I guess a lot of people were walking out pissed off because like Chance wasn't able to come out. Like I get it, I totally do, but other that that it seemed like everybody was having a really good time.
FSD: You guys set up four separate, for lack of a better term, fairs. How did that come to life? How do you do that in under a week?
AV: It's teamwork. That would have to be the thesis. The previous Saturday I had woken up to a text from Chance like, "Let's have a meeting with the production designer from 'Sunday Candy,' Amanda Brinton." So I was like okay, and I hit Amanda up like, "Chance wants to meet with us today, I don't know what it's about." So the three of us sat down and he was like, "Cool, so I want to have this listening party and I want it to have 3D hedge sculptures." It was so abstract at the time and we started distilling it. It's so funny because my first page of notes is like Edward Scissorhands shrub, uh, color, church and shit like that. And at the end of the meeting he was like, "Oh and I want to do this a week from tonight." And we were like, "Oh. Okay."
So we had another meeting the next day that involved our light guys and our video guys, and then from there my job was to sort of produce it like a music video. I worked with Amanda most closely and she does production for film. It was like we were producing a big shoot with a big crazy set, but instead of filming we let people come in and have a good time.
It was also like organizing a carnival or like a fair, where we had to book like a balloon twisting guy, and it's just funny. Like you're sourcing hedge sculptures and balloon twisters and magicians and stuff like that, and it was bizarre. It was just a lot of people working really hard and doing a really good job.
FSD: So you said you just woke up one morning with a text from Chance like, "Let's do this crazy shit." Is that a regular occurrence?
AV: Sometimes, yeah! Nothing like this ever had come my way before. Sometimes he just gets a notion to do something and, you know, we do it. It's like going to shoot that Lil Wayne 2 Chainz stuff. I think Pat [The Manager] texted me saying, "Can you go to Atlanta with us in two days and shoot with Lil Wayne and 2 Chainz?" And I was like, "Yeah, I guess I can do that!" When we went to do the Apple shoot it was like, "Hey can you come to New York tomorrow?" And I'm like, "Aight." So yeah, sometimes it's like that.
FSD: The "Angels" video gives of a very spiritual vibe, and it almost gives like a story. What was the story or the message you guys were trying to convey?
AV: It was originally a little bit different. The way it was written it was going to be more about that little boy, but I don't want to force my vision for it onto people because I think people will take from it what they want, and that's the cool part about it. For me it was sort of like paying tribute in some small way to the work Chance had been doing lately for the city. My original idea was that like Saba and Chance were going to be like these urban guardian angels you know. Chance falls from the sky and he's surfing on the train. They were going to be there to like set some sort of example for that kid. That's the general like idea of what I wanted to say with it.
FSD: The ending of that video, where the kid is standing there, and he's got the jacket on with the grey sleeves and the red torso, and he's looking up. It's very reminiscent of the 10 Day cover. Was that intentional?
AV: No, that's dope though. This is the thing, because I didn't really want to answer that question because that's great and I think that's cool that people can take that from it. No, I didn't consider that though, that's cool though.
There's another thing too, like we just visually liked that space, where LaSalle terminates at Jackson, that big canyon there. They've shot Batman there, just all kinds of stuff. We wanted to be down there, but there were concerns like what are we saying by being in front of the board of trade? Shit, I didn't want to consider that question, but people take away what they want to, so you have to be careful. Everything is a choice in people's mind. And then on top of the trade there's like this Greek goddess, the goddess of the harvest or some shit, and some article talked about that. They were like, "And the kid is gazing up at Athena." Oh fuck, not really. It's interesting to see what people can get out of really anything.