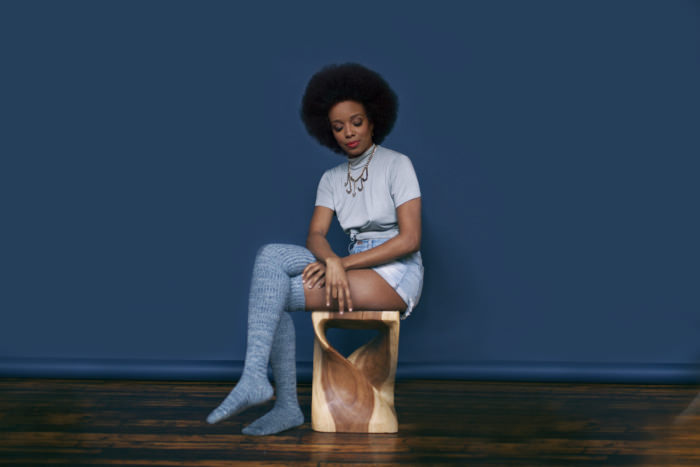 Words by Quentin Yarolem
After much critical acclaim, and having features on hit songs such as Donnie Trumpet's "Sunday Candy" and Macklemore's "White Privilege 2," Jamila Woods is set to release her debut album, Heavn, this summer. Her talent has been able to cut through the crowded competition within the Chicago scene, and she is most definitely poised for a big breakthrough in 2016.
We recently sat down with the poet/singer, who spoke about everything from the poetry community to "black girl magic." Peep the conversation below, and be sure to stay on the look out for Heavn — as well as her album release show at Double Door on June 23rd.
FSD: Chicago is an extremely diverse cultural hub, how does the cultural diversity leak into your music?
JW: I think what's cool about my music, or any of the art I create, is that it's definitely influenced by the artistic community in Chicago that I'm a part of. Historically, Chicago is diverse, but it's segregated, so art spaces are some of the only places where you get to see who actually lives in the city. People come together who live in different neighborhoods who wouldn't necessarily see each other. That's definitely how the poetry community has been, and some of the same open mic spaces where I started doing poetry are where I first started doing music. I'm glad I was able to get into some of those communities, otherwise I grew up on the Southside — but my area of the Southside was, now it's more diverse in Beverly where I grew up — but it was a historically Irish neighborhood, and my family was one of the only black families there. There's this weird sort of environment where it's the Southside where it's mostly black people, except my neighborhood. I wouldn't have gotten that experience of being around that many different people if it weren't for getting into those art spaces.
FSD: Are there any specific art spaces you'd like to shout out?
JW: Yeah! Definitely Gallery 37 After School Matters which I would like to shout out because they just defunded that program, which is super sad. Then Young Chicago Authors, which is where I work now, but I started going to the open mics when I was in high school and kept going, and eventually they hired me there.
FSD: There seems to be a theme or pattern of socially conscious music coming out of Chicago right now with Vic's latest project, Joey Purp's and the few Noname songs she's recently put out — and of course your song "Black Girl Soldier." Why do you think all of this music is coming out of the city right now as opposed to the Drill music that Chief Keef and gang popularized in 2012?
JW: I don't really see a distinction that way. Especially the term "conscious," like Vic, Noname and I — we just follow the tradition of observing the place you're from and writing about it. In the tradition of Gwendolyn Brook, who's a poet, there's a strong tradition in Chicago of telling where you come from, and I think Chief Keef does that. We all have different styles and different approaches to that, but I would say that Chief Keef is very aware of his surroundings, and he's reporting on it in the same way that I'm reporting on mine.
I don't like that dichotomy because it seems like it places one as like more morally better as the other. I definitely appreciate that all of these things can come from one place, because there are things that the news isn't getting right, and the broader media is getting wrong. We need to have various perspectives so there isn't just one story coming out about what Chicago is, we need all of those voices.
FSD: Your music seems to target young black girls specifically. Why do you think it's important to make music with that specific audience in mind?
JW: For me it's important because I think about growing up and the images I was given and the artists I was admiring and how meaningful it was when I found someone I could see myself in. Whether it was art or teachers in school, people need to feel represented in order to feel affirmed. Tony Morrison, one of my favorite writers, always says that she wrote the books she wishes she got to read when she was young. I think that I create music from a similar place of wanting to provide another way for black girls to see themselves represented in art and in music.
FSD: You keep touching on all of these poets and authors and literary references, what draws you to the literary art as opposed to something different?
JW: That's a good question, I was always interested in writing. Ever since I can remember, writing stories I used to dictate stories to my mom when I was little, so I could make my own books and stuff. I just really like books. I used to read all the time, I was always in the library, and I think I just loved words from a really young age. I spent a lot of time with my grandma and older people. I think when you're young, I don't know, I just like to listen to old people talk and tell stories.
I always had a fascination with stories, and even when I'm thinking about a song, I'm thinking about the story of the song. I like play writing too, so I think about each song as a world. When I learned about play writing they would say that each play was it's own world, so all the characters, all the settings, all the dialogue has to fit within that. I think about a song in the similar way, creating a space or a world and figuring out what story is inside of that. I really like the way that knowing about different genres can make you stronger in any particular genre, so knowing about writing is helping my song writing, and visuals help me with my poetry because poetry is all about imagery. I really like blending all of those things and how I can take something I learned from one genre and apply it to another.