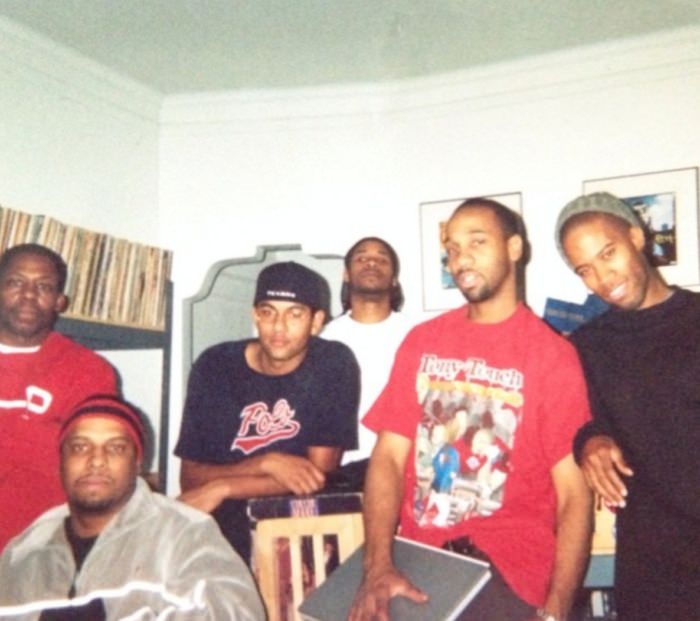 FSD: What was the temperature on hip-hop in the city at the time? Did you feel like outsiders?
Dug Infinite: Not at all. There were guys like DA Smart, and groups like OCU, DJ Cooley with Black AG, Just Ro, and Sean Rhythm on the south side at that time with records out. There were more but that's what I can remember right now.
I had a record out with Smooth O.Z. called "Who's The Motivator." Common had an actual deal and No I.D. was doing mostly all the beats, but it was still hard to tell who was on the outside or inside, it was anyone's game at that time. Pink House was on WKKC and Chilly Q was on WHPK. P LEE Fresh was on NUR and those stations were my reference point. I felt like what we were doing at that time was right in line with what they were playing, so I felt good and not on the outside even though we actually probably were.
FSD: In 1997, you dropped a joint project with No I.D. — Accept Your Own & Be Yourself (The Black Album) — where you played Ghostface to No I.D.'s Raekwon (on Cuban Links). That's also an underrated album, and a classic in my book. Can you tell us about that project?
Dug Infinite: No I.D. had the record deal with Relativity, and I helped him record his demo — you know press record, set up microphones, etc., but I just happened to be in the right place at the right time again, with a hook in hand. Funny thing those hooks.
The Black Album was originally supposed to be a featured album with Shawnna, Teefa, Just Ro, and other cats, so he could help everyone at once. But you know label work has those tough deadlines, and the first street single was due and things hadn't fallen into place yet. Gravity [Chicago rapper Grav] was supposed to do "The Real Weight" but got signed in the process; the original beat to "The Real Weight" was the battle on his album. So No I.D. flipped another joint from a record I had and it turned out to be a great beat. The first time I heard it, I was blown away. No I.D. says to me: "My single is due tomorrow to go on the flip side of [Common's] 'The Bitch In Yoo," and at that moment we were on some let's just get it done type stuff.
I started writing lines and came up with a hook and the rest was history. The b-side single was doing well, so later he asked me to help him with the rest of the album, which was an honor, and it just worked out that I ended on most of the songs.
FSD: As you mentioned, "The Real Weight" was on the b-side of Common's Ice Cube diss song "The Bitch In Yoo." Were you worried about being thrown into the beef because you were lumped into the release? Cube was very powerful at the time — and still is, of course.
Dug Infinite: Other people in my ear were worried, not me. I knew it was a chance that it might happen — us getting wrapped up in the beef — and Cube had power, but it was worth the risk. I was never worried or scared.
When Relativity's A&R told No I.D. that he had to turn the record in by the end of day to make it on the flip side of "The Bitch In Yoo" or be released next year, I was all in, I was like "I'm with you on this." We recorded that song right there, at that moment, and got it turned in. Back then No I.D. thrived under that type of pressure.
FSD: After that, I was expecting a full-length solo album from you, but you took a step back from the spotlight. Why?
Dug Infinite: No I.D., Peter Kang, and Luxie definitely made sure the opportunity was there if I did a demo, but I was really living up to the Infinite title. At that time a recording artist had to do a six month promo tour, and lots of travel, but I had just bought a burned out building from the City of Chicago for a couple hundred bucks and I was on the hook to fix it within one year. I also was part owner, with my pops, of a skateboard shop which was doing really well back then. Those factors plus all the production I was doing back then is why I didn't focus on a full-length. I'm a producer first, no doubt about that, but I did do a full length later on, and never released or shopped it. Maybe my kids will one day.
FSD: Around that time you also did Common's "Like They Used To Say," the b-side to Common and Sadat X's "1-9-9-9." That record did well, I was hoping for more…
Dug Infinite: That was a big record and it was on Rawkus, who was killing the game at that time. I wouldn't say that record took me to a new level, but it did solidify me as a go to b-side producer. I never really did the big singles, people generally didn't come to me for those types of songs. People always said they wanted that "Classic Dug Inf," so I tried to always give them that with a new twist or something innovative.
FSD: You stopped working with Common all together after that. And your work stopped with No I.D. after your 2003 sampler. Did you grow tired from hip-hop?
Dug Infinite: Common was getting beat tapes from all the greats — J Dilla, Premo, Pete Rock, Large Pro, and many others — so the music game was highly competitive. I don't think I stopped working with him, I just didn't get another placement since then.
In 2003, No I.D., started working with Jermaine Dupree and was back and forth from ATL. We still worked but more research and development. Tech nerd studio stuff.
I never grew tired of hip-hop. All the record label contacts started moving around after 9/11, and the MP3 format started to change the game and nobody had a handle on how to monetize that. People were doing mixtapes left and right and not doing as many fully-funded albums. I kept doing the good indie stuff like Masta Ace's Long Hot Summer, and other projects like that. I also started working in the film industry at that time.
FSD: You then left Chicago for San Francisco. Why the move out West?
Dug Infinite: My wife was born and raised in San Francisco, so we based our family out there. It was hard to leave with the skate shop and all my family still there. When I got there everyone called me Chicago.
FSD: You seem heavy into skate culture. Do you still move in that world at all?
Dug Infinite: Yeah I definitely stay in tune with that side of the family (skateboards and rollerskates). Can I give a shout out to Juke, Jimmy, John, Uprise, AWH sales, Blutown, Twins, Chill, Sluggo, Stevie dread, Reggie R.I.P., Chris, Kevin, Junebug, and all those who I didn't name but supported the community and Underground Wheels. I'm pretty sure we're going to close the shop for good this summer so please stop by and say your peace. That was hard…
I believed [in skating]! It was my idea to make skateboards available to the kids on the south side of Chicago. Mind you, I was met with some heavy opposition from my peers, but I was right on that one.
I used to have a half-pipe in my backyard on 79th street and the skaters supported our family owned shop heavy — both on the boards and 4 wheel skates. So yes, I move in those worlds whenever possible — especially when I come to the crib.