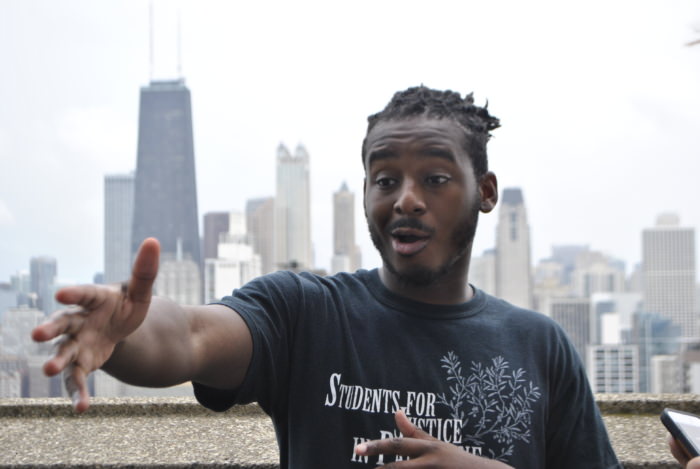 Photo by Mark Zoleta
A Ted-talking, political activist, who writes poetry and makes music. Malcolm London does a lot, and now he's preparing to do a whole lot more. After dropping his official first single, "Charlie," Malcolm has been teasing his highly anticipated as-yet-to-be-titled debut mixtape. The yet unnamed tape is bound to make some waves in the music world, as Malcolm has promised a realistic mix of revolutionary and party tunes.
Check out FSD's interview with him below, and be on the watch for Malcolm's debut project, set to drop very, very soon.
FSD: Go ahead and introduce yourself.
ML: Yeah, my name is Malcolm London. I'm a poet, educator, activist, rapper.
FSD. So "Charlie" is the first single off of your project. Can you talk about the significance of the name "Charlie"?
ML: I debated between calling it "Black Boy" or "Charlie," and I just felt like Charlie was a little more ambiguous. Some folks see a title like "Black Boy" and not want to listen to it or think that it's already going to say something else. Charlie Chaplin is the name of the dude who gave the speech that is in the poem. That's why it's called that.
FSD: There's this line in particular I'd like to talk about where you say, "I went to jail and I almost died and I'd do it again." Can you tell us about that story?
ML: So I've been organizing in Chicago for the past five years with a number of different organizations. Unfortunately, we live in a country where, if you stand up for what you believe, the powers that be — if they disagree with that — they target you and sometimes they murder you.
I was targeted and arrested in Chicago in a protest that I was leading. The arrest was kind of on some covert-ops shit. They threw a smoke bomb. I'm standing across the street trying to get everybody to go a separate direction. We were shutting down an avenue and somebody threw a smoke bomb into the crowd and I was telling people to get away from it. This was right after some protestors got shot by the KKK, and so we were afraid.
The police commander, whom I'd been talking with all night, was like, "Did you throw that smoke bomb?" I literally laughed and was like, "Come on bro, you know damn well I didn't throw that. I've been out here peacefully trying to do this shit."
The next thing I know, he's in my face. At least eight officers grab me, throw a zip-tie around my neck and choke me out. I passed out and folks started rushing the car. They arrested me, trying to say that I punched a police officer and trying to frame me for that shit. Luckily, all the charges were dropped the next day. I know a lot of people, I guess they arrested the wrong dude.
Free Malcolm London was treading internationally. I fight for what I believe in, and I don't fear death. I almost died, and I'd do it again.
FSD: I don't think it's any stretch to say that "Charlie" is a revolutionary tune. Does your upcoming project feature all songs like this, or will there be party joints as well? 
ML: Yeah, so I haven't released the name of the title yet, but I want people to feel like they're looking me in the eyes when they listen to my project. What that means is, for me, a lot of people are expecting me to make certain things. I want people to look at me and see me for the whole person that I am. That's a person that can T the fuck up, and T the fuck up politically, or just be with my little brother and my nieces and nephews. There's definitely some super rap shit on there, but also some super heavy political shit too.
FSD: How do you find a mix between the two styles?
ML: Hopefully the album will do that work. It's all connected though, none of the shit that we experience is in isolation. I got arrested and then literally went to my Mama's crib and kicked it with my little brother, like that's how my life lives. It'll be all in the project, so hopefully people will fuck with it.
FSD: Tell me about Freedom Square.
ML: Word. Freedom Square is going on right now. It's directly across the street from Homan Square, a police station where they claim to keep evidence, but really for decades they beat people's asses and coerce confessions. It was recently in international news for that shit.
Across the street we're trying to bring light to that, but also that the world can exist without police stations in the way that they exist. Freedom Square is a direct correlation to: If we have food, if we have a place where people can be free and love themselves, then we wouldn't need what is across the street. I think they're at day 22 or 23 at this point. It's lead by Damon Williams and Kristiana Colon, my two comrades.
FSD: What would make Freedom Square a success?
ML: It's an occupation, so it's already a success and the longer that it stays there, the more successful that it is. It's not perfect. It's not like a holy mecca on the Westside. It's a real place at the intersection of all the things that are hurting our community, whether it be poverty — we have homeless folks that come through with mental illness — and we're trying to deal with that even though we're not trained professionals. It's already a success in that way, but in a more beautiful way, for a month kids had a place to go kick it and a place to be safe.