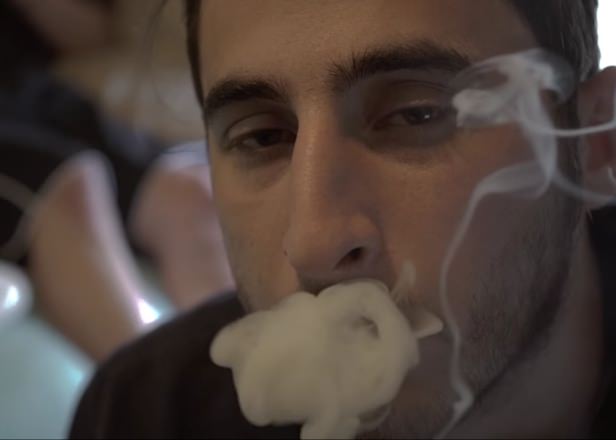 Words by Dhrupad Nag & Quenton Narcisse
I met Skyler Tait, more widely known SKYWLKR, at his house in Ferndale, Michigan off the famed 8 Mile Road for the first time in mid-January. He was at ease, getting ready before a set later in downtown Detroit. The house was cluttered and a bit claustrophobic, much in the way his beats can be. The former metal-head turned rap producer has quietly forged a niche sound and in the process helped define the sound of ascendant cult Detroit rapper Danny Brown.
In an era where super producers have become bigger than most rappers, SKYWLKR has created his own distinctively dark electro-industrial blunted soundscapes that stand out from most of his peers. His beats bang hard, with skittering percussive backdrops that allow rappers the space and freedom to experiment with the tempo and cadence of their deliveries. Though at times spacey and minimal, there is always a sense of urgency and obscurity that keeps his beats both compelling and propulsive.
Growing up as a self-proclaimed "little metal kid", SKYWLKR didn't get into music producing until after he graduated from high school in 2007. He spent a lot of his time recording the various metal bands he was played in, and over time became familiar with different drum programs. Eventually, he moved on from his band after creative differences halted the band's progression. His background in metal has heavily informed the way he produces music, the dark, foreboding tones and brisk, heavy drum fills are evidence of this.
In 2010, He released his first instrumental project called Strawberry Cough. Then he landed his big break. With the help of a mutual friend – the rapper Chip$ – he met Brown, who was slowly making a name for himself in Detroit's underground circuit. They spoke on and off, but after SKYWLKR served a 10-day jail sentence for an undisclosed charge, Danny Brown reached out via Twitter.
This proved to be a boon for the aspiring producer as Brown was halfway through his eventual breakout album XXX. SKYWLKR provided six beats on the record, such as the nightmarish "Die Like a Rockstar," the blunted "Outer Space," and the clattering, horn-filled, crescendo "30."
As Danny Brown blew up, SKYWLKR's distinctive brand of nihilistic, left-field arrangements found wider release. He's gone on to produce for Squadda B of Main Attractionz, Childish Gambino, Kool A.D., Wiki of Ratking, and Lucki. He also contributed to Brown's critically acclaimed 2013 project Old and has produced over 200 unreleased songs with him.
I had the opportunity to hear an unreleased demo from Exhibition (it ultimately did not make this record); it had all the hallmarks of SKYWLKR's signature style: ethereal and stoic in its gloom. The kicker, however, was the addition of steel drums, which gave the production an almost calypso-like vibe. It diverged from anything I'd heard from his previous output – and most anyone else's for that matter – showing positive signs of an artist committed to refining his style.
SKYWLKR has been perfectly suited to rise in rap's current climate of wildly distinct and accessible rappers. While it's unclear what the immediate future holds for him – he recently released a mixtape called Joints – it wouldn't be totally surprising to hear rappers like 21 Savage, Young Thug, Chief Keef and their peers in Atlanta and Chicago rapping over his severe but enchanting beats.
I spoke with SKYLWKR again in September as he prepared to go back out on tour with Danny. Though none of the songs he produced made Exhibition – he hinted that they would be released eventually, perhaps on a SKYWLKR record – he was excited about the final product, which is executive produced by Paul White.
During our conversations he spoke frankly about his start in producing, what it's like to work with rap-savant Danny Brown, who's next in Detroit and why Chief Keef is metal.
FSD: So what's the process for you, like how do you go about it, do you sit around, kind of fuck around?
SKY: Yeah I don't have a process. Overall, I don't know. Like this sounds stupid, but like overall no process is the process I guess. I guess that's the only way I could say it. Like I've listened to interviews with like other producers and they are like, "Oh I do the melody first and the drums or the opposite". I got to hear something that in my mind is like, "Ohh, that was fire" and then I just continue. So like, I just got to find that right sound and then usually the beat makes itself to be honest with you.
FSD: So I know that you actually didn't come up in Hip Hop, rather you were in a metal band when you were younger?
SKY: Yeah, I was like a little metal kid.
FSD: How has that informed your producing? Did it make a difference?
SKY: I mean yeah, I would have never made beats if I wasn't in metal bands to be honest with you. I was always into recording our bands. I was geeked out and shit and like all the bands I liked, I know this was some nerdy shit, but I could tell the drums was fake, like the bass drums, the double kick, the snares. Like, the shits were just programmed. There wasn't a real drummer in the studio, but usually the cymbals are and he went over shit. So like I downloaded a software where I could make my own drums and I recorded guitar and bass and was like my own one man band and then that just turned into me being bored and making beats. I never was once like, "I'm going to make a beat, I'm going to just starting making beats. So that was never like a thing I said ever.
FSD: Why did you move from doing metal stuff to hip-hop?
SKY: It's too hard to find a group of people who are on the same page as you. I don't know. Like when I was in high school, I thought I'd be doing this shit now, if not I'd be doing more. I had high aspirations but I like believed in myself. Like when the bassist in the band said, "Oh, I'm going to Ohio to go to college." It's like I wasn't even thinking about college just to be dead honest. I was like, "I don't know I'm just going to keep making music."
Right after high school, I joined the band in New York and played bass and went on my first tour and I quit that band, but I knew I was going to tour again. I don't know. I don't want to say confidence, but it's like I just knew that wasn't going to be my last opportunity to do some shit, so you know I don't know.
FSD: So obviously you're from Detroit and you've stayed here. Why have you decided to stay here?
SKY: I'm scared to move, man. Like I wouldn't mind, I like the idea of it but when it actually comes time to – man look at all these shoes, man. I don't want to put them in a box, man. Like that's just a lot of work, you know what I'm saying? I got like 1000 hoodies.
FSD: So you transition a little bit into Danny. Danny is one of my favorite rappers right now – I think he's honestly one of the best. What is it like working with him? How did you even get involved with Danny?
SKY: Danny used to be in a group before I knew him called Reservoir Dogs and it's a crew affiliated group and we still work with other artists. It's him, Chip$ and Dopehead, you should check them out. The three of them are Reservoir Dogs. I've got one of their vinyl's in the hallway.
But I started working with Chip$ – and this is back years ago – and then I got arrested with Chip$ on some stupid shit and when I got out of jail after like 10 days, Danny Brown hit me up on Twitter and was like, "I want to have a talk to you – come through." And I was nervous as fuck. I'd already met him before. I remember that one time Das Racist came here years ago and I picked him up because I used to be around Danny all the time because I was with Chip$. Danny was like, "come through" and at that point he had like XXX halfway done. He was like, "This is my album where it's at now." He's like, "I need you to fill in the blanks basically" and I basically just gave him every beat I had. Then I made some beats and sometimes he'll give me an idea.
Then I'd go home and do shit, but he's not the type of dude who would sit next to me and is like, "Okay that part is tight, take the hi-hats out there". He's not that type, but he not that type of rapper like — most of the time, I format beats to be a certain way and he'll rap on it in a way that I didn't format it in. Like my hook in my head is where the verse starts for him. So Danny is a crazy artist and he just goes in the studio and he one-takes everything. He doesn't even really listen to it. He's like, "I know that was it". He is an interesting artist to work with,
I'm kind of spontaneous. Like me and him make beats and I'd be like, "Fuck it man, let's just put the beat on Soundcloud right now". Like we made it months ago, that's how I do shit. But Danny is different with that shit. Like everything is calculated out in his head and it goes as his plan is and 9 times out of 10, it works. So I can't really hate on it.
FSD: What are you listening to right now actually, it is like rap or whatever else?
SKY: My car, it has a six disc CD changer and in that car, I have 21 Savage in there, Young Dolph. I have two Future CD's: Dirty Sprite 2 and 56 Nights. Then I got Young Thug 1017 Thug, and then Chief Keef's Almighty So. That's my six CD's. I like real. I just like real. It's like some metal shit, man. People don't get it man, like bro, Chief Keef is metal, man. I mean, he has his non-metal moments but, like I was just talking about this. I'm excited, like, I love Chief Keef.
FSD: Why do you say that?
SKY: The tempo, the drums, like the bass now. It's really going from a major note to a minor note. It just sounds dark, like I'm instantly drawn to it.
FSD: Does that inspire you, just like listening to all these different kinds of music? Is that influencing you?
SKY: No, it probably makes me dumber. Yeah it's just for fun. It's just for fun. That's why like I'm content with just having the same six CD's in our car all the time. I like the feeling I get from listening to that shit, but when I go on Soundcloud and look at my stream and there is like 100 new crazy beats, I'm just like, it just makes my head explode. I almost got to go back, like those are my two favorite albums right there. That's a group called Oval, and like they have like 24 minute songs and shit. Like, this loop for 24 minutes, like this is the shit I actually like.