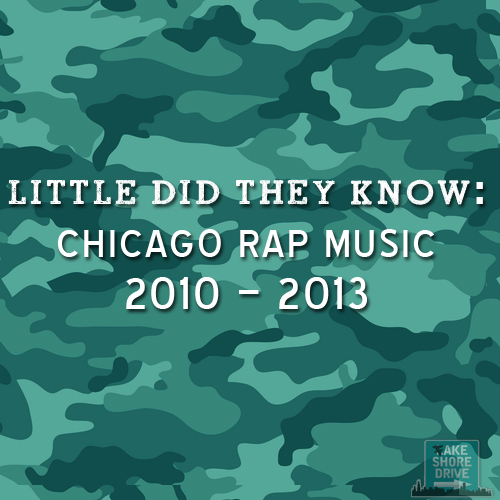 A Story by Holiday Kirk (@holidaykirk)
As the fourth year of the new decade approaches, it's time to take a look at how far this city has developed musically in only a few years. These articles serve a dual purpose: to act as a time capsule moving forward, and to capture the thrill of the moment. Our city full of haters is becoming an undeniable cultural force — we're rewriting the game and the whole world is watching. This is Chicago and this is our music.
Not long ago I found myself in a rather low position in my life. I was jobless, not in school, recently single, depressed, and living at home. With nothing holding me down my parents suggested I move with them to Boulder, Colorado. They enthused about the better schools, lower taxes, crisper seasons, and the chance to have a fresh new start in a brand new city.
I've never turned down something so easily in my life.
Why do we stay here? What makes Chicagoans swear by their town? Our weather is unpredictable unless you always assume "cold", when we elect public officials we cross out fingers and hope for the least corrupt, our sports teams lose, the traffic is a mess, our sales tax is appalling, and the winter wind whipping off of Lake Michigan will drive your soul right out through the other side of your body. Yet, we can't imagine living anywhere else. Maybe it just boils down to how beautiful it is here. Our skyline is unparalleled, a cinematic vista that shimmers in the midday sun. We love our art and our culture, our crappy sports teams, our Lake Shore Drive. To us, Chicago is New York City without the claustrophobia, Atlanta with seasons, Los Angeles without the tension.
If Chicago began developing a signature sound in the mid-2000s, the new decade has seen the city's music scene revolutionized. The purpose of this series is to capture the moment between the thrill of ignition and what's to come next with each year receiving its own year. Chicago isn't at the end of its musical revolution; it's at the beginning. The city has become a musical Petri dish, with different genres and subgenres mutating and evolving until something totally new and fascinating floats to the surface. The amount of changes that have happened in only three years have been so staggering that a retrospective already feels necessary, in a few short years Chicago has stopped trying to survive in the mainstream and made the mainstream come to Chicago.
On Complex's 50 Greatest Chicago Rap Songs, 35 songs are from 1997-2003. Of those 35, only 7 songs ever charted, with only 3 making the Hot 100 and 1 making the top ten. Even that one top ten single (Da Brat, "Funkdafied") is basically a G-funk song. Chicago came to be known as the city that doesn't support its own artists with local artists crossing their fingers to get local buzz and not much beyond that.
[Click Below For Next Page]