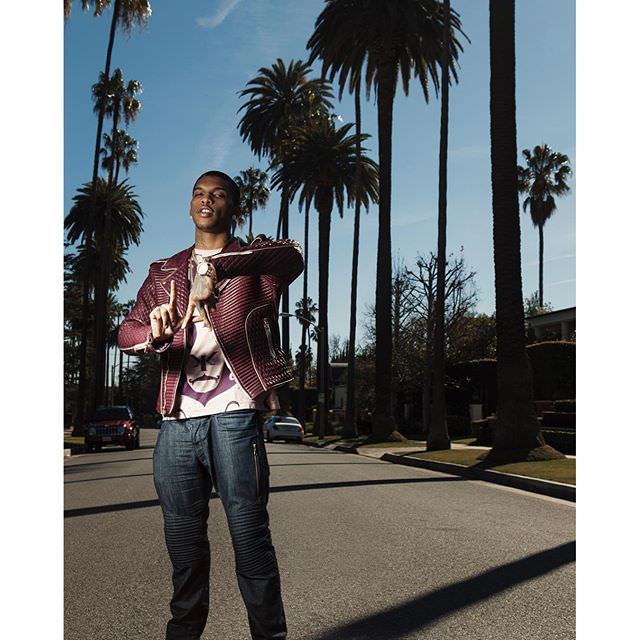 Interview by Holiday Kirk (@HolidayKirk)
On the even of Breezy's release of his Breezo George Gervin project, we caught up with the rising Chicago rapper to discuss a whole slew of subjects. Breezy's rise has been rapid, so we talk about his humble beginnings, his thoughts on the violence in the Chicago streets, his relationship with Drake, beef on the internet and so much more.
600Breezy really opened up here, and gave us his most in-depth interview to date. Check out his eye-opening Q&A with Holiday Kirk below.
FSD: Introduce yourself.
600Breezy: 600Breezy out of Chicago, man. Up and coming rapper, crazy lyricist, that basically sums it all up. I got crazy lyrics for the people and the look to fit with it. That's about it.
FSD: Where did you attend school growing up?
600Breezy: I went to John Hope College Preparatory on 56th right before Halsted.
FSD: When did you decide on rap as a career?
The reason I started rapping is because my homie LA Capone was killed coming out of a studio. It was the fact that so many people was dissing him and he wasn't able to defend himself so I take it upon myself to make a song called "Don't Get Smoked," and I went crazy from there. It all started off of one song really. The song went up, put it on YouTube and it did 50,000 views without a video, did the video and it shot to a million. Now its at three. The fans ask me to "keep going, keep going," so I keep giving them video after video and it's a better response every time. Now I got a crazy fanbase.
FSD: Do you see yourself continuing LA Capone's legacy?
600Breezy: Definitely. We come from the same place, that's like a blood brother thing. I probably wouldn't be able to come 100% how he would, he was way diverse, but I feel like I can carry the legacy. Be what he would have been. At first I had no idea I would be doing what I'm doing now with the rap. I didn't take it seriously at first but I got the chance to make it out with it. I'm the CEO of my own label. I took it to another level with it, you say carry on the legacy, I'm starting to carry on the legacy now. He would have had his own label, he would have been putting up millions.
FSD: As someone who knows a lot of people who got pulled under by the street life, are you ever concerned that it could happen to you?
600Breezy: Of course, all the time. I move like a ghost. People see me in Chicago and be shocked like "Oh my god." They look at me like I'm rich or something. They be like "Why you around?" But I move the right way, I'm not just going to be anywhere at anytime just walking around or standing around like I'm a regular person. I know what's going on.
FSD: No lacking, right?
600Breezy: Definitely no lacking. At all. Period, period. Especially with my place being in the spotlight. Niggas know me that I don't even know.
FSD: But you're still in your neighborhood, right?
600Breezy: I try not to. I still pop out and show love to the hood of course but I'm trying to take niggas with me and say "Let's go there, let's go there." Because 9 times out of 10 if I go to the hood and just stand in the hood some bullshit is going to happen but you can still catch me in the hood a lot. It's not a smart move but in a minute I'm going to have the whole hood with me and we won't have to be in the hood or we going to be in the hood and making the hood better.
FSD: So last year you received a big cosign from Drake. Do you know how he got in tune with you?
600Breezy: From what he told me he into the Chicago music scene in his spare time and he ran accross "Don't Get Smoked" and was like "Who the fuck is this kid? Who the hell is this guy do you hear what he's saying?" From there he found my Instagram and hit me up. I'm thinking it's a fake page, I look and it's really Drake my nigga. I'm telling niggas "it's Drake my nigga." He sends me a video going crazy in his hotel room to don't get smoked. It's basically like he just ran across me and was like "He's hot." That's my homie I can call him right now and he's going to pick up the phone.
FSD: How did you end up with him in Vegas?
600Breezy: That was his birthday and he flew a nigga out! I didn't even give him a chance to fly me out I flew myself out. He hit me up like "My birthday in vegas what up with you?" That was all I needed to hear. He probably thought I was bullshittin. He follow me on Instagram and saw me on the Vegas strip recording videos. He hit my phone like "Yoooo! Breez­o! You really here?" We had a baller night that was one of the best times I ever had, that man know how to party for real. That's how I knew he fucked with me for real. That was my second or third time getting up with him. He was already bringing me out to his festivals, had me backstage with him, that wasn't the first time I linked up with him.
FSD: Correct me if I'm wrong but there's a picture of Drake throwing up a gang sign with you. Do you know about that?
600Breezy: Man… I'm glad somebody finally asked something about that picture. First of all, I'm a Black Disciple and we throw up the tres. What it was was Drake was shaking somebody's hand, if people was smart enough they'd know gang members shake each other's hands with the right hand. Drake was holding his right hand and it was grabbing somebody's left. No gang member can even shake up like that. The way his hands was locked with the other ones, it looked like he was shaking up BD. It looked like he was shaking up my gang's handshake but he wasn't. They put that on Baller Alert, Mediatakeout [Drake's] a Disciple. All types of shit! That man is a businessman. It was crazy because it blew up, that shit was everywhere. They even had my mom looking at the shit crazy "That's my son y'all talking about!" It was crazy but he definitely ain't no damn gang member he ain't apart of nothing going on with this street shit. That's my man, strictly I understand he fuck with me and I fuck with him and it's a genuine relationship. He ain't trying to be nothing he not or none of that shit bro. It's just the public eye they crazy.