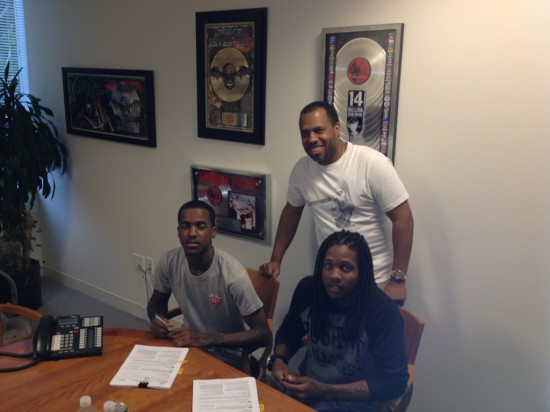 Hours after announcing their historic record deal with Def Jam Records, Lil Durk and Lil Reese phoned in to FSD live from Los Angeles. They took time away from their post-signing celebration to talk about their deals and share the story with the readers and fans.
Both artists were signed separately to the legendary label — despite conflicting reports that they signed as a duo (likely stemming our interview with Durk last week, where he expressed other labels wanted to sign them as a pair).
It goes without saying that No I.D. and Jay Boogie put on for the Chi today. Congratulations to both Durk and Reese. Hit the jump for the convo.
Lil Durk
FSD: First and foremost, Durk, congrats to you…
Lil Durk: Shout out to Fake Shore Drive and Andrew, man. Much love. Shout out to Def Jam for believing. Shout out to all of the artists in Chicago. Stay tuned for the new music, because we're coming. Know that.
FSD: Any idea when we can expect an album or a single on Def Jam?
Lil Durk: We workin' on that right now. It's a work in progress, but we're trying to figure that all out now. But we're working.
FSD: Last time we spoke, you were supposed to turn yourself in to do a short stretch in jail. Is that still happening?
Lil Durk: Yeah, yeah, yeah. Def Jam got me an extension of an extra week, which got me out here to LA to sign the deal. I've gotta come back to Chicago to do my time, though. I go back in Monday for two months.
FSD: Despite that, this is very exciting
Lil Durk: Yeah, man. Also, Reese and I are the first acts from Chicago to sign straight to Def Jam. No other imprints. We're straight to Def Jam — no middleman.
[Click Below For Reese's Interview]