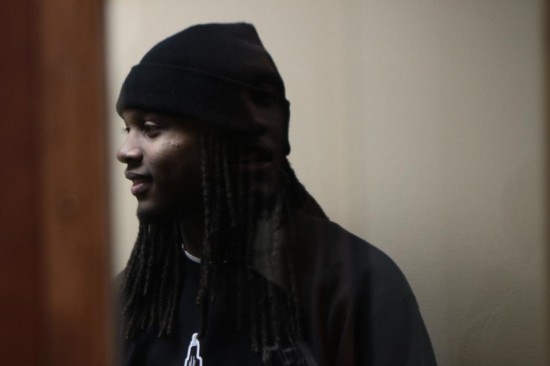 Everyone seems to be talking about Lil Durk right now. With the recent success of his infectious hit "L's Anthem" and his I'm Still A Hitta mixtape doing numbers, it appears everyone wants a piece of the rising Chicago star. Durk, who was relatively unknown on the blog circuit a year ago, has sprung to the forefront of the New Chicago movement and is garnering interest from fans and critics across the country.
Before shooting out to LA for label meetings, we caught up with Durk to talk about his looming jail sentence, the deals he has on the table and a potential group album with Lil Reese. Find out how this young artist went from full time hitta to hitmaker below…
FSD: You're profile has risen significantly over the past few months, but for those who don't know, why is Lil Durk?
Lil Durk: A new artist from Chicago. My first single was "I'm A Hitta" — one of the first local videos to get crazy views on YouTube — a few hundred thousand to be exact. I just dropped my new mixtape, I'm Still A Hitta, featuring King Louie. I've got videos shot by DGainz and Zae.
FSD: So your first mixtape, I'm A Hitta, dropped last summer. How did that take off?
Lil Durk: Well, everyone was coming out saying they were drillers — or everything was a drill. Drill this, drill that. So I came up with hitta do be different — no one was saying that at the time. So when I used it, everyone got attached to it.
FSD: So driller and hitta are similar?
Lil Durk: Yeah, it's just a different name.
FSD: So shortly after I'm A Hitta dropped you had to go in and do some time, correct?
Lil Durk: The mixtape dropped, then I got locked up. So that was a setback. Then I came back down and made sure I recorded a lot of music — that's how I'm Still A Hitta came about. There's 14 tracks on there, a lot of beats by Paris Beuller and Young Chop. It's a different sound on there. You've got street music, industry-type music — there's a lot to choose from. Because if you don't like trap music, there's other stuff you can get into.
FSD: How did you link up with Paris Beuller? He wasn't involved in the first mixtape at all was he?
Lil Durk: Nah. When I first started rapping I used to be with [Young] Chop all the time. It was before Chop needed a haircut [Laughs]. Him and Beuller used to stay by my Gradmama's house on Halsted. I hadn't seen them in a long time, and I went to the studio one day and Beuller was there. Chop, too — he wasn't as big as he is now.  Not size wise, I'm talking buzz-wise. I just kinda meshed with his Beuller's sound. We had a good relationship, too.
[Click Below For Next Page]