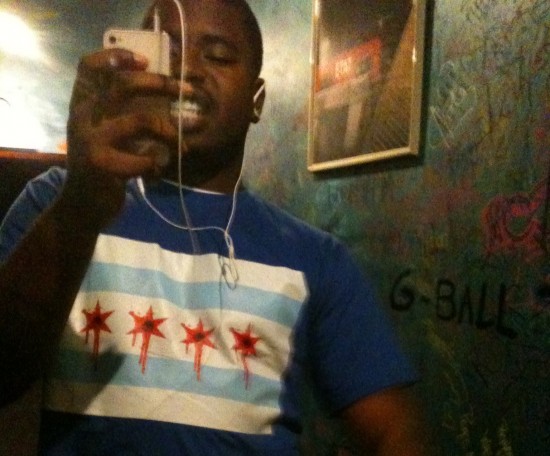 After some technical difficulties with his computer (he lost all his beats twice), Giftz started rapping again when he was 14 years old. He attended George Washington High School but, as his sister explains, "It didn't work for him. He needed to be motivated more. He needed to be challenged more." Situations inside the classroom stifled his attention, but situations outside the classroom weren't any better.
"Every year we lost at least two people from the school that we was real close with," says Giftz. "All of them dying really fucked with a nigga a lil bit because I grew up with them. For four years I was in the hallway with them every day." And if it wasn't death, it was prison. "It was dudes I was going to school with that was catching murders while we was in school… It kind of snap you back into reality and let you know everything is real out here."
By the time he graduated in 2008, Giftz knew he wanted to be a rapper. He went to Harold Washington College for a semester to appease his mom, but after that she had to give in. "This is really, really, really wants he wants to do," she admits, "so I'm trying to be 100% supportive." Shalanda, on the other hand, was his biggest motivator. "Her, my mother, and my grandma were the only three that was really like, 'OK, you don't want to do school. Fuck school. Do your music full-time.'"
Giftz was first featured as an emcee on FOC's It's A Done Deal Vol.1 mixtape in December 2008 and later on Spectacular Moments in January 2011. The Lake Effect came out seven months later and now, on December 4th, 2012, Giftz is being talked about as potentially one of the next rappers out of Chicago to get a record deal.
"Ain't nothing left for me to do but get that major deal and put that album out," he says. "It's always great to be on the radio and get the looks you get, but I need that deal that'll solidify everything." In the Internet age, however, being on the precipice of a deal is like making a run through the NCAA Basketball Tournament. You made it into the tournament, but if you don't prove yourself in next 40 minutes, everybody will forget about you.
"Once you start getting that attention," says furios$tylez, "you have to stay on a consistent level because people will be like, 'What the fuck is this bullshit? This isn't what we're used to from the artist.' That attention will die, just as fast as it came."
What's still the same, though, are moments. Every artist has them and whether it comes on stage at SOBs in Manhattan in 2012 or in a pool hall in the Bronx in 1994, you have a chance to be remembered forever.
"Everything he was saying was just vivid, street shit that was incredibly well thought out and well put together. You know how Jay-Z is with his word choices. You know he's street, but at the same time you could feel that he's super intelligent, which just made it crazy."
-Ski Beatz, "Battle Royale"