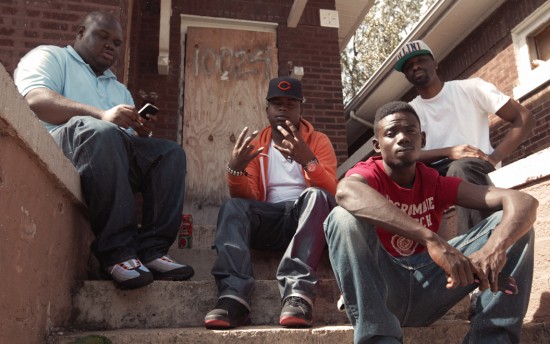 Giftz is a gangster and a gentleman and the crossover ability is what makes him dangerous. His music caters to a specific audience, but as a person in a business – a global business called the music industry – Giftz has the ability to be remarkably successful.
"The way [my parents] raised me," he says, "was like, the 'Thank Yous' and the 'Pleases'… letting people know you appreciate what they're doing is real big." Robin Stovall and Bennie Wright live with Brandon on the southeast side of Chicago. They have lived in the same house together since he was five years old.
Brandon was born on August 30, 1990, and his mother says he was talking in short sentences by eight months – about 10 months ahead of a normal child's language development. His sister, Shalanada, said he was having conversations by 12 months, marking his development at twice as fast as other babies.
As a first grader, Brandon was accepted into the gifted program at Edward Beasley Elementary Magnet Academic Center. It was at Beasley that he would make friends for life. All six members of the music group Focused on Cash (FOC) – ACE B8gie, Freaky Moe, Giftz, Kon, Promo Dave, and Stash P – went to Beasley together.
(Another guy named Derrick Rose aka Pooh graduated from Beasley a year before Giftz. They played basketball together a few times, but by the time he reached eighth grade, according to Chicago Magazine, Rose was 5-foot-11 and "fans were jamming into tiny elementary school gyms to see his game.")
Through a nondescript door on Lake Street in the Loop and straight up four flights of stairs is Studio 11. Giftz records all his music here and today he is putting the finishing touches on his latest EP, Back II The Basics, a collaboration with producer Lokey. As I walk in, Giftz and one of his managers, furio$tylez, are listening to playback of the intro. It's an incredible song with a beat that sounds like it was influenced by The Exorcist. I'm so entranced I barely introduce myself.
Within a couple hours, there are 10 people in the studio and the quintessential hip hop debate has begun: Who is the greatest rapper of all-time? It starts off with 2Pac vs. Biggie. Then we have sub-categories: Biggie vs. Jay-Z and Jay-Z vs. Nas. Later on the debate progresses to, "Who are the Top 5 rappers right now?" There is constant yelling for at least 30 minutes and the only thing they can seem to agree upon is that "Love Sosa" should be played at least five times a day.
They're like a family on Thanksgiving. Each person is fiercely loyal and strongly opinionated. It's the core of their success. In the room you have a representative from every part of the team: two managers, three FOC members, one collaborator (Ebone Hoodrich), one producer, and one videographer (Chris ILL of Heart of the City TV). "For us, it's a family business," says ACE B8gie. "Family before business."