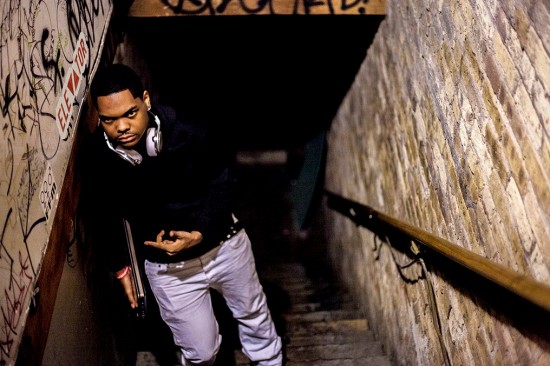 "I could sit here and talk about how cold my beats are and all that," said DJ L, and he does for a while, but he actually cares about the community and took the opportunity to talk about how he feels about Chicago, the hip hop scene, and the violence. "It's cool not to care," said DJ L, "Like this interview, I'm sure people will say, 'L that's cool, but shut the fuck up.'" He has a variety of perspectives on the Chicago hip hop scene. On the one hand, he makes beats that are ridiculously good for equally as talented rappers, and on the other his Twitter occasionally floods with musings such as this one, "We makin the beats 4 this drill music but real shit we ain't doin nothing but providing the soundtrack 4 the destruction of our own damn people." "The reason they sound so grimy is because that was the original intent of the music, to evoke pain, to evoke emotion," he described.
DJ L most notably produces trap beats, but can concoct many other styles; he has produced R&B tracks for Tink such as "Gotta Keep Goin'" from her Boss Up tape. The beats that DJ L makes for Tink convey emotions that are quite the opposite of what he has made for rappers, a sound he describes as being more neo-soul than drill. In his opinion, it takes something different to produce a beat that evokes a tender, loving vibe. Being able to do both is something that DJ L prides himself on, and thinks that not many other drill producers could easily do. Tink and DJ L gravitated towards each other because of the quality beats he could produce for her multifaceted sound.
It is interesting how when working with an artist for a beat the bulk of the work gets made on DJ L's laptop. The rapper knows what he or she wants and crafts the lyrics, but there wouldn't be anything to rap over if there wasn't a beat. So many rappers draw some inspiration for the written rap from the sonic cues. DJ L wants the credit for being a skilled producer, but also the amount of care and effort that goes into his craft. Quite frankly, DJ L feels unappreciated, and he thinks part of it is due to his difference in position from a lot of people within the hip hop community.
"The negative energy in Chicago hip hop is almost demonic," he explained. Beats get described as vicious, savage, and gutter, which evoke the emotion for the equally as intense lyricism. DJ L doesn't want to be "a walking contradiction," but he has some serious thoughts on his place in the drill scene, "I'll be making a beat that sounds so dreary, and Lil Herb get's on there and raps about killing another black man that he considers to be a cop. How am I not contributing to the problem?" The conflict is obvious, sonically the music does interesting things, and the mechanics of the lyricism can be stellar, but the content makes DJ L uneasy.
DJ L gave this hypothetical situation: If he was a 16 year-old disenfranchised kid on the south side of Chicago he would be influenced by the music he listens too. Rappers have a voice, and a voice equates to power. That kid listening to it will find some truth and validity in what is being said. When the lyrics are about killing and violence, it desensitizes people to the situation.
"Englewood" by Spenzo is one of the tracks that DJ L cares deeply about. Opening with a sample from a Derrick Rose press confrenece, Spenzo raps about his home. The lengthy intro builds tension within the track, that quickly turns into a climatic percussion-heavy culmination, accented with cymbals and drum kicks. Hailing from the neighborhood, Spenzo spits "Just a kid from Englewood/Finally up out the hood/Used to eat canned good/Now on them cans I'm good" This track stood out for DJ L because Spenzo was rapping about more positive things than the norm.
On the contrary, DJ L's favorite beat he has made is "Kill Shit" for Lil Herb and Lil Bibby. The beat elicits the exact lyrics that DJ L is also critical of, but it creates the reaction that he was after. While he has his hang ups with the content, DJ L loves working with these rappers, as well as other lyrical masterminds. He explained, "It's nice working with a lyrically superior group of kids who actually dominate everybody. […] That's like asking Nike, 'Why do you want to work with LeBron James?' You want to work with the best and have your best work be well represented." Outside of Vic Mensa and Chance The Rapper, he thinks that Bibby and Herb will lead the second wave of Chicago rappers that actually make it.
In a dream world, DJ L would make it big and be working with the hip hop elite, "Man, I want to work with Rick Ross so bad." But realistically, "I will probably be doing something other than music because I don't see myself getting that shake," he said.
[Click Below For Next Page]