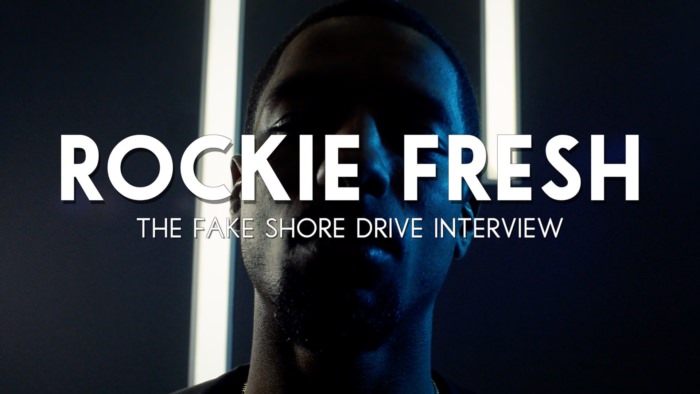 Interview and video by Holiday Kirk (@HolidayKirk)
Does Rockie Fresh believe in fate? Though I did not ask the question directly, I'm left wondering this in the wake of our time together. When I met Rockie in the green room of Lincoln Hall, he possessed the preternatural calm of someone who knows his future is already written for him. As weed smoke curled and washed away in the air conditioned room he described stunning, one in a million events in his life with the same tone and cadence you might use to describe the Pop Tart you ate this morning.
Meeting Rick Ross and P. Diddy on the same weekend, buying out Best Buy with Ed Sheeran, receiving a Chris Brown hook through email — Rockie Fresh described it all in a calm, measured tone of voice that only occasionally rose above normal tones, and in more candid moments let a warm grin creep through his face. In our time together, Rockie brought me up to speed on his life, career, and the random speed he seems to be traveling through both.
*full transcript below video
FSD: Who are you and where are you from?
Rockie Fresh: I am Rockie Fresh and I'm from Chicago Illinois.
FSD: What neighborhood did you grow up in?
Rockie Fresh: I grew up in a bunch of different neighborhoods. I grew up all over the city and all around the city but right now I live downtown.
FSD: Which neighborhood do you have the most love for and which neighborhood has the most love for you?
Rockie Fresh: The neighborhood I got the most love for is actually outside of the city, a suburb called Homewood and that's where I went to high school at and where I learned about all different types of music. And I want to say the people of Homewood have a lot of love for me too.
FSD: Who or what influenced you to get into music as a musician?
Rockie Fresh: Kanye West, he switched up the whole rap game when he came into it, he represented something different and it kinda showed me at a young age that I can create my own lane, and I don't have to follow a specific kind of path to get to where I want to go.
FSD: Growing up, who were your three biggest non-rap influences?
Rockie Fresh: I would say, Kirk Franklin, John Mayer, and Hayley Williams from Paramore.
FSD: On your song "I Need" you talk about working the late shift moving boxes. Where and when was this?
Rockie Fresh: I had actually worked at this tea shop called Argo Tea, and I had actually worked in the stockroom there. I had actually worked in the stockroom at Aldo's Shoes for a minute and I had to move boxes in both of those.
FSD: How long did those jobs last?
Rockie Fresh: Well the Argo Tea job I had probably lasted a year and a half, and the Aldo job probably lasted three months.
FSD: You've said you dropped out. Did you dropped out of high school?
Rockie Fresh: I dropped out of junior college. I went to Prairie State for a semester.
FSD: When was this?
Rockie Fresh: This was in 2008, 2009. Basically, I dropped out because I was doing so poorly in school my parents didn't want to pay for it. I didn't have the money to pay for it and I had just dropped my mixtape, sold out my first show that I did — so I just decided to chase the rap dream.
FSD: When and why did you decide on rap as a career?
Rockie Fresh: I decided on rap as a career when I realized people actually enjoyed the music that I was making. I don't think I would have taken it seriously unless I saw people connecting to what I was talking about. So once I saw that people could relate, and people started seeing me perform live, and actually support the music — that's when I took it serious.
FSD: Before you decided on rap what did you see yourself doing as a career?
Rockie Fresh: I honestly saw myself being a lawyer, but that didn't make sense because I was bad at school. So I gave up on those dreams once I graduated high school.
FSD: What were your experiences with rap before you decided on it as a career?
Rockie Fresh: Very mainstream. I only listened to rap that was on the radio. I was aware of all the poppin' artists from Snoop Dogg, to 2Pac, to Dr. Dre. But I wasn't a super fan of anything until, honestly, I'd say the first rapper I was a fan of was also from the midwest and it was Nelly. He started poppin and that was one of my first real rap experiences so shout out to Nelly for providing the vibes. Nelly, for my age group, he was going hard so I've always been a fan.
FSD: Let's talk about Rockie's Modern Life, this was your first mixtape ever. What were your experiences like recording that?
Rockie Fresh: It's really hard to remember the whole process just because I'm so focused on trying to build all these new things for the future. But from what I can remember, it was real fun and nonchalant to be honest. I didn't have a lot of the same stuff that's in my mind now so I was just recording music in my friend's basement and putting it together as I went. I just trusted my homies and their views on music enough to put it out. At that point I was super shy, I was afraid to perform in front of people, but also I just enjoyed being in the studio recording stuff. I didn't take the music as serious until after I saw the Rockie's Modern Life show go down. Before then it was just me playing around with it.
FSD: Tell me about that show. Where was that?
Rockie Fresh: The Rockie's Modern Life show was also in 2009 — it was in Reggie's Rock Club and it was the first show I ever did and it just happened to be a sold out show. I got a lot of support from a lot of Chicago artists that I respected, from YP, to Bighomie Doe, to Vic Mensa, to Vic Lloyd, to Youngsta the 80s Baby. We just had a lot of support in the building and I didn't expect it, and that's why I think the show sold out because we just had so much unity in the room. It was amazing show — one of the best moments of my life.
FSD: A lot of Chicago rappers I talk to, their formative moment too, when they were like "Oh yeah this is what I'm doing now" is selling out Reggies. So you got a lot of love for that venue.
Rockie Fresh: Yeah, shout out to Reggie's Rock Club for making dreams come true.
FSD: So following Rockie's Modern Life and The Otherside you met Joel and Benji Madden right?
Rockie Fresh: I was doing a festival show and their brother Josh Madden was actually at the show and he was like "Man you're a crazy performer and I want to put you in tune with my brothers," and I was a Good Charlotte fan at the time, and I was just honored to meet them. I didn't think nothing was going to come out of it. I flew back to Chicago and I got a call from Joel Madden asking me to come out to LA and work on some music with them and that was my first time working with anybody famous.
FSD: Was that your first time in LA too?
Rockie Fresh: Nah. I got hit up by this producer named Mike Daley, he's one of my main producers right now. He had flew me out to LA I think a week before Joel Madden had hit me up.