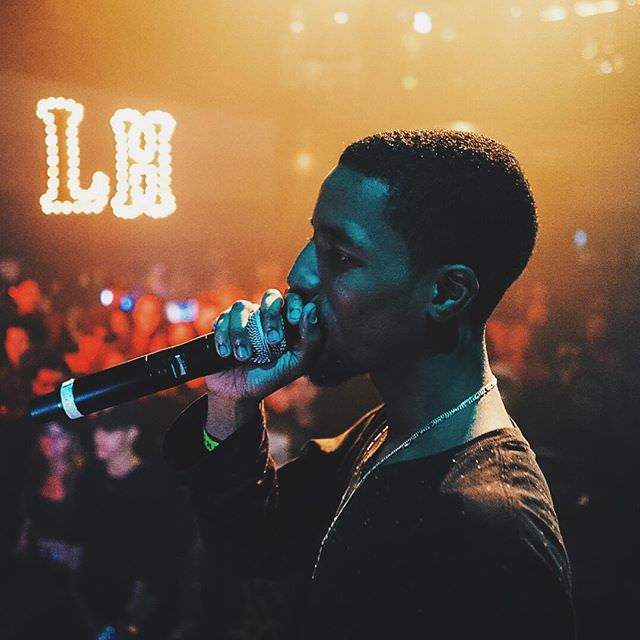 FSD: Would you say Driving 88 was your breakthrough project?
Rockie Fresh: I would definitely say so.
FSD: Personally and publicly?
Rockie Fresh: More so publicly. When I put out that project, I was really shocked by the reaction because I'm always challenging myself to be better. When I finish a project it's like I'm super locked in, but once I step out of that zone and actually get the music out I see a few little things that I would have did differently to improve it. So for me, I thought my next effort was going to be the thing that really got me over the hump. Driving 88 built a lot of great relationships for me so I gotta credit that as a breakthrough project.
FSD: What's the personal significance of the Delorean to you?
Rockie Fresh: It has a lot of different significant meanings to me. For one, the element of time travel. We started off life in one position and we trained to work at one specific thing whether it's school or trades or music. To see yourself accelerate to another level in your life and I think the Delorean really resembles that time travel. How fast life can actually move. Also, I think it's cool that the speed the Delorean [from Back to the Future] moved at was 88 miles per hour. That's a real random number, and I feel like the way I'm at in my career and the way I'm moving. I'm moving at a real random speed but it's something I feel comfortable that it's going to get me to where I want to go.
FSD: The Delorean you had in the video for "Into the Future," was that yours?
Rockie Fresh: Nah that's not mine that's actually the director's. His name is Nem Perez, shout out to him. And we actually got all the speakers built into the car for the video shoot.
FSD: So those worked?
Rockie Fresh: Yeah.
FSD: Does he still have that?
Rockie Fresh: I don't know I haven't talked to him in a minute. Nem get at me man lets work.
FSD: So Driving 88 drops and a couple months later you sign to Atlantic/MMG.
Rockie Fresh: Yeah. I actually signed to Warner Bros/MMG and we got moved over to Atlantic.
FSD: When you signed in July 2012 you were picked up in the middle of the hottest summer in Chicago rap history, but you stood a little outside the Chicago rap bubble. You'd never consider yourself drill.
Rockie Fresh: I think to really consider yourself a drill artist you gotta live that, know what I'm sayin? And I can honestly say that I never lived a lot of stuff that the kids that made drill music went through. But at the same time I was seeing it a lot growing up, I just wasn't personally involved with it. I definitely relate to their stories and everything they represent and been able to gain some great relationships — Lil Durk is one of my homies especially during that time frame. I remember one of the coolest moments was when he had hit me up when he was locked up to congratulate me on my deal. That was the first time me and him had talked so to see where he at now is really dope.
FSD: Do you remember the first moment you were hit up about the record deal?
Rockie Fresh: To be honest I was young, I was really shocked that people wanted to sign me at the time so I had a lot of offers, but I never spoke about it because I didn't want to ruin any of my relationships by being too cocky about all these people offering me deals. But the MMG deal was one of like five deals I had on the table at the time. Me and Ross — real can recognize real — I know they always say that but it's a real statement. And me and Ross just really related on a higher level than business from day one when I met him, and that just made me feel more comfortable building a future with him.
FSD: How long did it take you to decide on the MMG deal?
Rockie Fresh: It took me like two months. We was going back and forth for like two months maybe a month and a half. It was a cool process.
FSD: So did you formally receive the offer in May?
Rockie Fresh: Yeah.
FSD: Can you timeline that for me?
Rockie Fresh: So I formally received the offer in May. He flew me out to LA, we met up on the set of the music video for "Take it to the Head," and he had introduced me to every person that was apart of the song. Busta Rhymes, this was my first time meeting Sway, and it was just an overwhelming thing for me because the week before I was about to quit rap. I just didn't feel it no more. I thought that I had reached my peak, I was really happy that I got to work with Good Charlotte and Patrick Stump from Fall Out Boy. Soon as all of that stuff went down I thought I had reached my ceiling. Then Ross and Diddy had hit me up in the same week.
Ross flew me out to LA, Diddy hit me up afterwards and was like "Man, I want you to come to LA and meet me" and I was like "I'm already going to be out there meeting with Ross" and he got me a hotel to stay some extra days. So it was just a real crazy process and because I respected those guys so much, I really wanted to take my time with the decision. I definitely did that — they supported that time, and I ended up making my decision with Ross in July and after a lot of work with our lawyers. I'm very happy with my decision to this day.
FSD: So the first time you met Rick Ross was at Universal Studios in the Earthquake ride?
Rockie Fresh: Yes sir. I think that's what it was, that's crazy that you know that. Drake showed up too, that was a cool moment.
FSD: So in two days you met all your heroes.
Rockie Fresh: Yeah man, it was a blessing.
FSD: Do you remember how that felt?
Rockie Fresh: I'm always keep it cool in any type of situation, but that day I felt like a straight fan. I couldn't believe what I was seeing, couldn't believe how far music had took me to put me in that room and I didn't even have an offer at that time. It's funny, my bro YP was living in LA at that time and I went to his house and I was like "Man I was just doing all this stuff" and Ross had called me the next day like "I really want to sign you, let's set up this deal" and that's how I came about.
FSD: So 2013 was a busy year for you. You put out Electric Highway, you put out a tape with Casey Veggies, and did a bunch of guest verses. 2014 and 2015 you fell back and didn't release anything major. Can you tell me about your decision to fall back from the spotlight?
Rockie Fresh: To be honest, I really wanted to take my music to a different level in 2014 and 2015, and I just really locked into the studio. I think the misconception is I just cold turkey stopped making music and stopped doing shows. In reality, all of 2014 I went on a really amazing tour, probably the best tour of my life with G­-Eazy and Tory Lanez. We were all at this very interesting stage in our careers where we had a lot of fans but there was a whole other side of the world that didn't even know we existed. I think we ended up selling out every date and that tour had like 55 dates. Opening for somebody like G-­Eazy, I learned so much just about nurturing your fans and feeding them properly, taking your brand to a higher level.
When I stepped back to lock into the studio and focus on those things a lot of people got nervous because they thought I was going to lose the crazy momentum. But I was cool with that because I wanted to make sure I was giving my fans the best of what I could give them, so that's really what I wanted to focus on. I'm a mixtape artist, you know what I'm sayin, so I always put out free music — I was never really aware of the clearance process of clearing songs and samples and all of that. So I really wanted to take some time to learn the business. I got in the business so young and I just took the time to do what I want done.
FSD: The conception at the time was that you weren't ready for the spotlight — you got signed too quick. I'm sure you heard all that.
Rockie Fresh: Yeah, 100%!
FSD: If you were to adjust that what would you say?
Rockie Fresh: Like, I played sports growing up, so you learn that having the proper team is important, and I felt like what was even more funny ,was I was probably hanging around the most famous people in my life during 2014 and 2015 . With The Night I Went To… project I got some of my biggest features on there as far as with Chris Brown and Ed Sheeran and of course Ross is on there but I hung out with those guys more than I ever have in my life.
I don't think the spotlight made me nervous, I think it was more so the idea of having longevity and making sure I have bodies of work that can withstand 10, 15 years and having a fanbase that can grow with me as I'm getting older. I feel like a lot of people knew me, but it wasn't what I wanted to be known for.
FSD: Did you come to a conscious decision to fall back for that two years?
Rockie Fresh: I came to a conscious decision and my team definitely supported me with the break that I took but I think also that break kinda got extended. I had lost my auntie and she was like my best friend, and I like toured and was doing all this stuff for like the last five years and really wasn't able to spend time with her. She fell ill to cancer and I flew back from LA to really spend time with her and it just made me change my perspective. The last thing she told me before she passed, believe it or not, was that she wants to survive so that she can go to the Grammy's and sit next to me.
She passed and when that happened, I just looked back on my music like "Man, this is cool, I got fans, but is this really music that could change my Auntie life. I'm living good, I have a deal, people know me but this next project I put out, is this going to be something where I could move my auntie from where she lives at and show her another side of the world." When I didn't feel that way I just went back to the lab and recreated and didn't want to come back out until I felt I had something that was strong enough.