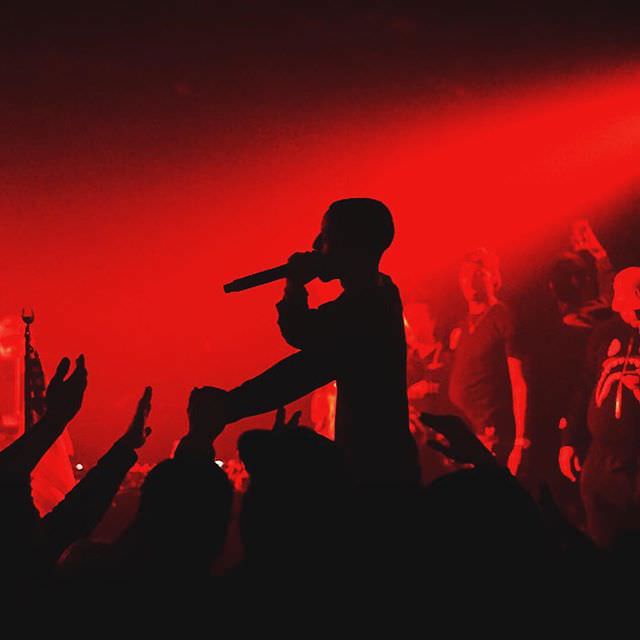 FSD: How did your relationship with Chance the Rapper come about?
Rockie Fresh: I first met Chance at a Kids These Days show and he was a cool dude who opened up for a few shows that we did. I think Driving 88 and for Electric Highway. To see where he's at now is just an amazing thing. It's funny too, because whenever I see him do something crazy I shoot him a text to let him know that we watching and we really appreciate what he's doing for the city. I just think his whole climb is something that anybody can learn from — whether you Kanye West or me —  and that's why he's always good in any situation that he's in. On top of that, he's got a special place with me because we got the same birthday.
FSD: Top of this year you dropped The Night I Went To… and you've been expanding it with installment EPs. Would you say The Night I Went To...is your most cohesive project yet?
Rockie Fresh: I would hope The Night I Went To… is my most cohesive project yet. I hope other people feel that way.
FSD: When did you start working on this album? It is an album, right?
Rockie Fresh: Nah man, it's a free project. Mixtape you know. And I started working on right after I got off tour. I had a lot of those songs to be honest. I was so locked in that I forgot we wasn't putting out stuff because I just enjoyed creating so much. Working with the highest level of my peers, I've always been a Chris Brown fan from the jump so to be in the studio with him so many days in LA and just watching him work, I kinda forgot about being an artist and was just a student. I did a lot of those songs [on The Night I Went To…] in a two year time period and we reached a point where we was like "Man it's time to put something out so we just packaged it up."
FSD: You have one of the biggest singer/songwriters on earth right now interpolating Jai Paul on "Are You With Me". Tell me about how that came about.
Rockie Fresh: Me and Ed Sheeran we have a mutual friend, his name is Jason Davis and he had introduced us to each other in 2012. Me and Ed are the same age, he's a huge whiskey drinker and I love Jameson. We met up in New York. Jason let me know that Ed was a huge fan of Driving 88, and I got onto his music too and I was a huge fan of what he did. We was out for drinks and he had told me, "Man, I really wanna meet Rick Ross." Just so happened that me and Ross had a show in New York and I had brought Ed to meet Ross and we got cool after that.
When Self Made 3 came out me and Ed went to Best Buy and bought out all of the Self Made 3 copies. He had bought half and I bought half. Me and him just started building a cool friend relationship and I had the song "Are You With Me Now" done already and I knew that I wanted somebody to resing the hook just for the face that I thought it would be cool. I had played it for Ed and he was like, "I wanna do this" and I was like "Word!" I didn't think he was serious about it and one day I was working in the studio in New York and he just came through unexpected and laid the hook. We actually going to be dropping the footage of the making of the song soon, but ever since then me and him have been really close friends. That's somebody that, even though we the same age, I learn a lot from.
FSD: So you introduced Ed Sheeran to Rick Ross?
Rockie Fresh: Yeah.
FSD: So you're responsible for getting Rick Ross on the "Don't" remix?
Rockie Fresh: Uhh, I don't know. I guess you could say that.
FSD: You've also got Chris Brown doing a lite­house song on "Call Me When It's Over" and I know Chris Brown emailed you the hook to that. How did it feel when you heard that for the first time?
Rockie Fresh: That day I got that tracked emailed from Chris Brown I turned into a five year old boy. I was jumping around, it was crazy. That was like my Michael Jackson when I was growing up. I was 15 when his first album came out I remember seeing him premiere the video for "Run It" on 106 & Park. He had the Bape jersey on. I just respected his whole movement from the jump, and when I really started driving and chilling with the young ladies and going to pick up girls that was always my soundtrack so it's really dope to see how far my situation has come and the fact that we can link up and build a friendship and that he trusts me to email me a hook and a bridge. It was a crazy experience.
FSD: That was a million dollar email.
Rockie Fresh: Yeah. [laughs] I gotta change my email now, people are going to try and hack me.
FSD: Did you initially have anyone else in mind to do the hook for "Call Me When It's Over"?
Rockie Fresh: Nah. I had nobody else in mind to do the hook. When I first made the song I was like "We gotta get Chris Brown on this." My homie Aaron delivered the hook and he sings similar to Chris but also works on songs with Chris. My homie Dwayne helped me out on the bridge and with that they really delivered it in a way that was going to be easy for him to sing it, mainly because we wanted him on the song.
FSD: That's the single right?
Rockie Fresh: Yeah shoutout to the song "Call Me" in parenthesis "(When It's Over)" that's my official single.
FSD: First ever single?
Rockie Fresh: First ever. First time selling my own single on iTunes.
FSD: "God is Great" wasn't your first single?
Rockie Fresh: Nah that was actually an MMG single. Which is awesome too, "God is Great" was one of the biggest songs I ever put out and did really well for me but this is my first Rockie Fresh single.
FSD: When can we expect the video?
Rockie Fresh: We working on it right now.
FSD: Any director yet?
Rockie Fresh: Chris is a director and I like to get hands on with my visuals myself so we might direct it together.
FSD: With The Night I Went To Chicago commemorating your hometown show, when was the last time you performed here?
Rockie Fresh: I popped through Oreofest over the winter of 2015, and that was my last real time performing in Chicago so it's cool to be back. Touching the stage in the hometown but I also got a lot of cool stuff planned with shows for the rest of the year. You know them day one fans, we gonna get real crazy throughout the course of the year.
FSD: What's your current relationship like with the rest of Maybach Music Group?
Rockie Fresh: Them my bros man. Everyone on MMG my bros, but I always stay to myself in any type of situation. I'm just focused on what I'm doing over here and they growing, a lot of them touched millions already, Omarion got Ms already, Meek, Wale they all made millions. They got it. I'm just trying to make to make sure I can hold it down for me and my family. Ross is someone I talk to three or four times a week so that's big bro and everyone else is squad too.
FSD: I know the for the last couple of years MMG has gone through some internal turmoil, I know you were outside all that but can you weigh in there?
Rockie Fresh: There's so much going on. I still live in Chicago that's my only residence and I'm in a good location, but a lot of the stuff going on out here is very serious and I don't have the time to entertain millionaires talking back and forth when I know that people are dying 20 minutes from me. So when I seen that, I laughed at a few things, but at the end of the day it really didn't mean nothing to me. I got too much to play for before I get involved in anybody else stuff.
FSD: So you don't worry about the MMG ship ever sinking?
Rockie Fresh: Nah. At the end of the day, this is rap, and if you a true fan of rap you've seen how many times this stuff has happened and people get through it. I don't see why this would be anything different. I'm cool with everybody.
FSD: What's your favorite store to hit up in the Chi?
Rockie Fresh: Man, I got so many man. Shoutout to RSVP of course, I spend a lot of my bread there. LDRS. Fat Tiger. I got respect for everybody man.
FSD: Have you had any time to visit your neighborhood since you got on?
Rockie Fresh: Not really because we working on Self Made 4 right now, so I've been recording non­stop. But I think this summer I'mma get back to just hanging out and moving around. I got so much music I'm working on right now and I want to make an amazing impression to represent Chicago and give my fans another level of me. I've just been locked in working.
FSD: Any other Night I Went To… installments to look forward to?
Rockie Fresh: I'm putting together a tour right now. I don't know how many projects I'm going to drop on that tour, so I don't want anybody thinking I'm going to drop a tape for every city that we do but we definitely going to get a lot of music out and have fun with this "Call Me (When It's Over)" single too.
FSD: No Night I Went To Atlanta?
Rockie Fresh: That could happen man, I'm spending more time in Atlanta than ever actually, because Ross got two houses out there so I've been out there ten times this year just to work with him. Might be all joints with me and Rozay.
FSD: And that whole squad of local ATL beat making talent.
Rockie Fresh: Yeah they got heat out there right? I gotta meet some more producers out there.
FSD: So is Rockie Fresh going to take the game for 2016?
Rockie Fresh: I mean, you know, we just trying to create our own lane. People that wanna run with the movement they can run with the movement. 2016 just all about putting ourselves in position so people can know what we do and be able to fall in line with the movement and the art direction and everything that me and my camp bring to the table. But if we end up taking the game in the process we won't be mad at that.