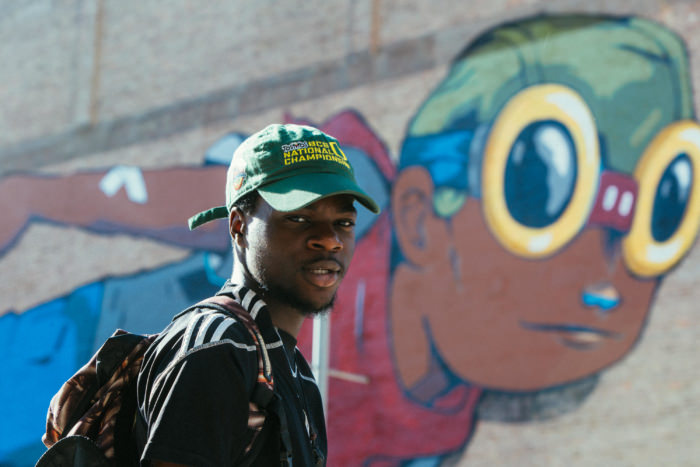 Photo by @chollette
Femdot (a.k.a. King Dilla) has been buzzing lately. After exploding onto the radar of the rap internet with his Fo(u)r EP, he decided to let loose his very well-received follow-up, the Thr(we) EP, last week. All this while he's a full-time DePaul student majoring in biochemistry. Is he planning to have a studio/biochem lab? Possibly.
We sat down with Fem to talk about his new project, his drive to conitunue making music, and his plans for the future. Check out our conversation after the jump, and if you haven't already, listen to his brand new Thr(we) EP
FSD: You haven't been dropping a lot of songs. What's the reasoning behind that?
Femdot: I mean I literally work on music everyday, whether song concepts actual lyrics, full structures, etc. I try to knock out at least four song ideas out a day. But that doesn't mean any of these songs are gonna come out. It's like ball, it's practice. You don't see how many shots someone put up in the offseason, you just see that their shot got better when the season starts. I am at a point creatively where everything has to be hot period. Not to anyone else but to me. So if doesn't sound like, or better than, the vision I have for it, I won't drop it. Plus I am a conceptual person and I know that takes time.
FSD: Did you find your music intersecting with your studies?
Femdot: Hell yeah! [laughs] My time is pretty much split between the two, so besides actually intersecting with the time for me to study, my music definitely draws inspiration from school. Whether its the experiences I have, what we talked about in class or anything. The school stuff and the raps definitely have a fairly interesting relationship.
FSD: Were you expecting the four songs on your earlier EP to push you as far as they did?
Femdot: I mean, I didn't really know what to expect. My biggest thing when I dropped fo(u)r, was to show growth. I had no idea what it would do or whether people would like it, but I was glad it was out. So it was super cool for the reception to be what it was, you know? Like it was definitely dope, but it just kind of solidified that this felt right. So wasn't anything to be too hype over, it's still so much work to do.
FSD: When did you start working on the EP?
Femdot: Well, I started working on both of the projects technically, like damn, two years ago before I dropped the King Dilla EP. I mean songs like "Get Rich Forever" and "341" and a lot of the verses on these projects were one-and-a-half to two years old that were constantly changed and touched up. I mean but the end idea for the concept has been there for a while.
FSD: You're something of an "emcee's emcee" in an age that sees emphasis not being put on that. Was this conscious?
Femdot: [Laughs] "Emcee's emcee" That's dope. Nah, I haven't put much thought in trying to be a certain type of rapper. I just be out here trying to rap for real. [Laughs] Like ever since I started making music I was always kind of wanted to rap like this. Wasn't a decision or anything. I just really want to make music I would listen to. I've always liked complex concepts and detailed stories, or like really crazy flow schemes and wordplay, so I try to do that and perfect it. I'm still working on the perfecting part though. [Laughs]