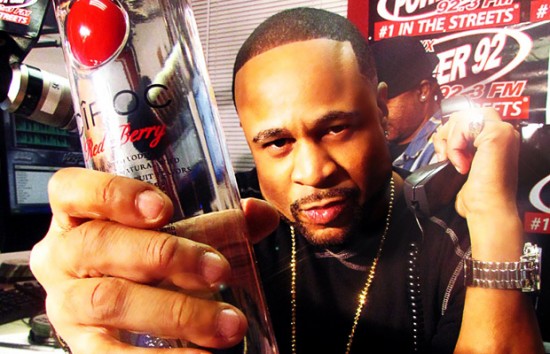 When Kanye West's new record, "Theraflu," dropped unexpectedly last week, fans were surprised yet overjoyed to hear living legend, DJ Pharris, giving it up for Chicago on the outro. While Pharris' contribution to "Theraflu" clocked in at just over one minute, he was able to give listeners outside of Cook County a birds eye view into neighborhoods and streets you can't find on a map. Immediately, spots like Dro City, O Block, Terror Town and Lon City were thrust into the national spotlight.
But  the release of "Theraflu" raised many questions: Was this a Kanye West single? Was it a DJ Khaled song, and why was he on the intro? Was this from Pharris' upcoming project? Well, we caught up with Pharris to get the skinny on the"Theraflu," and also find out what else the Heavy Hitter has up his sleeve.
With more work slated with Kanye, Pharris talks about co-producing Future's new single "Parachute," and the launching of his new indie label, Loud Pack Records.
FSD: I'm sure the last week and a half of your life has been pretty insane. Phone calls, emails, tweets — everyone in the world wants to know how you ended up on Kanye's "Theraflu." How did the collabo come about?
DJ Pharris: Well, I was in New York with Ye, and we hit the studio and just started working. I was in the studio everyday with him, and that was the record he was working on. Kanye is constantly working — he never stops. That record is just something he wanted to do from the heart. It took him a minute to write that record.
I was with him for like two or three days, just trying to come up with different parts, and concepts. "Theraflu" is a song that he mentally put everything into. That was all of Ye. He put everything into it. It just so happened that when he finished it, he was like "I want you to do something on the end of this, I want you to talk some shit. Can you do that?" And I was like "Hell yeah, you know I'm with it." He gave the opportunity and I ran with it.
At first I came with an outro and it was kinda clever — I was actually rapping and rhyming on the outro. Just saying slick shit. Then Ye stopped me like "I don't want you to rhyme, nah, don't do that. I want you to do your DJ shit — I want the grimy shit!" So I went back in, got what I wanted to say in my mind, and the rest is history.
FSD: Was it his idea to shout out the various Chicago streets and neighborhoods?
DJ Pharris: Well Ye just told me he wanted some Chi shit. He wanted me to say something everyone in Chicago could relate to, so that's the first thing that came to mind. Some straight Chicago shit — what n***** can relate to. We wanted to let the hoods know that we were thinkin' about them.
FSD: So Kanye was in a Chicago state of mind when you were working, huh?
DJ Pharris: Yeah, basically. Actually, when he was writing, I was sitting there tossing him ideas. Like the "double cupped up" and "might even kill somebody and  YouTube it" — I was just giving him ideas. Telling him about how the shorties in Chicago are doing it right now. Like how the kids are on YouTube and the computer all day gangbangin' and what not. Kanye started talking about the "project hallways" and what not, so he was in the Chicago state of mind himself.
FSD: So I'm guessing you two worked on some other songs together, seeing as you were in New York with him for a week?
DJ Pharris: I don't know if I can reveal the rest of the stuff right now. I was out there playing shit for him. Going through ideas I had for him. I kinda gave him some suggestions on the "Mercy" record. Anything I was able to offer my ear to, I did. He asked my opinion on a lot of stuff, so yeah, I was working.
FSD: That's dope that he still holds you in such a high regard. You were the first DJ to really break Kanye in Chicago, right?
DJ Pharris: Most definitely. I was messin' with Kanye when Kanye didn't have a car. He'd have to bum a ride to come to my house to borrow records — and I'd give him stacks and stacks of records to take home and sample.
The first car Ye bought, was a car like mine — an Expedition. He drove it over to my house like "Look, look! I got one, too! Ha ha ha!"
FSD: So it has to be pretty amazing for you to see how far he's taken it?
DJ Pharris: It's definitely amazing — It's great to see. I remember playing "Through The Wire" and labels were laughing at me. People would tell me to "Get that record out of here." Radio stations laughed at it: "This is garbage." I remember when radio stations wouldn't put him on panels or shows that they had — they just totally ignored him.
Ye would get frustrated and I'd explain it to him. I always had dude back when no one would mess with him. I saw the talent from day one. I knew he had something great in him. I didn't always know what it was, but I knew he had something great in him.
[Click Below For Next Page]