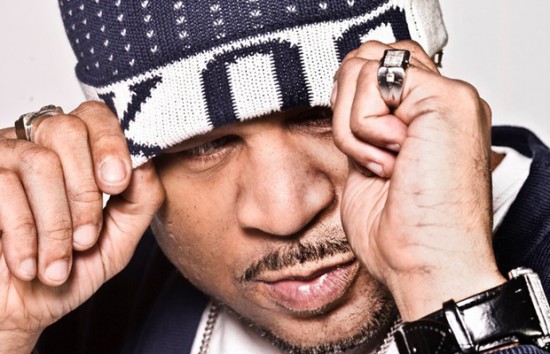 FSD: So I heard a rumor that "Theraflu" was heavily influenced by Chief Keef and the new rappers bubbling in Chicago. Any truth to that?
DJ Pharris: Well, Kanye is watching what's going on in Chicago right now. He's definitely watching what these guys are doing pretty closely. He talked to me about it, and we had a pretty big conversation about what's going on here right now. He sees the movement and power these young kids have. I don't know if they totally inspired the record, but I do know that he likes what is coming out of Chicago right now.
He especially likes Chief Keef. One of the records Ye kept playing over and over again was Keef's "I Don't Like." We played it on repeat in the studio. Ye just kept blurting out "I Don't Like," then Don C would walk in the studio and yell out "I Don't Like…..I Don't Like." Kanye told me "I Don't Like" was his second favorite record only to "N***** In Paris" — I couldn't believe it. I told him "You've gotta me kidding me," but he was dead serious.
FSD: What are your thoughts on the new class of rappers popping up in Chicago?
DJ Pharris: What I see is a whole movement starting. Like how ATL got big a few years ago — I see Chicago doing the same thing. Why do I think this? Because I feel like we finally have our own identity. We have our own sound. We don't really sound like anybody else right now. So I'm seeing this whole thing being born right before my eyes. I think Chicago got caught up in sounding like everybody else for so long, and that's why we couldn't get on. But now we have our own sound — and it's accepted all over. Everybody knows about this Chief Keef guy right now, so it's very real.
FSD: You were also at the forefront of the last Chicago renaissance back in '04-'05. Right now it feels similar to that wave from seven/eight years ago. How do you think this run will differ from the last? Because last time, while a few people blew up, many didn't get through the door…
DJ Pharris: The difference is the fucking internet. The internet changed everything. The viral campaigns can reach so many different people now. It's all about the web. Back in '04 we weren't as viral as we are now. These kids can drop homemade videos and get a million views — they can reach the world with a click of a button. It's a bigger outlet for people.
Back in the Bump days, we were still radio and mixtapin'. It was all about selling mixtapes and DVDs. Now damn near every mixtape is free. The game has changed. It's all due to the internet — it's a gift and a curse. You can become popular without spending a lot of promotional dollars, but how long is it going to actually last?
FSD: But it doesn't appear that the internet has hurt what you do on the radio [Power 92]
DJ Pharris: I still play all of the new music. I even go on the internet to see what's hot and to see what people are following. I have to keep my radio show, and the stuff I'm doing fresh. So I give people the stuff they go looking for. I bring it to them. You've gotta always stay up on what's happening. Period. The minute you start slacking or you're not on top of the next thing, you're dead. You might as well hang it up.
FSD: Right. You've remained relevant for song, though. You're always in front of the latest trends in music. How do you do it?
DJ Pharris: Being knowledgeable. Being up on current events. And having a crew is very important — I keep a crew of young cats around me. I see what they do, I watch what they listen to. You always have to stay relevant and stay involved. Keep the right people around you, who keep  you in touch with what's going on.
FSD: Right. And while you're a legend in Chicago and the Midwest, I'm sure "Theraflu" brought  your name to a whole new audience. Have people been reaching out to you like crazy?
DJ Pharris: Yessir. It's been nuts. The last week and a half of my life has been crazy. Because besides "Theraflu" dropping, we had the new record with Future and R. Kelly drop. "Parachute" was produced by me and John Blu.
FSD: Right. Congrats on that record as well. How did you hook Future up with R. Kelly?
DJ Pharris: Well actually, "Parachute" was my record. It was going to be the first single from my Loud Pack project. Me and John Blu got together, we did the beat and the hook, and I got Kells to get down for me. And I got Future to get down for me. Future liked the record so much, he wanted it for his album. I wasn't gonna let it go, but it was a bigger look, and the timing was right — so I let him have it.
I knew the record was going to be big because we've got Kells back on the hip-hop scene. We've got John Blu, who is very talented, showing off his writing and production skills. So instead of being selfish and trying to keep it for myself, I just let it go. It's a better look for me and everybody else involved. I looked out for my city. That's how you put on for your city.
[Click Below For Next Page]