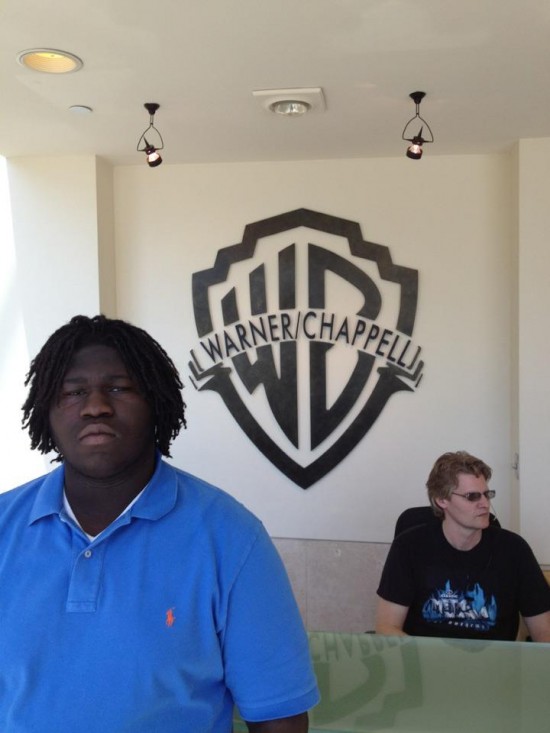 As we announced earlier this week, rising Chicago producer Young Chop has inked a production deal with Warner Bros. Records. The 18-year-old phenom is the beatsmith behind some of Chicago's hottest records, including Chief Keef's "3Hunna" and "I Don't Like."
It's been a whirlwind three months for the young producer, so FSD caught up with Chop to chop it up about his new deal, what work he has on deck, and his relationship with No I.D. and Kanye West.  We spoke to Chop via phone from Los Angeles earlier this morning, where's he's been in the lab almost 24-7 working with some of the biggest artists in the biz. Big things popping, indeed.
FSD: First and foremost, congratulations on the big deal with Warner Bros. Can you tell us about how it all went down?
Young Chop: Well, I had a deal on the table. The Warner deal was on the table for a little while. And after looking at it, my manager and I decided it was the best look. So we took the deal with Warner Bros.
FSD: How long had the deal been on the table?
Young Chop: For a month.
FSD: Did they tell you what song you produced piqued their interest, or what made them pursue you?
Young Chop: The record that got their attention was "3Hunna." Then they started looking at the "I Don't Like's" and everything that I did for the Chief Keef movement. They really loved all of that. They also heard a bunch of the stuff that was on FSD.
FSD: Did you have a manager help you land the deal or was it all done on your own?
Young Chop: Nah, it was just all me.
FSD: Who is your management, though?
Young Chop: Jay Boogie from Chicago.
FSD: So what exactly does a production deal entail, for the people that don't know?
Young Chop: Well, it's somewhat like a record deal, but it's more of a publishing thing. You've gotta get your beats to artists, and get placements. You've gotta make the beats hot enough to get placements on major albums.
[Click Below For Next Page]